'Glee' Dad Mike O'Malley To Lead New NBC Comedy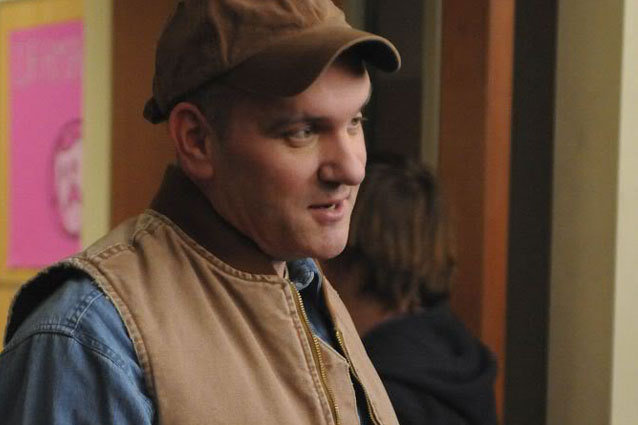 Well this is definitely the epitome of bittersweet news. Mike O'Malley — aka Burt Hummel, Glee's most perfect parent — has just nabbed the lead in a new NBC comedy pilot.
The potential peacock series, entitled Welcome To The Family, centers on the craziness that ensues as two families — one white and one Latino — collide when their children fall in love. The drama is heightened when an unplanned pregnancy is thrown into the mix.
According to Deadline, Rules of Engagement's executive producer Mike Sikowitz will produce the single-camera comedy. O'Malley is set to play Dan, a set-in-his ways orthodontist who is newly energized at the thought of his 18-year-old daughter moving out of the house.
RELATED: 'Glee's' Mike O'Malley Set To Star In 'Family Album'
While it's great that TV viewers will be graced with O'Malley's suburb acting each and every week, it does raise an important question: What does this mean for Glee's fan favorite character Burt Hummel? Earlier this season it was revealed that Hummel has been diagnosed with prostate cancer, just two short years after suffering a heart attack.
Although Ryan Murphy recently assured fans on Twitter that Burt will not die, it will be interesting to see if the Glee showrunner will write a sure-to-be dramatic exit or if the character will simply fade into the Lima oblivion.
RELATED: 'Glee' Recap: Divas, Delusion, And Devastation
As a Glee fan, I can't help but be selfishly annoyed at O'Malley's new small screen endeavors — especially considering that this show's premise sounds like a cheap combination of CBS's short-lived catastrophe ¡Rob!, O'Mally's previous comedy, Yes, Dear, and a little bit of Reba thrown for an extra dash of clichéd baby-fueled craziness.
Are you intrigued by O'Malley's new show? Will you be sad to see him leave Glee? How many more "mixing pot" sitcoms do you think we'll have to endure before networks realize they don't work? Sound off in the comments below!
Follow Leanne on Twitter @LeanneAguilera
[Photo Credit: FOX]
---
From Our Partners:

'SI's 25 Sexiest Swimsuit Covers of All Time (Vh1)

Pregnant Kate Middleton Bikini Pics Spark Palace Anger (Celebuzz)