'Glee' Nabs an 'American Idol': How Might She Fit In?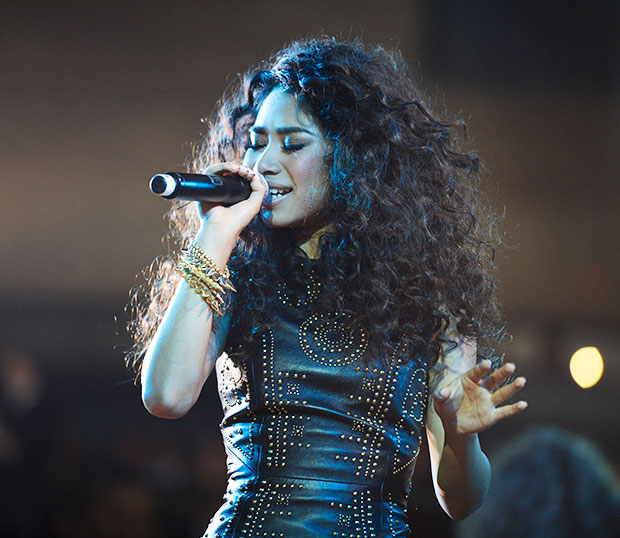 Whoever says American Idol doesn't get you anywhere clearly hasn't checked out any TV news recently. Season 11 runner-up Jessica Sanchez (the little lady with the big ol' voice) is headed to Glee, giving Idol fans everywhere reason to say, "Nah-nah-nah, told you so!" to all those nay-sayers (you know who you are).
Sanchez won't be a drive-by character on the series, appearing in a few scenes and never to be heard from again (Charice, anyone?). The San Diego-native is slated for a multi-episode arc, according to TVLine. There's just one small issue: We have absolutely no clues from Fox (or Ryan Murphy's ever-active Twitter) as to what Miss Sanchez might do when she gets to the sing-a-long fest that is Glee. (And Fox has not responded to Hollywood.com's request for clarification regarding Sanchez's character.) But, with a wealth of Glee knowledge and memories of Sanchez bringing down the house with her unbelievable renditions of Whitney Houston's "I Will Always Love You" and Jennifer Holliday's "And I'm Telling You I'm Not Going." So, with all this vocal ammunition, what could they do with the talented young lady? We've got a few ideas:
A Serious Rival: We've been told our Glee favorites, like Mercedes, weren't completely gone. And with Mercedes off in California, trying to achieve her musical dreams, Sanchez could provide our belting songstress a little competition. They could even go toe-to-toe on "I Will Always Love You." That's a sing-off we could get on board with.
Jealousy, Courtesy of Jessica?: There have been reports that in the absence of Finchel, Finn will tie his name to another lady. Could Jessica be that lady? She's certainly got the star quality he found in Rachel. It would make sense that our lovable giant might seek a replacement for the girl that broke his heart in Jessica.
Vocal Adrenaline's New Weapon: Now that the New Directions are No. 1, and they've stolen Vocal Adrenaline's best singer (Unique), McKinley's rival needs an edge. Sanchez's incredible set of pipes and her ability to silence even the most verbose judges (Randy Jackson's "This girl's in it to win it" counts as his silence, okay?). She could certainly make competition season tough for the new New Directions.
What do you want to see Sanchez do on Glee? (Besides blow our minds with her incredible voice?)
And in case you're not familiar with the singer, who came in second place after Season 11 champion Phillip Phillips, she's just 16 years old, and she sound like this:
Follow Kelsea on Twitter @KelseaStahler
[Photo Credit: Michael Kovac/Getty Images]
More:
'Glee' Recap: Sexy Makeovers, Scandalous Kisses, and Sarah Jessica Parker!
'Glee' Recap: Breakdowns, Brothers, and Britney 2.0
'Glee' Recap: Newbies, New Problems and New York
From Our Partners:

Kristen Stewart and Robert Pattinson Cuddle at Chateau Marmont: 15 of the 'Twilight' Couple's Most Romantic Date Nights — GALLERY
(Celebuzz)

Reese Witherspoon Debuts Post-Baby Figure Two Weeks After Giving Birth — PHOTOS
(Celebuzz)