'Glee Project' Recap: 'I Don't Know This Song from Adam'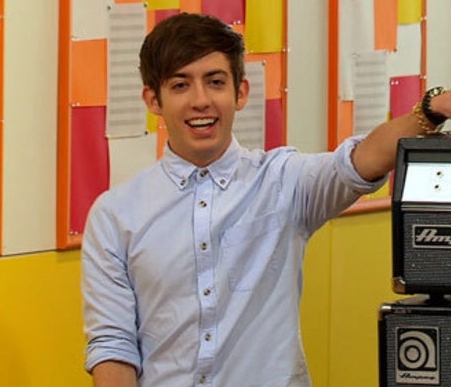 Happy 4th of July, kidderoos! There really is nothing more American than Glee, amirite? So I can think of no better way to celebrate the birth of our great nation than reading Interweb recaps of The Glee Project — are you squeezing in your computer time somewhere between your fourth hot dog and the parade? Or are you about to run out to watch the fireworks? Firework! Speaking of fireworks, there were some — of the emotional variety — on last night's The Glee Project (how's that for a segue?).
The theme of last night's episode was "Adaptability." Which, we quickly came to learn, was a clever ploy to keep the contenders on their toes. Think you know what song you're going to sing? Wrong! Think you know the choreography? You don't! The mentors had scheming twinkles in their eyes as they threw the kids curveball after curveball. There are no fastballs or knuckleballs in adaptability week, only curveballs. And goofballs (I'm looking at you, Michael).
First shake-up of the night had to do with the homework assignment. This time around, the contenders wouldn't get to pick their own lines. Oh no, the horror! Like, really, Robert? You think that's a challenge? I scoff at your challenge; really, you just made this easier on the kiddies. Now no one had to risk damage to life and limb in a fight to the death for the best. line. ever.
Wait a sec! I totally forgot to talk about the single most important part of the episode, which happened right at the very beginning (you'll have to pardon my scatterbrainedness, I'm just so excited about all the patriotic Jell-O I'm going to devour later today). So, the thing is, Aylin and Charlie decided to be "just friends." This is a really good call, they both agree, because this means they can channel all the energy they used to put into frivolous activities like snuggling straight into figuring out how best to kick each other's asses. There is not a hint of sarcasm so much as floating in the general vicinity of Charlie as he says, "Friendship. Is awesome." Yeah, right.
Okay, back to the homework assignment. The super-secret special mentor for adaptability week is… Artie! Kevin McHale saunters into the dusty choir room, sans wheelchair, and whips off his glasses Clark Kent-style for dramatic effect. Ali bursts into a bout of uncontrollable giggling. She loves him, you see, because he never cheats when he's using his wheelchair. But Kevin has some — dramatic pause — bad news for the kidderoos. Thought you were going to sing Alanis Morissette's "You Oughta Know"*  as a group? Wrong! It's solo time. Each contender will have to sing the song individually. The color drains from Shanna's face, leaving her a lovely shade of ashy pale green — she doesn't know the words.
*Fun fact: "You Oughta Know" was written in 1995 and is based on the tumultuous relationship Alanis had with Full House star Dave Coulier. That's right, Uncle Joey. I guess Alanis doesn't like impressions or hockey.
NEXT: Twist 1.5 revealed!Thankfully, for the viewers at home at least, the Glee Project's team of ninja superstar editors splices all the solos together so we don't have to listen to "You Oughta Know" 10 times. Kevin and Robert, however, do have to listen to Alanis' anthem 10 times, which explains the ringing in their ears and sudden urge to break a few pieces of flatware before settling in on the sofa with a Snuggie and a pint of Chunky Monkey. Oh '90s music, how you make me feel things.
The winner of the homework assignment is Aylin. Congrats, Aylin. Woohoo, it's your party.
And we're onto twist number 1.5 (because I don't think the first twist was really much of a twist at all, but rather more of a lil twistlet). Neither Kevin nor Robert will be announcing the song for the music video this week, because it's a surprise. The contenders won't learn which song they will be expected to sing until they're in the recording booth with Nikki. Same goes for choreography. They'll be learning their two-steps on set.
At this point, it dawns on me that adaptability week is a really good idea. Essentially, what the powers that be are doing is testing whether these kids have what it takes to be working actors. As SAG card-carrying, working actors in Hollywood, the contenders will be forced to change things up at the drop of a hat. You think Lea Michele needs more than two microseconds to learn the latest Kelly Clarkson ballad? You think Harry Shum Jr. ever needs to rehearse his choreography before the cameras are rolling? You naïve sons of guns.
Turns out, the song for this week's music video is Jessie J's "Price Tag," and the premise of the video is a class war between the mean rich kids and the broke kids who just want to have fun. The recording session and video shoot are a whirlwind of cha-ching cha-chings, so here's a list of highlights.
1. Ali decides to do a bit of spoken word in the recording booth. Nikki is not impressed.
2. Nikki is impressed with Michael, who decides to let loose and be a total goofball. Also impressive are Shanna, who didn't "know this song from Adam," Aylin, and Lily.
3. Abraham is freaked out about learning choreography on set. He's just not a fast-learner, you know? He starts to rock back and forth a bit, cradling his knees to his chest.
4. Robert reminds the viewers at home that this is adaptability week. Woah, did you know the theme was adaptability? I had no idea!
5. Charlie gets into his bitchy rich person character by declaring into a fake cell phone while wearing a palm tree-printed Hawaiian shirt, "I don't care how many ocelots you have."
6. Mario clears things up a bit by telling us that his vibe is "girls and money." Are you a pimp now, Mario?
7. Erik dubs Mario the problem child, stating he has never had such a difficult time with anyone on set. In doing so, Erik accidentally reveals that he has the same disorder Guy Pearce has in Memento, because how could be forget Charlie from last week?
8. Blake is an awkward dancer.
And there you have it.
NEXT: On to the reveal of the bottom three!The judges announce that Aylin had the standout performance of the week, and that Shanna, Michael, and Lily are also safe. That leaves Mario, Ali, Abraham, Charlie, Blake, and Nellie to learn their fate. In the final twist of the night, Robert announces that all six of them will have to sing for Ryan Murphy, paired up in duets. Sheeeeeit. Here's what happens.
– Blake and Nellie are asked to sing "Waiting for a Girl/Boy Like You" by Foreigner. They're up first. Blake and Nellie take to the stage and the lights dim; I can already tell we're in for a treat here, folks. Blake and Nellie (Blellie?) have put together a heart-wrenching soap opera of a rendition for the judges, one filled with emotional singing into each other's faces and a forehead kiss that'll make your heart squee. Upon finishing the song, Ryan Murphy proclaims, "That wasn't a Last Chance performance, that was an opera." These two are clearly safe, and scurry off stage holding hands.
– Ali and Abraham are next, singing Katy Perry's "Last Friday Night." This song, I think, is a trainwreck. They start off by finishing each other's sentences, and then things go from bad to worse as their voices ricochet off one another during their harmonies. And, Abraham, would you mind looking at Ali while you're singing? I know you dyed your hair last week and you're super masculine now, so would at least pretend that you like her? But oh, wait, apparently I know nothing about music and don't even have ears, now that I come to think of it, because Ryan Murphy thought their performance was charming. Ali is like a "funny little Dolly Parton," he proclaims, which I guess is a compliment.
– Mario and Charlie are last, singing "Don't Let the Sun Go Down On Me" by Elton John and George Michael. Our brief glimpses of their rehearsal time together is beyond cringe-worthy; these two clearly can't stand each other. On stage things get intense. Mario nearly breaks down sobbing and I daresay I see the glimmer of a tear in Charlie's eye, which makes perfect sense because there's nothing like an Elton John ballad to make grown men cry. Ryan Murphy thinks it was sweet, but it's clear to everyone that one of these two cry babies is going home this week.
Robert walks into the choir room following the Last Chance performances with his head hung so low that I think he's about to pull one of the contestants aside to tell them their grandmother died. But no, he just wants to say, "The list is up." Robert pulls out a paisley handkerchief to wipe his eyes as he sulks out of the room.
Going home this week is Mario. Charlie and Abraham are happy because they know that neither one of them were very good this week. I'm happy because Mario's the worst. Can't say that I'll miss ya, bud! Mario makes his exit as proud as ever, stating (over swells of violins) that he hopes people watching this show will find him inspiring. In a rare and fleeting moment of strength and humility, Mario declares, "Blind is the last thing on my list."
I can't wait for more shenanigans next week, but for now it's time for a red, white, and blue rocket-shaped Popsicle. Viva America!
[Image Credit: Oxygen]More:
Glee Project Recap: 'I Love a Hot Mess'
Glee Project Recap: 'Stop Going For My Wenis'
Glee Project Recap: 'Oh God, It's Going to be Deep' Glee Project