'Glee' Recap: Breakdowns, Brothers, and Britney 2.0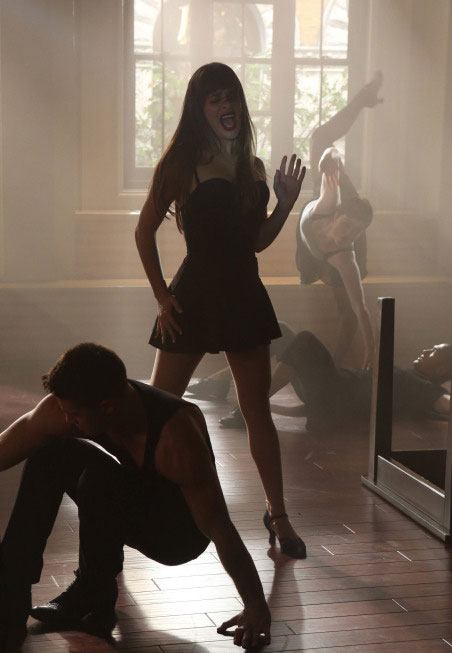 Wow. A lot has changed in the world of Glee since our TV screens were rocked by the first Britney Spears-inspired episode two years ago. Ms. Pilsbury is no longer engaged/married to hot dentist Dr. Carl (John Stamos), Rachel's wardrobe has evolved beyond "one of the bait-girls on To Catch a Predator," and Brittany — well, Brittany is still just as awesome. In the all-new "Britney 2.0," the Glee cast tackles the darker side of the pop princess and leaves us with more questions then answers in the end. So grab your favorite snake, bust out that plaid skirt, and make sure you have plenty of body glitter because Britney's back!
So Here's What You Missed on Glee:
It's Brittany, Bitch: The episode opens on our beloved Brittany S. Pierce (Heather Morris) strolling through the halls of McKinley, reciting her own voiceover and preparing for the best year ever. She's captain of the Cheerios, vice-Rachel of glee club and has a plan to stay senior class president forever. Holler! To celebrate, Brittany performs an amazingly over-the-top version of "Hold It Against Me" with her fellow Cheerios and everyone loved it. (Side-Note: And by "everyone," I mean me.) Unfortunately, Coach Sue (Jane Lynch) is not a fan of Brittany's F- GPA and kicks her off the Cheerios. Um hi, harsh much?
Back at Brittany's place, we finally get a glimpse of Santana (Naya Rivera) via Skype (yay!), but unfortunately, the call was a super quick one. Even though Santana gave a really sweet, "I love you," we can tell that Brittany is definitely depressed. Plus, the fact that Lord Tubbington joined a gang does not make her feel any better (Side-Note: That 2.5 second glimpse of Lord Tubbington in a biker jacket and shades seriously just made my day)
The next day at school, we see that Brittany is — to put it lightly — having some wardrobe issues. Crocs, mom jeans and an oversized "Worlds Best Grandmother" t-shirt are just some of the goodies that Brittany threw on when she is called into see Mr. Schue (Matthew Morrison) and Ms. Pilsbury (Jayma Mays). (Side-Note: Emma is alive!!! And looking cuter then ever, I might add.) Mr. Schue gets the inspiration that he needs from his fabulous fiancée and hopes to bring Brittany out of her slump with this week's assignment: Britney 2.0. To kick things off, Blaine (Darren Criss) and Artie (Kevin McHale) perform a boy band-esque mash up of "Boys" and Justin Bieber's "Boyfriend" while Brittany proceeds to eat an entire bag of Oreos.
HummelBerry Has Arrived!: Over in New York, we see Rachel (Lea Michele) in her dance class, listening to her sensationally snarky teacher, Cassie (Kate Hudson), describe the tango. If Rachel is ever going to get a sexy role on Broadway, she'll need to know this dance, but sadly Ms. July shuns her: "You don't have enough sex appeal to pull off an incredible tango. You're awkward and tentative in your body and you move like you're ashamed of it." Ouch!
Fast-forward to our first glimpse of Hummelberry in NYC. They are so cute together that kittens are starting to feel jealous. It seems that Kurt (Chris Colfer) and Rachel have found their new apartment. The pros? It's huge. The cons? It's a 45-minute train ride from pretty much everything. But, of course, none of that matters because the best friends are just happy to be together and they then celebrate by riding their bikes around and around in their new pad. (Side-Note: That last bit sounds silly when you read it but believe me, their bicycle version of a merry-go-round was presh.)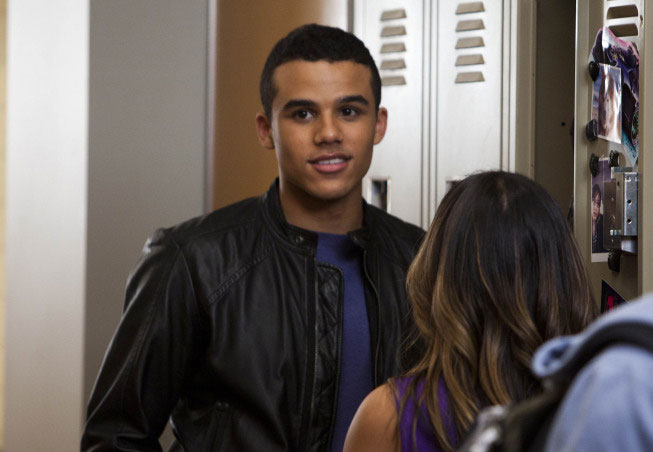 Later that night, while enjoying true New York pizza (ahem, Dominos), Rachel and Kurt get into the subject of Finn (Cory Monteith). Although neither one has heard from him, Kurt assures Rachel that Finn is just giving her "space." Kurt then reveals his plan for the future in the Big Apple: he is going to reapply in the second semester for NYADA and, in the meantime, he has applied to work at Vogue. (Side-Note: Perfection. I couldn't imagine anything better for Kurt.) After some light NYADA complaining from Rachel, we learn via YouTube that Cassie July is just a couple sprinkles short of a cupcake. Basically, she's a little crazy and was kicked off of Broadway for jumping off the stage and attacking a man. Classy.
Puckerman's a Player: It looks like little Puckerman is following in his big brother's footsteps. Jake (Jacob Artist) is flirting up a storm in the McKinley halls, and even though practically every girl in school warned Marley (Melissa Benoist) — in an fierce rendition of "Womanizer" — she still agreed to "hang out some time." (Side-Note: Um duh, I would too. Have you seen his smile? Swoon!) Out on the bleachers, Marley opens up to Jake and says that after constantly being picked on, she finally feels like she's in a place where people accept her. The chemistry between the two misunderstood teens is electric and they sing my favorite song of the night: "U Drive Me Crazy/Crazy." Their duet was seriously so sweet that I now have a toothache. (Side-Note: Heck yes, I just used a Clueless reference right there!) After an amazing almost-kiss, we see the first act of chivalry from little Puckerman when he gives a shivering Marley his leather jacket.
The next day during lunch, two jocks started making jokes about Marley's mom right in front of her. Jake comes to the rescue and after demanding an apology, and the three hot-headed guys begin to fight. Cue Mr. Schue to break up the brawl. But instead of taking Jake to Principal Figgins' office, he brings baby Puck face-to-face with his older half-brother Noah (Mark Salling). (Side-Note: Who else squealed with delight after seeing the original Puck?! Anyone? No? Okay, cool. Just me then.) Noah explained to Jake that sleeping with a bunch of girls and starting fights won't solve his problems, but having the support of the New Directions will help make him a happier person. Noah concludes, "Whether you join glee club or not, you're my brother."
NEXT: Leave Brittany Alone!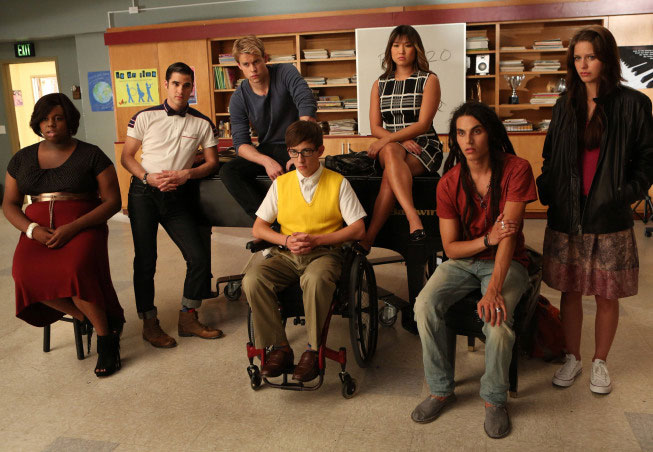 Leave Brittany Alone!: Over in the choir room, Tina (Jenna Ushkowitz) is leading a beautifully stripped-down version of "3," when all of the sudden Brittany gets up and tries to shave off all her beautiful blond locks. "Coach Sue has taken away my high pony. If I can't have my high pony I don't want any hair at all." Luckily, the glee club stopped her just in time, but Jacob Ben Israel was not so lucky. When the McKinley reporter tried to hassle the former Cheerio, she attacked him with an umbrella for a solid four minutes. (Side-Note: It was thrilling to watch.)
The glee club has decided that the best way to help Brittany is to have her sing lead vocals at the pep rally, but there's only one problem: Brittany will only perform if she can lip-sync the song. Reluctantly, they agree to pre-record the song and keep their plan a secret from Mr. Schue, but the day of the pep really, we see that Brittany is less concerned with the performance and more focused on Puffy Cheetos. (Side-Note: Those who follow me on Twitter know that I am a huge fan of these bright orange snacks. In fact I'm eating them right now. This is definitely a sign from the universe that Brittany and I would be great friends.) Needless to say, the performance is a train wreck — very similar to Britney Spear's 2007 VMA catastrophe — and Kitty (Becca Tobin) outs the group by shouting that the New Directions are lip-syncing. Mr. Schue is furious and warns that if the National Show Choir Board of Review finds out, they could be banned from competing this year.
After following a map to the auditorium, Brittany meets up with Sam, who has figured out his fellow blonde's scheme. Brittany has been attacking reporters, dressing like a hobo, and lip-syncing terribly because she wants to make a glorious comeback just like the real Ms. Spears. Brittany reveals that she really misses Santana, not just as a girlfriend but as a best friend. (Side-Note: Sam and Brittany are absolutely adorable together and I'm officially campaigning for him to appear on the next episode of Fondue For Two.) After confronting Coach Sue, introducing us to a new language, and admitting that she now has a tutor, Brittany's high pony was restored and she was put back on the cheerios. Praise Lord Tubbington!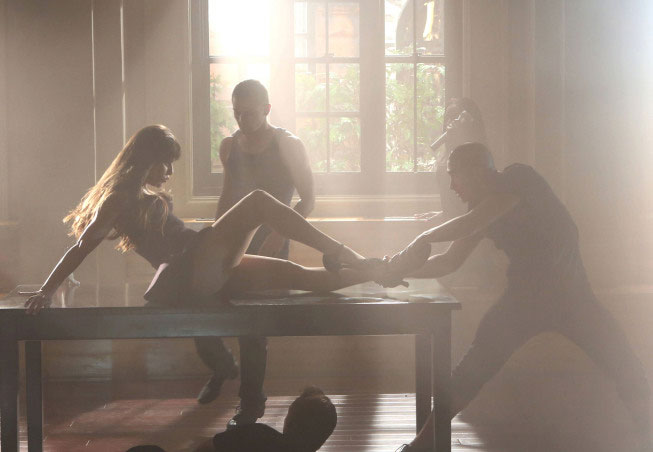 Rachel's Not That Innocent: To amp up her sex appeal, Rachel asks Brody to dance with her and show Cassie that she has what it takes. After half a second of hesitation, Brody agrees to help Rachel out and also adds a compliment to the conversation: "You're crazy sexy." Rachel's performance of "Oops!… I Did it Again" featured fog, flashlights, and a whole lotta fierce dancing. In a word: incredible. (Side-Note: Gaaah Brody!) However, once again, Cassie does not think that Rachel's performance is up to par. So Rachel snaps at the teacher saying that she is just jealous: "We have our entire careers ahead of us and yours ended before it even began. We're the future and you're just some YouTube joke." Yikes! Rachel was kicked out of class and told not to come back.
Of course, she wouldn't be Rachel unless she went back to apologize. Rachel has a really nice conversation with her teacher and begins to understand why Cassie has been so hard on her. "Believe me, it's a whole lot more vicious out there then it is in here. That's why I pick on my students." Reluctantly, Cassie tells Rachel that because of a school policy, this is her one and only warning and she is allowed to stay in the class.
Later at night, we see that HummelBerry are beginning to paint their new apartment and Rachel draws a heart around one word: Finn. Kurt once again reassures Rachel that she hasn't heard from him because he loves her and happily saunters out of the apartment to get cake because cake makes everything better. Brody knocks on the door and the collective hiss of Finchel fans can be heard worldwide. The NYADA junior, who road on a train for 45 minutes just to see her, brought Rachel a beautiful pink orchid for good luck in her new place. After a brief hello and calling her sexy once again, Brody went in for a kiss. (Side-Note: For all you Finchel fans out there, let's just pretend that Brody was hitting on me instead. I know I am… Leady forever!) After Rachel politely turned him down, Brody left her with this intriguing line, "I will respect your boundaries, but just know that when we're together, whatever we're doing, I'm thinking of kissing you."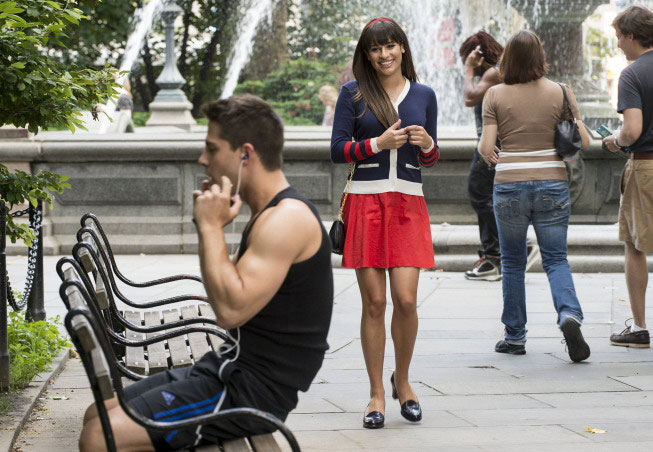 The Final Five: Jake has decided to join The New Directions, and after some light flirting in the hallway, Marley realized that she was still wearing his jacket. Of course, just as things were starting to get close to perfect, Kitty pounces into the conversation, revealing that she and Jake are a couple. (Side-Note: I'm sorry, but Jitty, both the name and the couple, is not nearly as cute as Jarley.) In glee club, Marley leaves us with our last Britney song "Everytime" and it is just lovely. During the song in New York we see that Cassie is finally letting Rachel have a chance to tango and Brody is watching from the doorway. Later back her apartment, Rachel paints over the heart she drew for Finn.
Most Heart-Warming Moment: Brittany being reinstated as head Cheerio.
Most Heart-Breaking Moment: Watching Rachel paint over her Finn heart.
Quotables:
"I'm not speaking to you, I know you joined a gang." —Brittany to Lord Tubbington
"Kiki is Siri's super smart older cousin who is really jealous of how famous Siri has gotten." —Brittany
"You're late. And dressed like a Wallgreens underwear model." —Cassie
"I had my first threesome at seven and once I beat up a police horse." —Noah Puckerman
"My voice is too weak to sing live. I've been up every night yelling at the shrubs in my yard that have been making fun of me." —Brittany
Vote it out!
<a href="http://polldaddy.com/poll/6549316/">What was the best Britney song of the night?</a>
What did you think of "Britney 2.0"? We're you excited to see Santana and Noah (briefly) return? How are you doing out there Finchel fans? Shout out everything you liked and disliked about the episode in the comments below!
Follow Leanne on Twitter @LeanneAguilera
[Photo Credit: FOX]
MORE: