'Glee' Recap: Newbies, New Problems and New York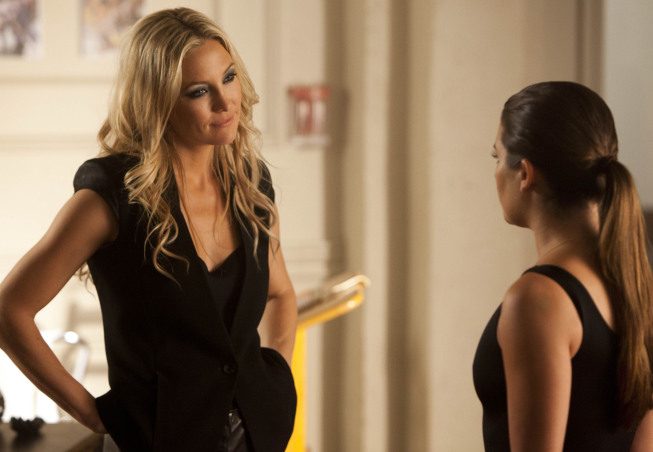 Alright, Gleeks — before we get started I need to clarify something for you. We all know that there are plenty of other Glee recaps out there in the interwebs, but this is what make Hollywood.com's version so different: I love this show. There it is, plain and simple.
I'm not going to mock the actors, diss the songs, or make snarky comment on how "unrealistic" a scene is. Come on y'all, it's Glee. It's supposed to be unrealistic. We watch it because it's a way for us to escape from our stressful, boring, music-free lives. With that said, let's get started! In my recaps you'll find quick (and hopefully fun) blurbs to help get you caught up on the gleevents. I'll also be sprinkling in some "Side-Notes" which are my own thoughts, questions, or opinions on what just happened. It's going to be a wild ride this season, and I'm here to fill you in on what you missed and to help get you excited for the storylines to come.
So Here's What You Missed On Glee:
NYADA Ain't So Nice: The episode opens on Rachel (Lea Michele)'s first dance class, and right away we see that her new teacher Cassandra July (Kate Hudson) is definitely not someone you want to mess with. After verbally assaulting a girl by the name of "muffin-top," Cassandra quickly turns on our beloved Rachel, nicknaming her "Little Miss David Schwimmer." Ouch! Rachel's rude awakening gets even worse when Cassandra gives her a big New York City welcome: "You suck."
When we next see her, Rachel admits that she hasn't heard from Finn (Cory Monteith) in two months! "Maybe he's just trying to give me the space I need to make it on my own," she ponders. (Side-Note: I'm sorry, but where oh where are you Finn? What, have you neglected your shining star? I hate to say it, but not cool, love.) Rachel is tired of people making fun of her extensive nighttime rituals, so she's started showering at 3 AM. And through the steam of the shower we meet our newest and nakedest eye-candy of the episode: Brody Weston (Dean Geyer). There's no denying that he and Rachel instantly click. He gives her a mini pep-talk and then makes it extremely clear that he is straight.
(Side-Note: I just want to make it clear that yes, I do ship Brody. But not Brody and Rachel, no way. I'm a fan of Brody and Leanne. Leady? Broanne? Whatever, I dig it. Plus this new relationship will help keep the Finchel fans from wanting to kill him, something that would make me very very sad.) The next day we see Rachel telling Kurt (Chris Colfer) about her new NYADA encounter, but when her best gay asks if she likes Brody Rachel quickly responds, "No, you know I'll always love Finn." Breathe y'all.
The New Directions Have A New Attitude: Jacob Ben Israel (Josh Sussman) is back (sporting a shorter doo) and introducing us to McKinley High's newest celebrities. Let's break it down, shall we? Artie (Kevin McHale) is currently tight with the jocks and chummy with the Cheerios. Sam (Chord Overstreet) is quite pleased with his newfound fame and a flock of giggling girls. (Side-Note: It's kind of a bummer that he spent all of season three trying to woo back Mercedes and she's not even mentioned.) And Tina (Jenna Ushkowitz) has got a tude! She practically assaults her personal assistant with a non-organic banana and we quickly learn that although she still loves Mike, she is now officially a single lady for the first time in two years! Oh and she now has a tattoo that she had to change from "Mike Chang Forever" to "Make Change Forever.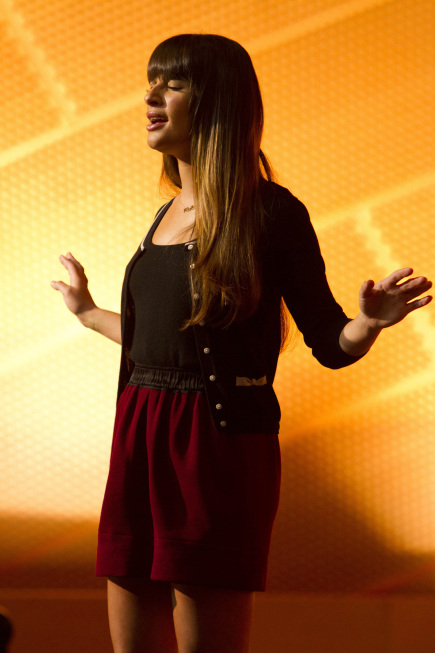 Later in the choir room, Mr. Schue (Matthew Morrison) introduces the newest member of the New Directions: Vocal Adrenaline's MVP Wade Adams, aka Unique (Alex Newell). Rather than welcoming the newbie with open arms, Blaine (Darren Criss) and Tina rather rudely say that they don't need any more "stars" in the group. Boom! And the gauntlet is thrown! Blaine, Tina, Unique, and Brittany (Heather Morris) are battling for the title of the "New Rachel" and Artie is putting his director skills to the test, because they've appointed him as the official judge. We are now treated to the first song of the fourth season of Glee: "Call Me Maybe." (Side Note: Yay for Brittany singing and Tina getting time to shine!")
The Music Is Still Amazing: Cassandra shows up for dance class a wee bit intoxicated, and after Rachel calls her out in front of the entire class, the sexy teacher proves that she's still got it with a jaw-dropping mash-up of "Americano" and "Dance Again." (Side-note: Does Kate Hudson age? Like, at all? She's flawless.) Bad move, Miss Berry. Over at the Glee club auditions we finally get to meet newbie Jake Puckerman (Jacob Artist) and he blew everyone away with his version of "Never Say Never" by the Fray. (Side-Note: Artist told me that was the song that he originally auditioned with in front of Ryan Murphy.) After Mr. Schue cuts his song short, Jake throws a minor temper tantrum (he throws a microphone stand) and we can really see the resemblance to his older brother. Now it's time for our first kinda sorta duet of the season. Rachel at NYADA and Marley (Melissa Benoist) at McKinley are both singing "New York State of Mind" and my oh my, it is just lovely.
NEXT: Marley's Got a Secret!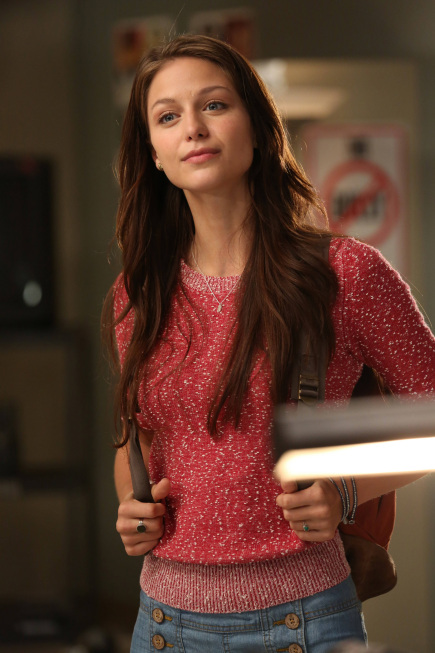 Marley's Got A Secret:  In the lunch room, we get the first glimpse at newbie Marley, and a big look at the glee club members (I'm looking at you Artie, Blaine, Tina and Sam) acting like pretentious brats, making Unique feel like an outcast, and making fun of the new lunch lady's weight. Unfortunately that new lunch lady is Marley's momma, and she is without a doubt the second sweetest character we've met on Glee. (Side Note: Ms. Pillsbury (Jayma Mays) is first.) We soon learn that Marley left her old school because she was severely teased by her peers for being the lunch lady's daughter. Her mom is determined to give Marley a new chance to be "popular" so she sews designer labels into her hand-me-down clothes and keeps their relationship a secret.
Later we see Kitty (Becca Tobin —the new Cheerio, trying to be a mix of Santana and Quinn) and some random jocks once again making fun of Marley's mom in the lunchroom. After a particularly snarkey comment from Sugar (Vanessa Lengies), Marley finally admits the truth to her newfound "friends" and storms off. The always wonderful Sam explains to Marley that he knows what it's like to have a family that struggles financially, and he tries to coax Marley to stay in the club.
And The "New Rachel" Is:  Blaine! That's right, Artie makes his choice and he decides that the former Warbler is the best one to lead the New Directions to a second National victory. According to Artie, Brittany was a "close second." Speaking of Brittany, she finally reveals some desperately wanted Brittana scoop. Santana (Naya Rivera) is currently extremely busy with cheerleading practices, so she and Britney have been doing their best to keep up communication. However, apparently "it's hard making out on Skype. You can't really scissor a webcam." Best of luck to you with that, Brittany!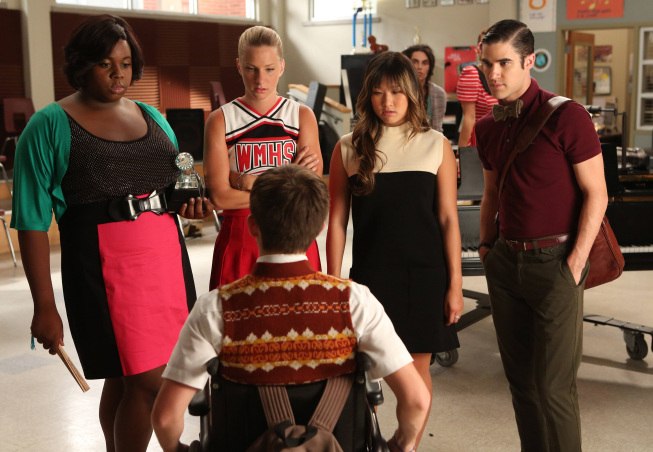 Back to Blaine — after a short but oh-so sweet talk with his beau Kurt, Blaine decides to use his newfound position as head gleek to perform "It's Time" in the quad, complete with Cheerios, jump ropes, cups, and a group of slightly random kids and some well-placed male dancers. (Side-note: I cherish Klaine. I literally started tearing up when Blaine was singing to Kurt because they have such a kind and honest relationship. When they hugged it was cute but to be quite honest, that moment needed a kiss.)
Kurt's Stuck In A Rut: He's working at the Lima Bean, waiting to start community college classes and going back to McKinley more often than Puck probably did during his entire high school career. After meeting Coach Sue's (Jane Lynch) new baby Robin and getting hit with one of Kitty's well-placed verbal claws, he begins to realize that hanging around his alma matter is not necessarily the best thing for his future. Blaine's amazing music-filled blessing to leave for New York was enough to get him to the airport but it was Kurt's amazing father Burt (Mike O'Mally) who got him on the plane. (Side-Note: This is by far my favorite father/son relationship of all time. Also, I'm totally still crying.)
The Final Five: We gleeks know that a lot happens in the last five minutes of every episode, so here is your wrap-it-up rundown: The New Directions have a huge group epiphany when apologizing to Marley, and realize that the quest for popularity was not worth becoming mean-spirited snobs. Kitty kicks them out of the popular table, and the jocks promptly slushy Marley and Unique. Welcome to Glee, you two! Mr. Schue reads Jake's file, and finds out that he is Noah's younger half-brother. But when he tells Jake that he needs to lose the attitude, he says no thanks and declines the offer to join the club. (Side-Note: Nooooo! Jake, come back! I love you!)
Marley belts out a truly beautiful version of "Chasing Pavements" and slowly but surely starts to realize that she finally has a group of friends who care about her. Meanwhile in New York Rachel finally admits to Kurt that she is having a miserable time in New York. She sobs into her phone, "I lied, I'm not okay." And just like the ending to a perfect love-story, Kurt tells Rachel to turn to around: Her best friend is there waiting for her, and they are ready to tackle NYC together.
Most Heart-Warming Moment: The smile on Rachel's face when running into Kurt's arms.
Most Heart-Breaking Moment: Watching Burt and Kurt say goodbye at the airport.
Quotables:
"No your name is muffin-top. And from now on it's rice cakes and ipicap or cut off a butt cheek because you need to drop a few."—Cassandra
"C U Next Tina!" —Jacob Ben Israel
"In case you were wondering, which you were, I'm straight."—Brody
"I had a song in my heart Blain Warbler and you killed it. Now I have a dead song in my heart and pretty soon the corpse of my dead heart song will start to smell."—Brittany
"If you're not scared it just means you're not sticking your neck out far enough."—Burt Hummel
Vote it out:
<a href="http://polldaddy.com/poll/6533733/">What was the best song of the night?</a>NEXT: Shipper Scoop!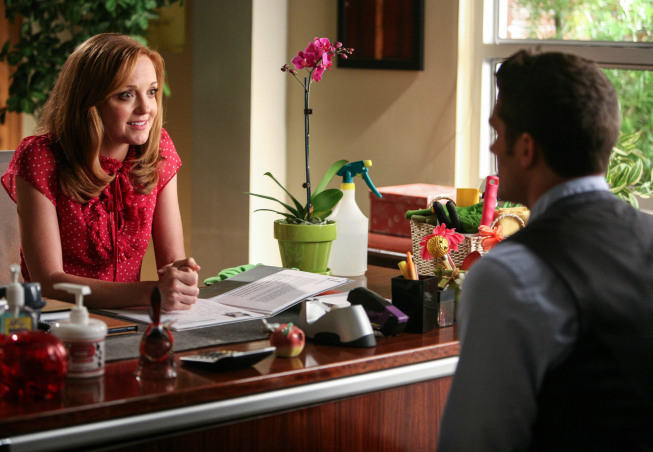 Shipper Scoop:
Finchel: At last night's Glee premiere Lea Michele was all smiles when talking about the highly-anticipated Finchel reunion. "Aww, well she's so excited to see him and he comes to New York," she revealed. Even though Rachel is looking forward to their reunion, she also warns fans that it's going to be a "tough" one. "I think that he's been through a lot, and she's been through a lot, and they're doing their best," she said. Many fans will not be pleased to hear that the formerly engaged couple has not spoken in over two months. However, Michele offered up some hope: "Well, his explanation is understandable." Hmm… color me curious.
Jarley: We saw that Sam and Marley had a sweet moment in the McKinley halls, but we also clearly saw that she was checking out our baby Puck earlier in the episode. I chatted with the always delightful Chord Overstreet, and he's says fans should get pumped for Jarley, "I think probably the best thing for the show is Jake and Marley because they're a little bit younger…you can see that relationship go through a bunch of different turns." Plus, we already know that they make an adorable couple.
Fabrevans: So now that we know that Jarley is officially a go, many fans have been hoping that Sam and Quinn (Dianna Arron) can still rekindle their old flame. Overstreet agrees. "I sure hope so — I mean I love doing scenes with Diana," he said. "She's absolutely awesome, and I love her to death." Many fans were completely freaking out when Agron was not in any of the new promo pictures, but Overstreet teased that our favorite Yale student is heading to Lima. "Right now she's traveling back and foth from France, but I think she's coming back pretty soon. All the seniors that have graduated are kind of coming in and out. You never know what could happen, but I would love to do more stuff with Diana."
Wemma: When I caught up with Matthew Morrison Wednesday night, I made it very clear that I had a mini-heart attack when Emma was completely absent in the premiere. The Glee club vet was quick to respond. "I would too!" he said. "She needs to be in every episode." Preach! Morrison said that our favorite guidance counselor will be returning soon — "Probably in the second episode." However, I did receive some rather unfortunate news. When asked if Mr. Schue has any solos lined up, Morrison responded: "Not as of yet. It's okay to cry. You can have my shouldered to cry on." And, obviously, I took full advantage of that. Although Morrison wants to be singing, there is one thing that he wants to most of all this season — a wedding. "I would love for [Will and Emma] to get married," he said. And I just so happened to guess the big date! Check back Wednesday in Leanne's Spoiler List to get the full details on what to expect from Wemma this season, including when we'll be hearing those wedding bells chime!
What did you think of tonight's premiere? Are you excited for your favorite couples to be reunited? Who had the song of the night? Shout it out in the comments below!
Follow Leanne on Twitter @LeanneAguilera
[Photo Credit: FOX]
MORE:
Leanne's Spoiler List: Will Finchel Get Back Together? Lea Michele Answers!
'Glee' Season Four: 10 Things You Need to Know About The Premiere
'Glee' First Look: Britney Spears (Songs) Describes The Hot New Photos