'Glee' Recap: Sexy Makeovers, Scandalous Kisses, and Sarah Jessica Parker!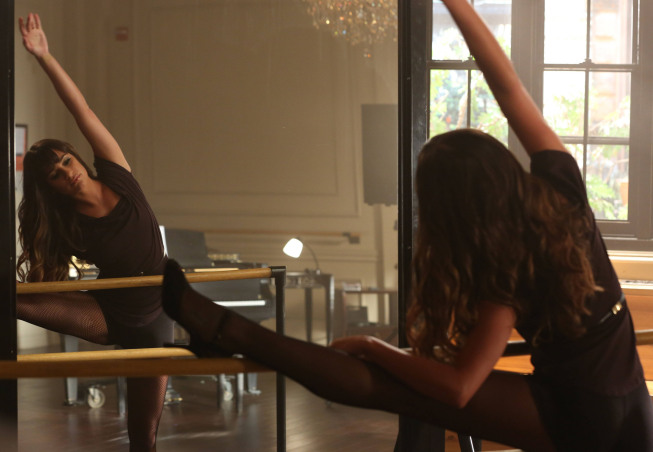 This week's episode of Glee was a complete and total whirlwind of emotions. From the shock of learning that McKinley High has a sewing club, to the excitement of seeing Carrie Bradshaw back in the Big Apple and the devastation of watching our favorite couples drift apart. 
We've got a lot of ground to cover and I take my title of Glee-recapper very seriously (Side-Note: I wear my official sash and tiara with an immense amount of pride.) So sit back, relax and let me catch you up on everything that you may have missed.
So Here's What You Missed on Glee:
Who runs the world? Blaine!: The episode opens very similarly to last week's, but now it's time for Blaine (Darren Criss) and his beloved bowtie to strut down the McKinley hallways with a voice over, declaring that this is his time to shine. So what does he do? He signs up for every single club imaginable while singing a beautiful version on "Everybody Wants To Rule The World." Super Hero Side-kick Appreciation Club? Check! Blaine admits that his over-excessive clubbing is just a way to fill his time now that his beau is no longer in Lima. Of course they talk and text and skype as much as possible, but it's just not the same. (Side-Note: the only thing more adorable than Blaine dressed up as Robin is Blaine and Kurt's movie date via Skype!) So Blaine decides to fully commit to something and decides that he wants to run for senior class president and of course Brittany (Heather Morris) is less than pleased.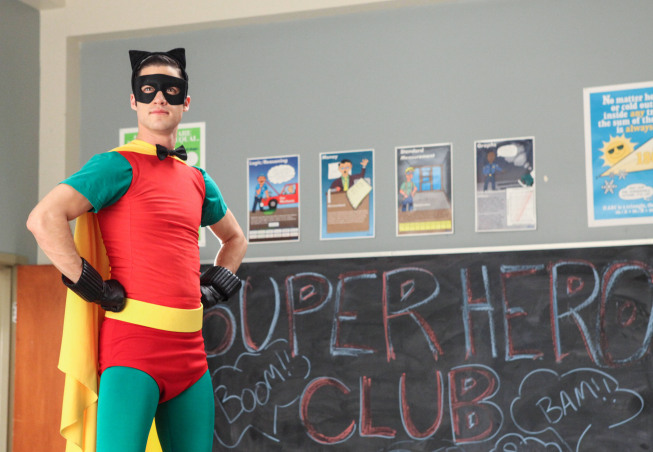 Brittany turns to Artie (Kevin McHale) and attempts to coax him into being her running-mate for the election. After calling him part robot and forgetting the fact that they once dated, she somehow convinces him to be her vice-president. In the last episode we saw that Brittany and Sam (Chord Overstreet) are the now the world's cutest blonde besties, so you can imagine how hurt he was when he learned that he would not be helping Brittany in the election. Not to worry, gleeks, Brittany has it all under control! She suggests that Sam should be Blaine's running-mate and then challenges the two to a debate.
The presidential pairs begin to prep for their debates and after a quick wardrobe change and a super rocker duet of "Celebrity Skin" Brittany and Sam are ready to go. At the debate, Sam suggests that Blaine ditches his signature bow-tie and shockingly he agrees. (Gasp!) We watch as Artie pours out a speech that goes on for a little more than a decade and Sam goes back to his stripper ways. (Side-Note: Oh gosh those abs… swoon!) Now it's time for Brittany and Blaine to face off, and their speeches weren't much better. Blaine goes on a rant about hairgel and Brittany says that because she loves her school so much, she is going to ban weekends and summers so that the students will be at McKinley everyday. Artie utters, "And we've just lost the election"
Kurt and Rachel Take New York: After finding the perfect outfit, Kurt struts his way into the offices of Vogue.com ready for the interview of his dreams. (Side-note: yay for the return of the hippopotamus brooch!) Enter the oh-so lovely Isabelle Wright (Sarah Jessica Parker) the senior editor of the website and Columbus Ohio native. The two fashion lovers strike up a quick bond. A hop, skip and a jump later, our lovely Porcelain was given the most glorious of gifts: an internship at Vogue.com and what seems to be the coolest boss ever.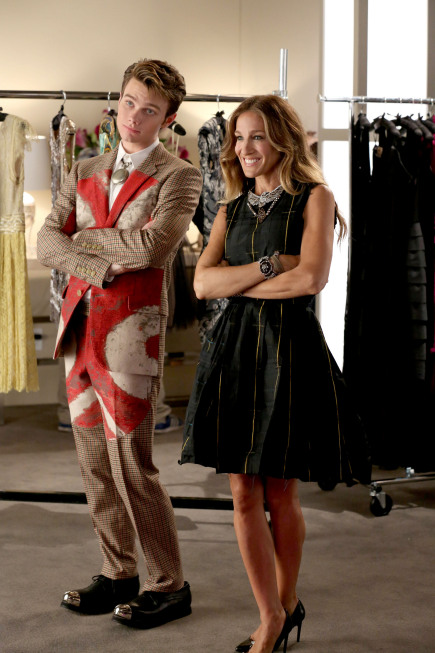 On his first day interning, Kurt is doing a marvelous job of passing out coffees while Isabelle and her team of eccentric fashion experts pitch different ways to incorporate leather into their wardrobe. (Side-Note: I'm sorry, but there is no way I will ever sport a "cowhide brassiere." Not only does that sound awkward, it sounds horribly uncomfortable) However, it only takes one small disapproving look from Kurt to shatter Isabelle confidence in her decision-making skills. It turns out that Isabelle is terrified of failing at her new job and has lost all sense of confidence to spot the newest trends. (Side-Note: Maybe Isabelle should watch one of my favorite fashion-inspired shows, it's called Sex and The City.)
Once again, it seems like Rachel Berry (Lea Michele) can't make it a single day without some cheerio, teacher, or freakishly tall ballerina making fun of her. Two of Rachel's NYADA classmates have a problem with her wardrobe choices, "I didn't know Lena Dunham was joining us today," one quipped. (Side-Note: How dare you smite the good name of Lena Dunham, you twiggy, sock bun-wearing brat!) Of course, leave it to Kurt to come up with a brilliant idea to save his best friend's confidence. 
Kurt brings Rachel to the Vogue.com offices and after swiping a keycard into some pretty fancy-looking security devices, the two former Ohioans enter the couture vault with two missions in mind: give Rachel a makeover and create a brilliant music video for his new boss lady. But when Isabelle shows up, we're excited and kind of surprised to see that the editor is fully into the idea and she, Kurt, and Rachel perform a glorious mashup of "The Way You Look Tonight " and "You're Never Fully Dressed." (Side-Note: Wheeee! Sarah Jessica Parker is singing, and it's just lovely!)
Over in the NYADA dance studio, we see a newly dolled-up Rachel and out of nowhere Brody (Dean Geyer) waltzes into the exact same studio. Brody complements her make-over and once again reiterates his feelings, "I like you." Rachel invites him to sing a duet, a first for this flirtatious duo. Singing "A Change Would Do You Good" Rachel and Brody partake in some scandalous dance moves and scamper throughout the streets of New York. (Side-Note: Why on earth are they running? And what was with that awkward ice-cream moment? Can someone please answer me these important questions?) Rachel then asks Brody the one question that breaks the hearts of Finchel fans everywhere, "What are you doing tomorrow night? I want to cook you dinner."
NEXT: Will Wants More!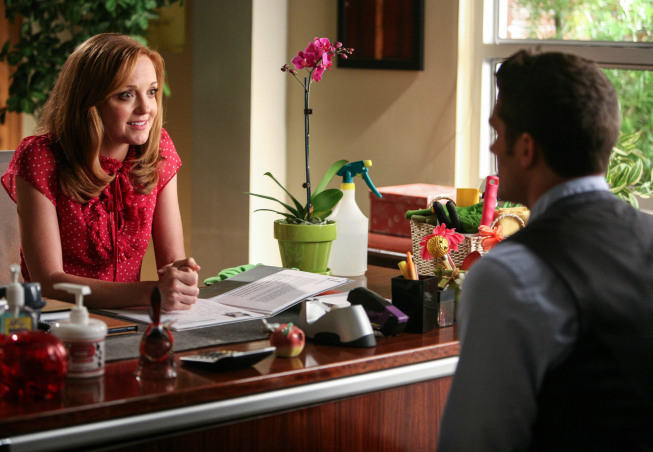 Will Wants More: Over in the choir room Mr. Schue (Matthew Morrison) announces that due to the New Directions' victory last year, they now get to host the national show choir's rules committee meeting. (Side-Note: Does the choir room look different to anyone else this year? It seems almost wider?) And Sam makes a very funny point that all gleeks can consider giggle-worthy, "Why can some kids sing like six songs and others only do one?" We soon learn that Mr. Schue is completely out of good ideas for their sectional performance and slowly but surely, he's in a full-blown panic.
After talking with Coach Sue (Jane Lynch), Will realizes that he has lost his drive and spirit as an educator. Basically he's feeling blah. Now that his dream of being national champs has come true, Will feels like there must be more out there for him to accomplish. At the National Show Choir rule committee meeting, we quickly learn that many schools' glee clubs are being cut since there is not enough money to fund the arts. (Side-Note: Holy Crap, it's Kirk from Gilmore Girls!)
Will is interested in joining the Blue Ribbon Panel, a slect group of individuals who aim to improve arts education and funding throughout the country. Although it sounds great, Will admits to Emma (Jayma Mays) that if he gets this position, he will have to leave McKinley for several months. Emma graciously tells her fiancé to follow his dream and encourages him to apply for the panel. (Side-Note: And once again we're reminded as to why Wemma is one of the sweetest things to happen to this world since chocolate frosting.)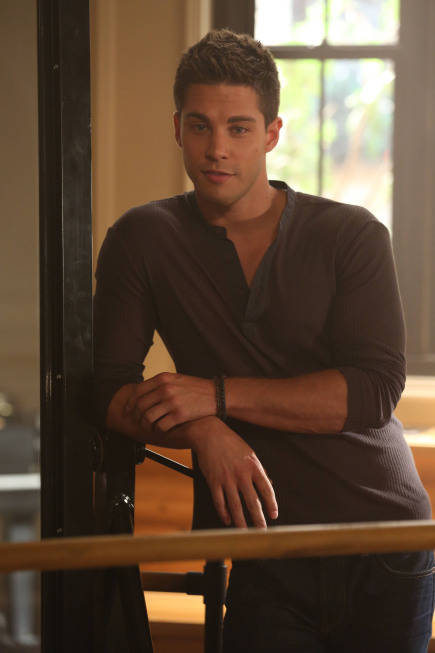 The Finale Five: As Artie predicted, Blaine and Sam (aka Blam) have won the election and the New Directions celebrate in a confetti-filled Breadstix. Unfortunately, Blaine is not really in the celebratory mood because he has not heard from Kurt since winning the the title. We see the new bow-tie free Blaine dial up his man again, but over in New York it seems that Kurt is too busy with his new Vogue friends. He physically presses "ignore" on the phone call. (Side-Note: I literally just screamed at my TV screen, "What the eff Kurt?!" Not cool, dude!) After a momentary identity crisis, Sam calms Blaine down and helps him realize that just because Kurt is gone doesn't mean that Blaine should feel out of place at McKinley. We also see Sam and Brittany share yet another sweet moment together and Brittana fans are now waiting on pins and needles to see whether or not Ryan Murphy is going to pry Brittany away from her lady.
In New York, we see that Rachel has taken full advantage of her new makeover and picked out what Brody considers a "smokin" new outfit. After burning the dinner that she was preparing for him, Rachel and Brody share a classic New York style pizza on the floor of her apartment and drinking what I'm assuming is sparkling cider. (Side-Note: Remember people, she's supposed to be 18!) The two share some childhood secrets and then right after Rachel brings up Finn (Cory Monteith), the two of them share a kiss. (Side-Note: Brody! What are you doing?! I thought we had something special!) Their kissing starts to really heat up, but then there's a knock at the door. Rachel, assuming it's Kurt, is completely astonished to see that Finn is standing directly in front of her. Finn's expression changes from happy to confused to really mad in a matter of seconds once he realizes there is another guy in his girl's apartment.
Most Heart-Warming Moment: Watching Isabelle, Kurt and Rachel prance around Vogue and living out our inner fantasties.
Most Heart-Breaking Moment: The excited look on Finn's face when Rachel first opens the door.
Quoatables:
"I think by bridging the human-slash-robot divide we'll ensure that both students and vending machines will be voting for us"—Brittany on campaigning with Artie
"Your complete lack of adult friends means you're well on your way as a pedophile birthday clown."—Sue to Will
"Ladies and gentlemen, telling anyone what the can and cannot put into their hair is disgusting. It's the first step towards tyranny, my friends. The next thing you know they'll start burning books, and then they'll probably burn people too."—Blaine
"I've never been the cook-a-guy-dinner type. I've always been just the annoy-a-guy-for-a-year-until-he-finally-gives-in type."—Rachel
Vote it out!
<a href="http://polldaddy.com/poll/6567214/">What was the best song of the night?</a>
Talk to me guys, what did you really think of the episode? Who's freaking out for the fate of their favorite couple?! What do you think is going to happen in next week's episode "The Break-up"? Let it all out in the comments below!
Follow Leanne on Twitter @LeanneAguilera
[Photo Credit: FOX]
More: