'Glee' Recap: Somebody We Used to Know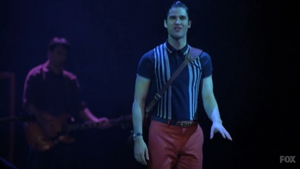 Pop singer Gotye's "Somebody I Used to Know," is the perfect track for Glee. Not only does the breakup dirge illustrate Blaine's strained relationship with his brother (White Collar hottie Matt Bomer), but also my strained relationship with Glee. I used to love this show and now feel like I don't know it at all, but, for various reasons I'm back, and I'm trying to forget about what the show used to be and love it for what it is.
If you didn't look too deeply at "Big Brother," it didn't disappoint. There were some great songs — and tons for Darren Criss, the show's goose that lays a million golden iTunes downloads — like the one above, a Duran Duran medley, and Quinn and Artie's "I'm Still Standing." Wasn't a huge fan of Blaine's "Fighter" (and the message didn't really mesh well with the action) and that "Fun, Fun, Fun" song was just boring. Oh, and there was a shower scene. I always like a shower scene.
The story, well, it was just as much piffle as it usually is. I knew about 15 minutes in exactly what was going to happen: Blaine and his brother would reconcile, Quinn would try to get out of her chair, and Rachel and Finn would be headed for Splitsville.
Yes, Quinn is in a wheelchair thanks to the accident she had on the way to Finn and Rachel's wedding which also, thankfully, postponed the nuptials. Cooper Anderson, Blaine's mildly successful actor brother, showed up in town with a bunch of bad advice and was hard on Blaine because he loves him and blah blah blah. Sue MF Sylvester really is pregnant and trying to be nice. She is friends with everyone. This sucks. I like my Sue nice and mean and evil.
Quinn and Artie become friends, because, of course. Puck decides he wants to take his pool cleaning biz to southern California and wants Finn to join him. He really wants to but is torn between pleasing Rachel and doing what's right for himself. These two just need to break up already.
By the end of the episode, as I predicted, Blaine and his bro were happy, Quinn was fine being in a wheelchair but convinced she'd walk again (and you know she will), and Rachel and Finn are in tons of trouble. Blah. This show is really just a delivery system for songs now.
It's also very much in danger of becoming a "very special episode" every week. This week we had deal with a girl in a wheelchair after three seasons of Artie in a wheelchair and we had to deal with Sue coming to grips with the fact that she is going to have a daughter with Down's Syndrome, just like her sister and Becky. It's just the same message over and over again without any challenge or nuance or anything exciting. I'm shocked Kurt didn't have another soliloquy about being gay.
Get ready for next week's Saturday Night Fever episode. Oh sarcastic joy. No matter how hard I try to love this new pandering TV show, I can't forget the somebody I used to know.