'Glee' Scoop: Naya Rivera Says There's 'Always Hope' For Brittana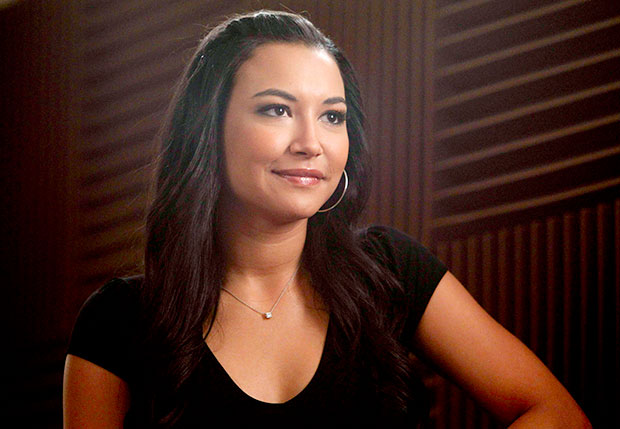 Brittana. It's fun to say, don'tcha think? What's even more fun is watching this former gem of a couple share scenes together. Between Brittany's (Heather Morris) hilariously random one-liners and Santana's (Naya Rivera) sharp tongue and quick-witted insults, they were the epitome of a spicy and sweet duo.
While Glee fans are still outraged that the show's three power couples were ripped apart early in the fourth season, the Brittana fans seemed to spark one of the biggest uproars, even getting a winking shout-out on the show when Brittany mentioned the "lesbian blogger community." Wanky! Whether you thought the reference was positive or negative, one thing is for sure: This lady-loving fandom has definitely made a strong impression on the powers that be at Glee.
Last week, I caught up with the beyond gorgeous Naya Rivera at FOX's all-star party and made sure to ask how she feels about the Brittana fans' continued support of the couple. Rivera smiled and said, "It feels amazing. I feel like ten, twenty years from now we'll be looking back at the iconic couples in television and this amazing teenage lesbian couple is going to be one of them, and I feel like that's sort of history making."
The actress revealed in last week's edition of Leanne's Spoiler List that Santana absolutely "hates" the idea of Brittany in a new relationship. (For the record, we do too!) So is there any hope for Brittany and Santana to revive their romance? Rivera answered without any hesitation, "Yes! I feel like there's always hope for them! It's not like they hate each other, which is the beautiful thing about it. They're still friends as we've seen in all the episodes when she came back." The lovely Latina also made sure to point out one very important detail: "And Santana said that she did not call it an official break-up." Squee!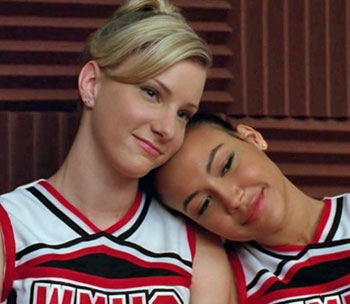 Speaking of that infamous break-up scene, last month Hollywood.com counted down the Top 12 Glee Songs of 2012 and Santana's heartbreaking ballad "Mine" was awarded with the coveted number one spot. When we shared this good news with Rivera, the actress beamed, exclaiming, "Oh my gosh! No way. Oh that's awesome!"
Rivera says that she spent a lot of time preparing for such a passionate and moving performance to her onscreen girlfriend. "First of all, I loved that song and when I heard that new arrangement, I fell in love with it even more. Shooting it was really emotional and I just really took the time to listen to the lyrics and sort of convey my feelings for Brittany at that time. It was really awesome."
If you've been wondering when Rivera is going to unleash her killer voice on a solo album, it looks like the wait might be a little longer than we'd like. "I don't know, we've hit a bit of a bump in the road, that's how I'll put it," Rivera revealed. "We're sort of at a crossroads; I might switch labels. I don't really know what Colombia is up to." Hopefully they figure out this out soon because a person can only play "Valerie" on repeat for so long before they start craving something more.
Luckily, fans were rewarded with a special musical treat when Rivera recently teamed up with 2CELLOS to record and perform a ultra-sultry version of Muse's "Supermassive Black Hole." The 26-year-old says, "That was so much fun! That was something that I don't get to do a lot of outside of Glee. It was cool because it was very low pressure. It wasn't my song or my album, and the guys are amazing." Rivera adds with a laugh, "And I got to wear a cool cat suit!"
Would you be excited to see Brittany and Santana reconcile this season? Do you agree with Naya, will there always be hope for Brittana? Sing it out in the comments below!
Follow Leanne on Twitter @LeanneAguilera
[Photo Credit: FOX]
MORE:
'Glee' Star Lea Michele Says Finn and Rachel Are 'Meant to Be'
Leanne's Spoiler List: 'Glee' Star Naya Rivera Talks NYC and Bram, 'Justified' Season 4 Scoop
Gleek Out! The Top 12 'Glee' Performances of 2012

Craziest Celebrity Swimsuits (Celebuzz)