'Glee' Season Four: 10 Things You Need to Know About The Premiere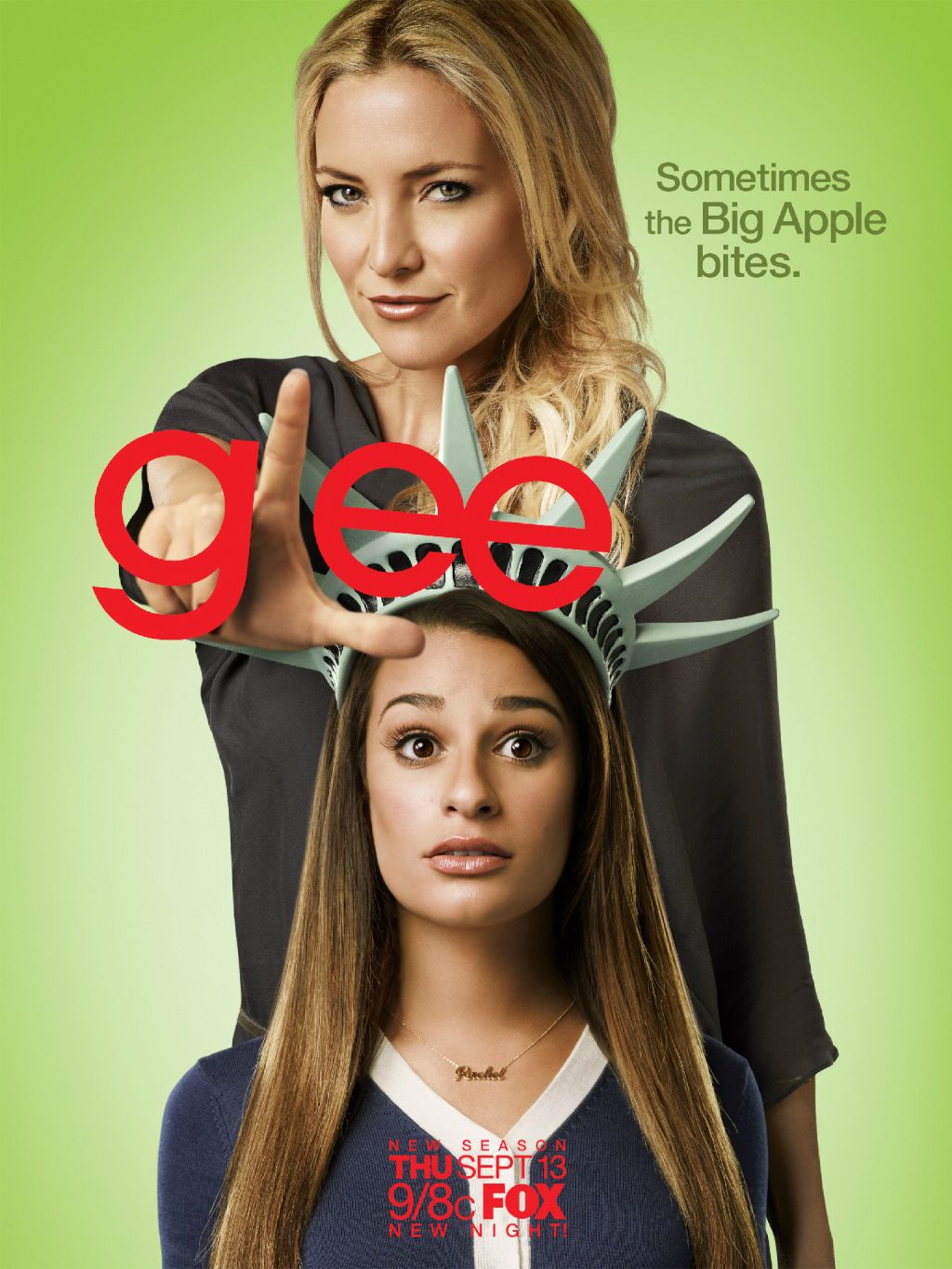 Wow. Just wow. The season opener of Glee just finished, and I'm now ordering flowers and candy for my computer as a thank you for playing me those 45 minutes and 23 seconds of pure joy. It's good you guys, it really is. 
To help share the love, Hollywood.com has created the ultimate list every gleek should read before seeing next week's season four premiere. We've gathered the top ten morsels from "The New Rachel" so you can now devour them to help curb your Glee appetite. Ready, set, read! (Spoilers Ahead!)
1. Shipper Update: Communication has been severely lacking between Finchel, but Rachel (Lea Michele) remains optomistic. Santana (Naya Rivera) and Brittany (Heather Morris) still talk all the time but "it's hard making out over Skype." Agreed. We also find out (in the first five minutes) the fate of the longest running couple on Glee — Tina (Jenna Ushkowitz) and Mike (Harry Shum Jr.). Bonus: One of them got a tattoo.
2. Cassandra July (Kate Hudson) will smack you in the face with her fierceness. No, seriously, my cheek is all red and my eye is kind of twitching but it was totally worth it. Her mash-up of "Americano" and "Dance Again" is just too amazing for words. It almost makes up for how brutally mean she is to Rachel. Almost.
3. While there are many new faces in the episode, there are some that you won't see at all. Be prepared for a hole in your heart because Finn, Emma, Quinn, Santana, Mike, Puck, Mercedes, and Rory are no-shows. Sigh.
4. I'm trying to say this in the nicest way possible — Tina is kind of a bitch brat. Our favorite McKinley High reporter even called her a "C U Next Tina." Yikes! The fame of being national champs has changed a lot of the glee club members, and they seem to have lost their sense of empathy. Hopefully they find it soon, because rooting for the snobs is not nearly as fun as cheering on the underdogs.
5. Oh hot dayum — Brody (Dean Geyer) be looking fine! Not only is his body amazing (thank you, shower scene) but he's actually a genuine person and a huge support system for Rachel right now. My apologies Finchel fans, but this guy is going to be some serious competition in the fight for Rachel's heart.
6. Kurt (Chris Colfer) and Blaine (Darren Criss) are everything that a relationship should be: mature, kind, and compassionate. After the sweetest talk ever, Blaine surprises his man with an over-the-top (but also awesome) performance to give Kurt his blessing to leave for New York. Please have at least three boxes of tissues near you when Kurt says goodbye to his dad — you'll use them all.
7. The battle royale performance of "Call Me Maybe" will actually make you like the ridiculously overplayed song again! Plus, our beloved Brittany really gets time to shine, which is great because her singing makes me all warm and fuzzy inside.
8. Marley (Melissa Benoist) is adorable, and I want to hold her tight and never ever let go. She and Sam (Chord Overstreet) strike up a sweet bond by the end of the episode, but it's obvious that she has the hots for our new young Puckerman. Not to mention, this girl has got an amazing voice that her mama calls "magic in her throat."
9. We finally get to meet the newest McKinley High bad boy, Jake Puckerman (Jacob Artist), and he's definitely channeling his older brother in this first episode. After hearing his audition for the New Directions ("Never Say Never" by The Fray) you'll be stammering this out to your TV screen: "Um, hi Jake. Here's my heart. I just really really want you to have it."
10. Rachel's still got it. She may not be up to par with her dancing skills, and she's totally suffering from a severe case of I Miss Everyone-itis, but sheesh that girl can still silence a room and give you chills with her voice. The episode ends on an amazing note for our favorite new New Yorker, and trust me — you're gonna want a lot more of those tissues. These ones are definitely happy tears, though.
Are you on scoop overload, gleeks?! What are you most looking forward to in next week's premiere? Sing to us in the comments below!
Follow Leanne on Twitter @LeanneAguilera
[Photo Credit: FOX]
MORE:
'Glee' First Look: Britney Spears (Songs) Describes The Hot New Photos
'Glee' Sneak Peeks: Lea Michele on Finchel's Fate and Her Naked New Man
'Glee' First Look: We Break Down The Season Four Portraits!
From Our Partners: