'Glee' First Listen: The Songs (And Scoop!) From 'Shooting Star'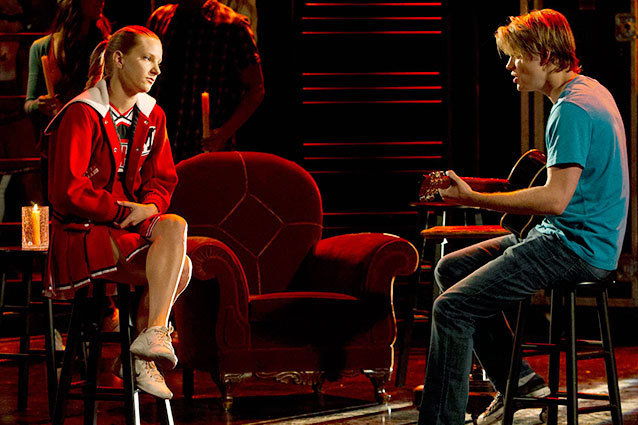 This week's all-new episode of Glee only features three songs—but lucky for you they are three of the sweetest songs we've heard all season. When Mr. Schue tasks the glee club with their assignment for the week — last chances — the members of the New Directions lay all their feelings on the line.
Many of you devoted Gleeks already know that traumatic event that rocks the halls of McKinley on Thursday's episode, but for the select few who are unaware pay close attention to this week's title: "Shooting Star." Are we all on the same One Tree Hill and Degrassi page now? Wonderful!
I've already seen the ultra-heavy episode, and all I can say is that it's definitely an hour of television you don't want to miss. Rejuvenated friendships, declarations of love, and unthinkable confessions are just a small part of the emotional journeys our Glee characters will endure this week.
Take a listen to the three beautiful ballads featured in Thursday night's all-new episode, and then read on for some scoop I've sprinkled in!
"Your Song" — Ryder: This has always been one of my all-time favorite romance songs and Blake Jenner's soothing — and yes, swoon-worthy — voice perfectly complements the tone that the legendary Elton John originally created. In the episode, Ryder is belting out his feelings to "Katie," the adorable blonde he's been romancing online. But even though this girl looks like "Katie" and is thoroughly enjoying Ryder's flirty eyes (you'd love it too!), she is sadly not the one our Glee newbie has fallen for. That's right: Ryder's been Catfished. It's baffling how understanding she is about the whole thing though…
"More Than Words" — New Directions: This is probably my favorite song of the episode because it has so many of my favorite elements in it. Acoustic guitar? Check! Chord Overstreet's honey-coated voice? Uh-huh. Heather Morris' uniquely calming harmonies? Yup! Lord Tubbington? You betcha! That's right, Fondue For Two fans, our favorite online-gambling, Scientology-practicing, diary-reading cat is in the auditorium, and the New Directions are showing their devotion to Brittany by singing to him. I know it sounds strange, but it actually turns out to be a sweet moment that only Glee could pull off. Bonus Scoop: Brittany annouces her post-graduation plans in this episode!
"Say" — New Directions: This John Mayer cover is the final song in "Shooting Star" and it's sprinkled with tear-jerking confessions and cliffhanger questions. A traumatic and heartbreaking event will rock the halls of McKinley this week, and the emotional and psychological distress causes all our favorite characters to come together in an unbreakable bond. Countless friendships are strengthened by the terrifying event but three relationships in particular — Kitty and Marley, Brittany and Sam, and Tina and Blaine — are elevated to a new level. Oh, and by the end of the episode be prepared to meet a brand new character that will surely become your new favorite!
Which song from "Shooting Star" are you most excited to see on Glee? Cast your vote in our poll below and then take to the comments with your thoughts on the episode!
Follow Leanne on Twitter @LeanneAguilera
MORE:
Glee Star Cory Monetih Checks Into Rehab
Is This The End of Finn Hudson on 'Glee'?
'The Glee Project' Might Be Canceled. Sorry, Gleeks!
---
From Our Partners


Jessica Alba Bikinis in St. Barts (Celebuzz)


Pics of The Rock Making Things Look Small (Vulture)