Is 'Glee"s 'Don't Stop Believin" Better The Second Time Around?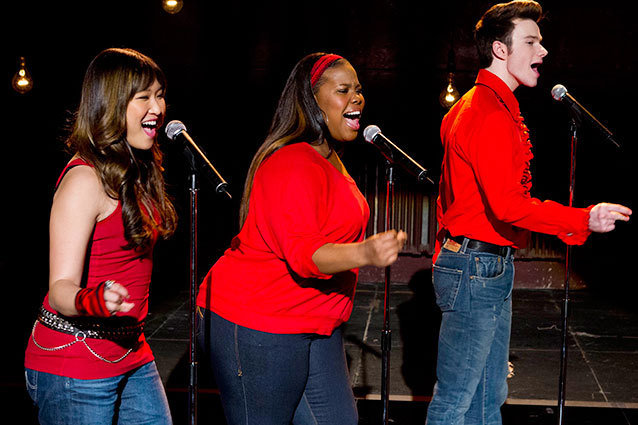 This week's all-new episode of Glee features an eclectic mix of five fantastic songs. From an upbeat rock anthem to a beautiful duet, from a Glee classic to two brand-new original songs, "Sweet Dreams" has a little bit of everything for any music lover.
With Regionals just around the corner, the New Directions are psyched to learn that this year's theme is "Dreams." However, that excitement is put on pause when the group cannot decide which songs will be best. Finn has decided to follow his dreams to college and we'll be graced with a bromantic Puckerman reunion. And over in New York, the day has finally arrived for Rachel to audition for her dream role in the Broadway revival of Funny Girl. Luckily Rachel will be getting a little extra love and support from her mother because Idina Menzel is back and better than ever!
Can't wait for tonight's all-new Glee?! Get a head start on all musical magic by listening to the five songs featured in "Sweet Dreams" below!
"Fight For Your Right (To Party)" — Finn and Puck: The song feels very Season 1 of Glee, and it makes me all warm and fuzzy inside. It's going to be great to see some bromantic scenes as Finn and Puck embrace their new college lifestyles at the University of Lima with this Beastie Boys classic.
"Next To Me" — Rachel and Shelby: There's nothing sweeter than a little mother/daughter bonding with two of the loveliest voices that have ever graced our ears. Similar to one of their first iconic duets, "Poker Face," Rachel and Shelby belt out a gorgeous rendition of Emeli Sande's chart-topping hit accompanied solely by a piano.
"Outcast" — Marley, Unique, Jake, and Ryder: In a very Season 2 move, "Outcast" is one of Marley's original songs that she feels would be a much better fit in the regionals set list then all of Mr. Schue's outdated suggestions. It has a very similar message to Glee's first original song, "Loser Like Me," but with a more sing-songy vibe. I'm sorry, but no matter what my favorite original Glee song will always by Brittany's two minutes of perfection in "My Cup."
"Don't Stop Believin'" — Rachel: This song has become the heart and soul of Glee and the fact that the familiar lyrics will be accompanied with pilot fantasies makes it even more exciting. It's Rachel's big break auditioning for the role that she was born to play in the Broadway remake of Funny Girl. With her mom by her side and this Journey song in her repertoire, she's ready to follow her dreams.
"You Have More Friends Than You Know" — Marley, Unique, Blaine, Sam: It's another Glee original brought to you by our secret songwriter Marley. This is a sweet and slow song that our New Directions use to describe the power of friendship and unity. Will it make you want to get up and dance? No. Will it make you reflect on your favorite people in life? Oh yes!
Which song from "Sweet Dreams" are you most excited to see on Glee? Cast your vote in our poll below and then take to the comments with your thoughts on the episode!
Follow Leanne on Twitter @LeanneAguilera
MORE:
'Glee' First Listen: The Songs (and Scoop!) From 'shooting Star'
'Glee' Star Cory Monteith Checks Into Rehab
Heather Morris Having A Girl? 'Glee' Costar Dreams It So
---
From Our Partners


Stars Pose Naked for 'Allure' (Celebuzz)


Which Game of Thrones Actor Looks Least Like His Character? (Vulture)