The Spice Girls Have Come to 'Glee' — Who's Playing Who?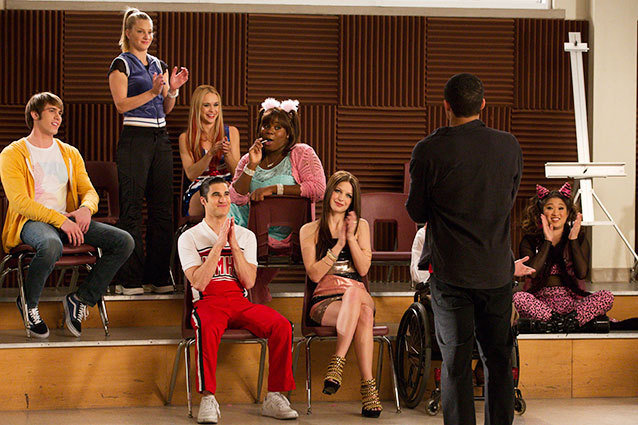 I know what you want, what you really, really want. You want Spice Girls on Glee!
Well get excited to slam your body down, and wind it all around because the ladies of the New Directions are channeling their inner pop-stars for an upcoming episode of Glee — and we've got your first look at who's playing who!
A few weeks ago Ryan Murphy tweevealed (that's Twitter revealed, copyright impending…) that the ferociously fierce Kitty would getting her sexy on as Ginger Spice. And with that, the Internet exploded into a fit of frenzy and every girl that grew up in the '90s let out a squeal of delight. The episode, airing March 21, is entitled "Guilty Pleasures," and i's all about our favorite gleeks coming clean and revealing their secrets to happiness — and of course, the Spice Girls made the list!
RELATED: 'Glee' Gets a Sitcom Makeover!
So let's stop right now (thank you very much) and take a look at the rest of the fabulous fivesome. Brittany's perfectly precise dance move and rockin' bod have earned her the title of Sporty Spice, while Unique's sweet side — lollipop and all — make her a fun pick for Baby Spice. Marley is shedding her good girl persona and opting for sky-high heels and what looks like a little Gucci dress as Posh Spice. And last but certainly not least, Tina is stepping up the take larger than life personality of Scary Spice.
Speaking of Tina, I caught up with the lovely Jenna Ushkowitz last week at the Paley Center for Media to honor Murphy and we gushed about the upcoming Spice Girls performance. (Psst! I also nabbed an awesome Glee scoop right here!)
Ushkowitz revealed she was surprised to learn which pop star she would be impersonating. "It's not the Spice Girl that you would expect from Tina, but it's going to be really really fun," she says. "We shot it the other day and everybody was so happy and so excited and it's what we grew up with!" (Side-Note: I'm not ashamed to admit that in the sixth grade, I hosted a Spice Girls party and invited all my friends to come over for a sleepover dressed as their favorite girl. It was and still is the greatest night of my life.)
RELATED: 'Glee' Planning Stevie Wonder Tribute
The Glee original explains that this is a group she has been hoping to pay homage to since the show began. "I have been waiting for this forever," Ushkowitz says, "This is what I grew up with: Spice Girls, 'N Sync, Backstreet Boys, that's it. That's all I want!" I think it's safe to say we'd all be thrilled to hear more '90s classics too.
It's already been revealed that the Glee girls will be singing the Spice Girls mega hit, "Wannabe." To get you pumped up for all the girl power greatness, and to give you your daily-dose of awesome, take a look at the original music video below!
RELATED: The Craziest Most Sex-Filled 'Glee' Episode Ever
Glee returns on Thursday for an all-new episode at 9:30 PM on FOX.
What do you think of Glee's decision to take on the Spice Girls? Are you happy with who's playing who? What's your favorite Spice Girls song? Sing your thoughts in the comments below!
Follow Leanne on Twitter @LeanneAguilera
[Photo Credit: FOX]
---
From Our Partners:


Seal Is Dating the Pink Power Ranger: Report (Vh1)


60 Celebrity Bikini Bodies: Guess Who! (Celebuzz)