'Glee' Spinoff Nixed, But Lea Michele, Chris Colfer and Cory Monteith Set for Season 4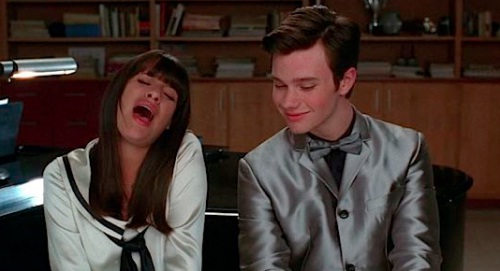 Since this past summer, there has been a great deal of uncertainty over what the cast of Glee's upcoming fourth season would look like. There were rumors that the senior characters—Rachel Berry, Kurt Hummel and Finn Hudson to name a few—would be leaving the show to reflect their graduation and relocation to college. Glee creator Ryan Murphy quickly reported that these rumors were false, and that none of these beloved characters would be going anywhere. Now, the news is finally concrete: stars Lea Michele, Chris Colfer and Cory Monteith have all declared they will be returning for Glee's fourth season.
There were, initially, talks of removing this trio from the series but giving them their own spinoff, presumably about college life, and potentially set in New York City—both Rachel and Kurt are opting to attend college at the semi-fictional New York Academy of Dramatic Arts (there is actually an American Academy of Dramatic Arts in New York City). However, it is now confirmed that plans for the spinoff have been canceled. Instead, stories of Rachel's, Kurt's and Finn's post-high school lives, and possibly that of several other of the show's characters, will be explored during Glee's fourth season.
Michele, Colfer and Monteith have all expressed their fascination with Murphy's method of incorporating their college-bound characters into the high school-set series in the upcoming season. The Huffington Post reports that Monteith called Murphy's plan a "brilliant, ground-breaking idea," with Colfer remarking that it is "kind of revolutionary," and Michele stating, "When we heard Ryan's plan, it really made us even more thrilled."
Glee returns from hiatus Tuesday, Jan. 17 at 8 p.m. ET/PT on Fox.
Source: Huffington Post