'Glee' Spoilers Regarding Sue Sylvester's Very Political Season 3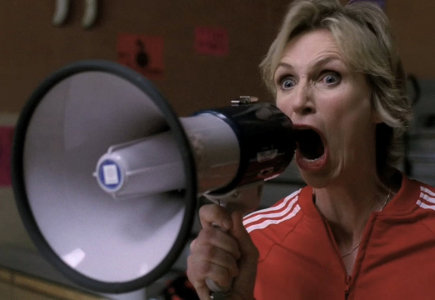 Sue Sylvester has made power plays at coveted spots in Glee's past. She has acted as McKinley High School's principal; she became a judge at the Season One's Regional competition; she has her own segment in the local news; and but what she's vying for in a "twenty-episode arc" during Season 3 tops it all.
Read no further if you do not want the storyline to be spoiled!
During Season 3, Sue Sylvester (Jane Lynch) will run for a seat in Congress. But that's not the most interesting part. Challenging Sue will be another familiar character to fans of the Glee universe: Burt Hummel (Mike O'Malley), father of Kurt (Chris Colfer). Working man, widower, heart-attack survivor, Mellencamp fan, gruffled good guy. Evidently, Burt and Sue are hardly working with the same goals in mind. Burt's message, resultant of his repaired relationship with his son thanks to his open acceptance of Kurt's sexuality, will be one of tolerance and understanding, while Sue might me more in the ideology of Big Brother-style tyranny.
This will likely amp up Sue's antagonism of Kurt and the Glee club even higher. Don't be surprised to see some dirty tricks come into play: Sue's not the type who's above spreading slander about her opponent, instituting a blackmailing scheme, or even adopting her own gay child for appearances. Somehow, I see her tricking Brittany into any one of these plots…
Glee returns to Fox tonight at 9 p.m. ET/PT!
Source: TVLine