'Glee' Star Lea Michele Says Finn and Rachel Are 'Meant to Be'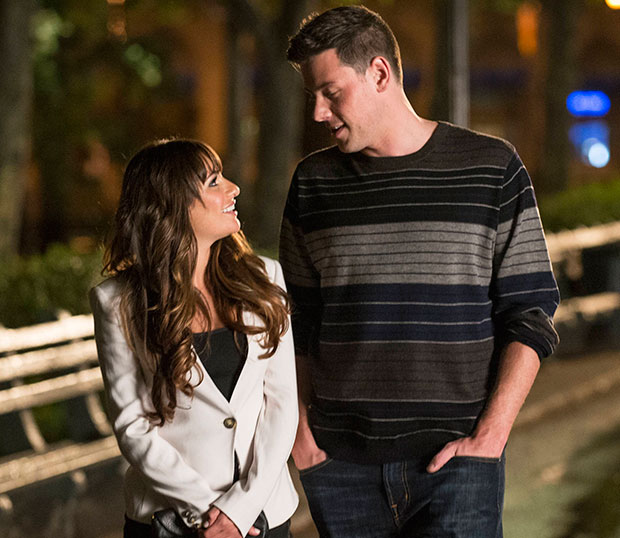 There are fans. There are Glee fans. And then there are the Glee fans whose main goal in life is to share their passion and love for the couple known as Finchel.
If you've been living under a rock for the past four years, let me explain: Finchel is the shipper name of Glee's former power-couple Finn Hudson (Cory Monteith) and Rachel Berry (Lea Michele). It's kind of a big deal. To make their voices heard, every Friday thousands of fans ban together on Twitter in hopes of making a Finchel phrase trend worldwide on the social networking site. The fandom's passion and organizational skills for "Finchel Fridays" are truly astonishing, and each week their tweets earn them a spot on the world wide trending list.
Tuesday night at FOX's all-star party for the Winter TCA Press Tour, I caught up with the always delightful Lea Michele. Dressed in bright yellow, Michele was ready for the typical, "What's coming up next for your character?" question that she would be asked a million times that night. However, when asked if she knew about the phenomenon known as "Finchel Friday," the actress looked genuinely surprised.
Michele gasped at the question and asked, "No, what's that?" I explained that it's a weekly event on Twitter for fans to show their love for this couple. After listing a few of the most popular trends, ("We Love Finn And Rachel," "Gleeks Miss Finchel") Michele exclaimed, "Oh my god! That's so cool! Oh I love that, I love that!" I asked if Michele has a special message for her "Finchel Friday" followers, and the actress was quick to respond. "Oh my god Finchel Forever! That's what I have to say," she beamed.
Now let's get to the goods: Glee! Although our beloved show is currently on yet another break, the cast is hard at work perfecting their dance moves and recording their songs for the second half of season four. Shipper fans of the show have had a rough season to say the least, but according to Ryan Murphy, it looks like there's hope for a few of our couples to reunite before Valentine's Day.
Michele said that although her character and Finn are not together at the moment, she is happy that Rachel is learning how to become an independent young woman. "She is definitely loving living in New York," she says. "Loving college and living with Kurt and everything. So I think she's in a really great place, and she's learning a lot about herself and [is] really happy." The 26-year-old continued, "I'm loving her storyline and I'm loving where she's at right now."
So is there still hope for Finn and Rachel to get back together? Michele answered with a smile, "I think that you know there is always hope for them, I think that they're meant to be!" 
Do you all hear that? The entire Finchel fandom just erupted into squeals of delight and tears of joy. You're welcome!
Would you be excited to see Finn and Rachel reconcile this season? Do you agree with Lea, are they "meant to be"? Sing it out in the comments below!
Follow Leanne on Twitter @LeanneAguilera
[Photo Credit: FOX]
MORE:
Leanne's Spoiler List: 'Glee' Star Naya Rivera Talks NYC and Bram, 'Justified' Season 4 Scoop
'Glee' Recap: A Hot Mess of Holiday Cheer
Glee Recap: Second Chances and New Romances

Megan Fox's 12 Hottest Moments (Moviefone)

Ryan Gosling's 'Airbrushed' Abs: Plus 19 More Reasons We Love the Actor (Moviefone)