'Glee' Stars Darren Criss, Chris Colfer Tease The Fate of Klaine in Season Four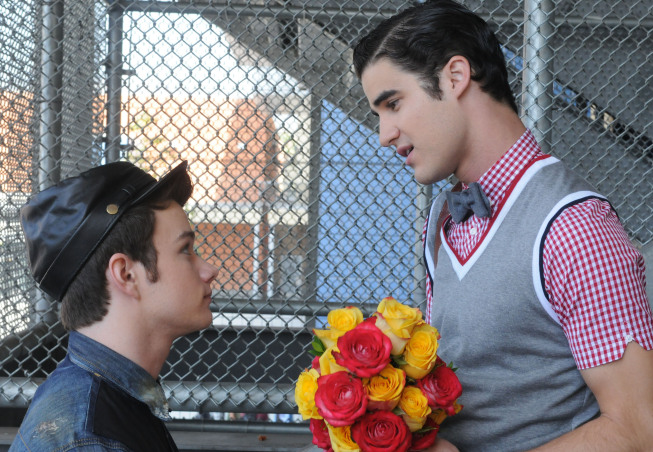 Finchel. Brittana. Wemma. Klaine.
Welcome to the world of Glee, where the actors sing, the storylines have soundtracks and the viewers form passionate and fanatical "armies" who obsess over each and every detail of their favorite couples. (Hey, no judgment! I'm guilty of it too…)
Now preparing for its fourth season, viewers are desperate to see what the TV gods have in store for their favorite characters — and more importantly how much screen time they'll get. One of Glee's most beloved couples, Kurt (Chris Colfer) and Blaine (Darren Criss) — aka Klaine — have happily been together for over a season and a half, which is no easy feat in McKinley High time. Although fans love the consistency of this relationship, the actors who play them are hoping to shake things up a bit this season.
Hollywood.com caught up with Colfer and Criss at the Fox TCA all-star party in Beverly Hills earlier the week to get all the juicy details on what they hope to see from Klaine this season. Warning: diehard fans may need to take a deep breath before proceeding.
After last season's tear-jerking season finale, viewers were shocked when Kurt did not get accepted into his dream school in New York. However, Colfer assured me it will take a lot more than a rejection letter to keep Kurt away from his big city aspriations. He says with a laugh, "Come hell or high water, he'll get there."
One thing fans know for sure is that Blaine still has another year at McKinley High. During this season, Criss is hoping the showrunners won't gloss over the realistic problems that come from a long-distance relationship. "His boyfriend is now not at school, so whatever obstacles that presents, it would be nice to see them deal with that." The 25-year-old actor elaborates, "That's a natural conflict when relationships are challenged by location changes, so it would be nice to see those things shift."
Glee is definitely known for shifting storylines, but many fans want this relationship to remain strong in spite of the distance. When asked if Klaine has what it takes to stay together, Criss answered without a moment of hesitation: "I do. But I'm okay if they don't. It's always good to make things more interesting."
Echoing this sentiment, Colfer concludes, "Kurt spent so much time being unhappy last season, so whatever makes him happy. Whether that means they break up or stay together, I'm on board for whatever, but I think Darren and I both want some spice and drama." And now an entire fandom of Broadway-listening, bowtie-loving gleeks is collectively hyperventilating in a fit of panic. Breathe! 
What do you think of Chris and Darren's desire to change things up? Are you hoping Klaine can make it work? Need me to mail you an inhaler? Breathe it all out in the comments below!
Glee returns Thursday, Sept. 13 at 9 p.m. on FOX.