Gleek Out! The Top 12 'Glee' Performances of 2012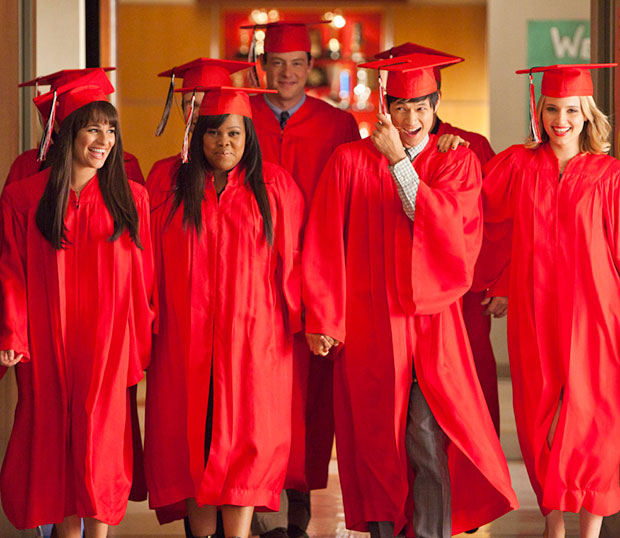 Happy Holidays Glee-bees! As you all know, 2012 has been an intense year for gleeks: Seniors graduated, new characters emerged, and relationships were shattered. But through it all, Glee provided fans with more than 200 songs to help express the emotions and experiences our favorite characters were going through. From heartfelt ballads to energetic group numbers and tear-jerking acoustic renditions, the cast of our musically-inclined hit has given fans some truly phenomenal performances over the past 12 months.
To celebrate a music-filled year, (and to help curb the hurt of yet another hiatus) I compiled a list of the Top 12 Glee performances of 2012! There were so many breath-taking moments that the awards for first and second place were thisclose, so I called out to Twitter for the final vote. Did you favorite song nab the number one spot? Reminisce through all the Glee greatness to find out!
12. "Let's Have a Kiki/Turkey Lurkey Time"— Kurt, Rachel, and Isabelle
Whether you were as confused as Brody or as thrilled as Kurt, "Let's Have a Kiki" was 2 minutes and 30 seconds of finger-snapping fun. For a show that typically focuses on Top 40, it was intriguing to see Glee's take on the Scissor Sister's summer hit and throw in a cameo from RuPauls's Drag Race contestant Shangela. Plus, watching Sarah Jessica Parker shake her thing during "ha-ha-honey" is priceless!
11. "Live While We're Young"— The Warblers
Remember back in season two when Blaine and Kurt would kind of just sway back and forth, looking adorable in their blazers? Well this year Dalton Academy really stepped up their game, so they're being rewarded with a spot on our list (Oh, right, and a sectionals victory.) Despite his Blaine-copycat hair, Sebastian sounds great on this one, and their high energy level is infectious.
10. "We Found Love"— New Directions
It's the proposal that was three years in the making, and it was just as sweet as we could've hoped. This over-the-top performance is the epitome of Glee: entertaining, perfectly choreographed, and slightly unrealistic. Rachel and Santana look fabulous leading the New Directions in a synchronized swim routine, and finally watching Mr. Schue put a ring on it was truly heart-warming. But the best part? Definitely Artie at 1:05.
9. "How Will I Know" — Mercedes, Santana, Rachel and Kurt
Honest and pure, this song was without a doubt a gem of Season 3. Our four sensational divas combine their powerhouse voices to create a gorgeous tribute to the late Whitney Houston. Their harmonies are pitch perfect, and fact that the quartet is singing in compete silence is a rare occurrence in the Glee world.
8. "Smooth Criminal" — Santana and Sebastian
The room is virtually empty, but the intensity between these two badasses makes me feel like I'm suffocating from too much talent. Armed with only two cellos, Sebastian and Santana battle it out, highlighting their incredible voices and channeling the legendary Michael Jackson at the same time. These two definitely stole the show in the Jackson tribute episode, and oh, hot damn! The way Sebastian sizes up his fierce competition at 1:04 is seriously sexy.
7. "The Scientist" — Finn, Rachel, Kurt, Blaine, Santana, Brittany, Will and Emma
If the first 45 minutes of "The Break Up" didn't have you blubbering like a baby, then this song definitely pushed you over the edge. All four of our couples who were tested in this episode sing their hearts out on the auditorium stage, and despite the sorrow of the song, their voices all sound wonderful. And of course, the flashbacks to their beginning of each of their relationships were, and still are beautifully heartbreaking.
NEXT: The Top 6 Glee Songs of 2012!
6. "New York State of Mind" — Rachel and Marley
It was the first episode back, and we were all wondering one thing: How are they going to balance the NYC and Lima storylines? And then we saw this fantastic performance. Rachel is showing that she clearly deserves a place in the halls of NYADA, while Marley is introducing us to her phenomenal voice for the first time. A perfect blend to introduce us to "The New Rachel" (Sorry Tina…)
5. "You Get What You Give" — The New Directions Seniors
Half of our original members were getting ready to leave the halls of McKinley High behind, but not without giving a tear-jerking performance, of course. The seniors were saying goodbye to their younger glee club members, and as an audience we realized that we would never see the exact same group sing together in the choir room again. And that absolutely and completely sucked. Luckily this performance is jam-packed with cavity-inducing sweet moments.
4. Nationals — New Directions
Okay I'm kind of cheating here, but I'm treating nationals as one giant performance — from the Troubletones' stellar rendition of "Edge of Glory," to the sweet Finchel pep-talk right before Rachel's chilling version of "It's All Coming Back to Me Now." And of course I can't forget the energetic "Paradise by the Dashboard Light" number. These three songs are an amazing combination, and it's clear why the New Directions became national champions.
3. "Without You" — Rachel
The epitome of a perfect love song, Rachel's stripped down version of "Without You" is spectacular. The room may be filled with people, but it's clear that Rachel is pouring her heart into this song for only one person: Finn. The way he looks at her at 1:50 is adorably sweet, and even though they are in high school, fans see that these two share something beyond special and pure.
2. "Teenage Dream" (Unplugged Version) — Blaine
The first time fans saw Blaine perform this song for Kurt, we smiled and raved about how wonderful it was, fell in love with the Warblers, and practically broke iTunes from buying so many copies. But this unplugged version is by far superior. The raw emotion on Blaine's face as he tries to choke back tears and express his feelings of love and remorse to his boyfriend is absolutely heartbreaking. This was the catalyst of "The Break Up", and it let fans know that we were about to have our shipper worlds shattered.
1. "Mine" — Santana
If you didn't shed a tear during this performance then I'm not sure that you have a soul. Harsh, but oh-so true. Santana's rendition of Taylor Swift's "Mine" is incredibly moving, chilling, and above all simply lovely. To a non-fan of the show, all she's doing is sitting in the choir room, singing to her girlfriend — but goodness gracious, it is so much more than that. Using only the emotions on her face, Santana is able to express deep feelings of angst, compassion, and love to the audience all while singing flawlessly. It's breathtakingly perfect.
Honorable Mentions:
"Oh Holy Night" — Rachel
"Shake it out" — Santana, Mercedes, Tina, Brittany and Sugar
"Being Alive" — Kurt
"I Wanna Dance With Somebody" — Brittany and Santana
"3" — Tina, Sam and Joe
Which was your favorite Glee performance of 2012? What songs are you hoping to see in 2013? Who are you hoping will get more time to shine? Sing me your thoughts in the comments below!
Follow Leanne on Twitter @LeanneAguilera
[Photo Credit: FOX]
MORE:
'Glee' Recap: A Hot Mess of Holiday Cheer
Glee Recap: Second Chances and New Romances
'Glee' Recap: Sectionals, Slaps, and Silly Songs
You Might Also Like:

20 Hottest Bikini Bodies of 2012: Megan Fox and More!