Globes 2013: Tina Fey & Amy Poehler Deliver The Best Monologue Ever?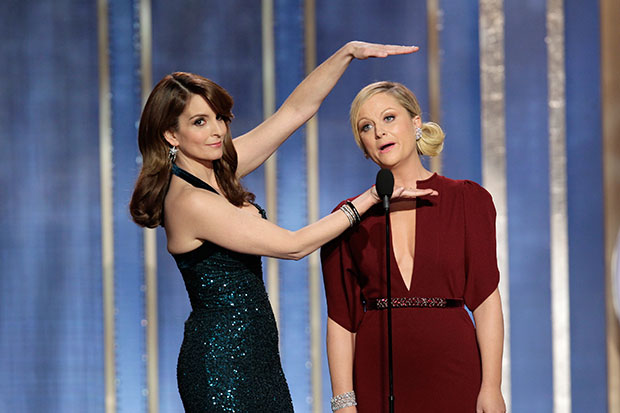 Well, wasn't that a little slice of heaven.
After two years of Ricky Gervais delivering off-colour jokes at the Golden Globes, you'd be hard-pressed to find a better couple of folks better suited to take on the hosting job for the 2013 ceremony. Tina Fey and Amy Poehler "roasted" every celebrity in the room in their seven minutes onstage, and yet when the dust settled, the only effect was a room full of giddy stars and legions of giggly fans at home. Can these two host everything?
Fey, svelte in a glittery dark blue gown, and Poehler, rocking some serious single-and-loving-it cleavage in a silky red gown, took the stage at the outset of the 2013 Golden Globes and proceeded to sprinkle their gems of comedy all over the room. They opened with a few gimme jokes like Poehler's "I can smell the pills from here" but quickly moved onto the slightly more fearless and infinitely more funny quips, starting with a dig at their own bread and butter: "The Golden Globes: where the beautiful people of film rub shoulders with the rat-faced people of television."
They paid compliment, with a side of sass, to newcomer Lena Dunham, telling her that if "they're making you do all that nudity, tell us and we'll call child services." It's a roast with a compliment on the side, and Dunham's giddy laughter was clear indication of that.
Poehler palled around with fellow Bostonite Ben Affleck ("You're not better than me!"), and the duo ribbed former host Gervais, but they took serious (and hilarious) aim at director James Cameron with a riotous compliment for the inadvertently controvercial Zero Dark Thirty director Kathryn Bigelow: "When it comes to torture, I trust the lady who was married for three years to James Cameron." That, my friends, is what we call a perfect zinger. (And in case you're confused after two years of confused silence in the Beverly Hills Hotel ballroom: when the whole room of celebs can't control their laughter, you're doing it right.)
Before turning the mic over to presenters, Fey and Poehler made sure to work in the requisite Meryl-Streep-is-a-golden-goddess joke and a frightening prospect (Quentin Tarantino as a "sexual nightmare"), Fey worked in the joke we all hoped would happen (even if we forgot we wanted it). To Julianne Moore, who seconds later won the Globe for her portrayal of Sarah Palin, Fey had this message: "I used to win awards for that too, you know." It's okay, Tina, you'll always be our go-to for the Sarah Palin funnies.
The giggle-fit-inducing duo only took the stage for a few minutes, but it was enough to make us hope they figure out a way to host the Oscars in February too (no offense, Seth MacFarlane), and enough to make sure I spend the next year accidentally confusing the HFPA with HPV.
<a href="http://polldaddy.com/poll/6828167/">How did Amy and Tina do as hosts?</a>
Follow Kelsea on Twitter @KelseaStahler
[Photo Credit: NBC]
More:
Golden Globes: Kathryn Bigelow Is Amused by That James Cameron 'Torture' Joke — PHOTO
Golden Globes 2013: 'Homeland' Wins Best Drama
Golden Globes 2013 Red Carpet: Who Has Award-Winning Style?

Megan Fox's 12 Hottest Moments (Moviefone)

Ryan Gosling's 'Airbrushed' Abs: Plus 19 More Reasons We Love the Actor (Moviefone)