'GMA' Overtakes 'Today' in Ratings — Again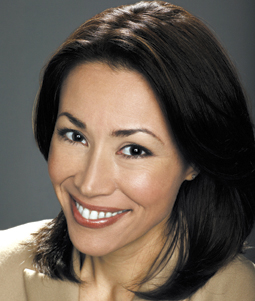 Two weeks ago Good Morning America beat the Today Show in ratings for the first time in 16 years, losing to its rival by 13,000 viewers. And while some could initially cough it all up to being a fluke, it's now happened yet again. According to The Hollywood Reporter, the ABC morning show averaged 5.29 million viewers for the week ending April 27, whereas the NBC show only earned 5.13 million. That's a difference of 166,000 viewers, which left many people wondering — who's to blame?
Originally, we thought the dip in the ratings could be due to the fact that Matt Lauer was MIA during the first GMA takeover (he was away on vacation at the time). But given that he was present and accounted for all last week, there seems to be a deeper problem at play here. Many have looked to Ann Curry to point the finger of blame, stating that her days of being Lauer's co-anchor are numbered. When she first took over Meredith Vieira's position in June 2011, she was considered a rating's success, increasing viewership up to 7.6 percent from the previous year.
But several television experts believe Curry's transition on Today has been a bumpy one at best. In fact, New York Magazine reported that Lauer's overall value significantly increased primarily because of that fact, making him the linchpin of the entire show. "Lauer's worth only increased when Meredith Vieira left and handed the co-anchor chair to Ann Curry, who in the eyes of many television-news executives has experienced a rocky transition to her new role," the magazine stated.
When Lauer's contract was still in question, critics wondered if Curry could carry the show without him or if the network would need someone new to take over the reigns. But since Lauer did in fact renew his contract with the show, we won't need to know an answer to the question, but it does say something about what little faith the general public had in her abilities.
For her part, Vieira is backing Curry's right to be on the show 100 percent. In an interview with CNN's Piers Morgan following the first ratings drop, Vieira called her replacement "a class act," an "unbelievable journalist" and "one of the loveliest people you'll ever meet." She also stated that the decrease in viewers has absolutely nothing to do with Curry herself. "If the numbers are going up and down, it – it's not Ann," Vieira assures. "These things happen. And, you know, I believe in her very strongly. And I'm sure the team does, as well. She's phenomenal."
And maybe Vieira's right. Maybe the show's decrease in popularity has absolutely nothing to do with who's hosting the show, but rather the general repetitiveness of the program itself. Let's face it, the network has kept things exactly the same way for years, and while it's usually smart to go with what works, viewers might be looking for a change up in style and are now looking elsewhere to find it. We get it, news can be boring — but the way it's being delivered and dealt with can make all the difference. Hollywood.com has reached out to the Today Show for comment and have yet to hear back.
Do you think Today is in need of a complete makeover or do you believe Ann Curry is to blame? Sound off in the comments below!
More:
'Good Morning America' Beats 'Today' Ratings Streak
'GMA' Beats 'Today Show' for First Time in 16 Years
Matt Lauer Will Stay on 'Today Show'