'Go On' Season Review: Get Back to the Drama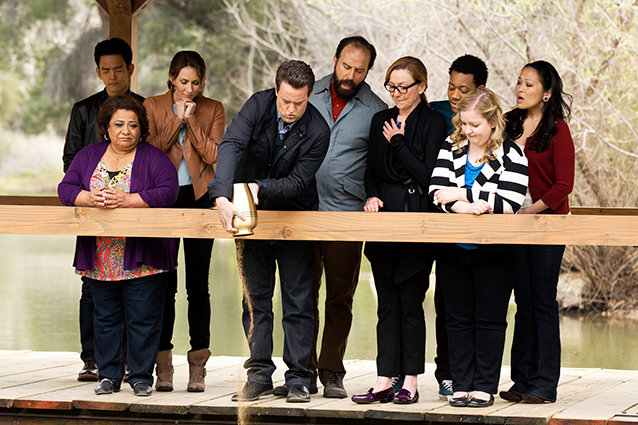 Last fall NBC introduced Go On, an ostensible comedy banking its identity on the half-hour format, its Friends alum starring player Matthew Perry, and some snark-inspiring likenesses to the network's own Community. The series, which concluded its freshman season on Thursday night, can indeed boast a terrific sense of humor. It's goofy, it's sunny, it's fast-paced, it's clever — at its second best, it's one of the funniest shows on television.
At its very best, it's one of the saddest.
Go On flew out the gate with a pilot stuffed with genuine heartbreak. The premise, which places Perry's sports radio show host Ryan King in group therapy following the death of his wife, does not have to reach far for some tearful material. But instead of opting simply for dark comedy, Go On actually seemed intent on achieving legitimate drama. Ryan and his fellow group members — another widow, a divorcee, a woman left at the altar, a middle-aged woman separated from her husband and son, an elderly man battling several debilitating illnesses, a woman grieving the loss of her cat, a young man whose brother has slipped into a permanent coma, and the group question mark Mr. K — exhibit substantial sorrow, unlike much of what you'd find in a half-hour NBC comedy. Sure, Parks and Recreation has its sentimental side, but more often than not pads the sweet moments with a joke. The show never traverses the full-on tragic. With the willingness to do so, the early episodes of Go On exhibited something brave and new.
But the season finale, which sees Ryan finally striving to spread his dead wife's ashes, is not a terrific testament to the show's young courage. In fact, over the course of the year, Go On strayed a bit from its tragedy in favor of the more traditional comedy. It never lost its bite altogether, keeping the substance behind the characters' stories in its pocket, but the show began to drape itself in wit.
We ended early episodes on somber notes; a memorable scene had blind, ailing George (Bill Cobbs) imploring Ryan to let go of his compulsion to fill every moment with a comment, a snap, a joke, and just soak in the world around him. There was no punchline to this — the episode ended on this sweet, tear-inducing (when you consider the context of the man's wife having just passed) note. But the finale seems to prove that Go On has abandoned this practice; instead, the show is more concerned with keeping things upbeat in the face of the characters' tragedies.
And maybe that's a good thing — maybe it's a testament to the importance of moving on and returning to life's joys. Go On is, in fact, a hilarious program. But we're hoping that Season 2, if it does indeed come to be, decides to employ some of the old magic that separated the show from its contemporaries.
Follow Michael Arbeiter on Twitter @MichaelArbeiter
More:
'Go On': The World's First Sitdram
'Community' Puppet Episode: That's It, Show's Over.
'Parks and Rec' Recap: Animal Out-of-Control
---
From Our Partners


Jessica Alba Bikinis in St. Barts (Celebuzz)


Pics of The Rock Making Things Look Small (Vulture)