Golden Globes 2013 TV Snubs: 'Mad Men', 'Game of Thrones', 'Sons of Anarchy', 'Parks and Rec'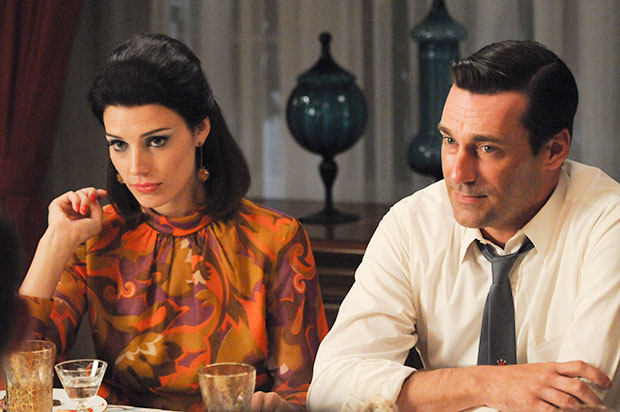 The Hollywood Foreign Press Association officially put the mad in Mad Men on Thursday morning when they snubbed the brilliant, beloved AMC drama in the Best Drama Series category, among others for the 2013 Golden Globes. The perennial nominated series (which won in the Best Drama Series category back in 2008) only earned one nomination, for its leading man Jon Hamm. The supporting cast, on the other hand — many of whom had a standout season, including Christina Hendricks, Jared Harris, and Elisabeth Moss — were completely shut out of the race. In Mad Men's place for Best Drama is the divisive Aaron Sorkin HBO drama The Newsroom.
But
Mad Men'
s egregious exclusion wasn't the only noticeable Globes snub in the Best Drama race.
Sons of Anarchy
, FX's consistently overlooked, yet consistently well-executed, well-written, and well-acted (none of their cast, not even last year's winner
Katey Sagal
made the cut) was left in the dust, as was
Game of Thrones
, 
The Good Wife
, 
The Walking Dead
, and newcomer
Nashville
. (Its leading ladies
Connie Britton
and
Hayden Panettiere
, however, were not overlooked by the HFPA.) 
The comedy categories had more than its fair share of shockers and snubs. NBC's campy musical drama Smash somehow landed in the Best Comedy Series category (does unintentional comedy count?) and bumped critical darling and fan favorites like
Parks and Recreation
(Globes co-host
Amy Poehler
earned that show's only nomination, despite its all-around great ensemble),
Louie
,
Community
,
Veep
, 
New Girl
, and, despite going into its final season, Globes co-host and Best Actress nominee
Tina Fey
's
30 Rock
didn't make the cut. 
What do  you think were the worst, most egregious TV snubs? Check out our gallery of the
12 Worst TV Snubs
, including ones picked by you!
The 70th Annual Golden Globes will take place on Sunday, January 13, 2013. 
[Photo credit: Michael Yarish/AMC]
More: 
2013 Golden Globes: See the Full List of Movie Nominees Here!