Golden Globes 2013: What the What, It's Bill Clinton!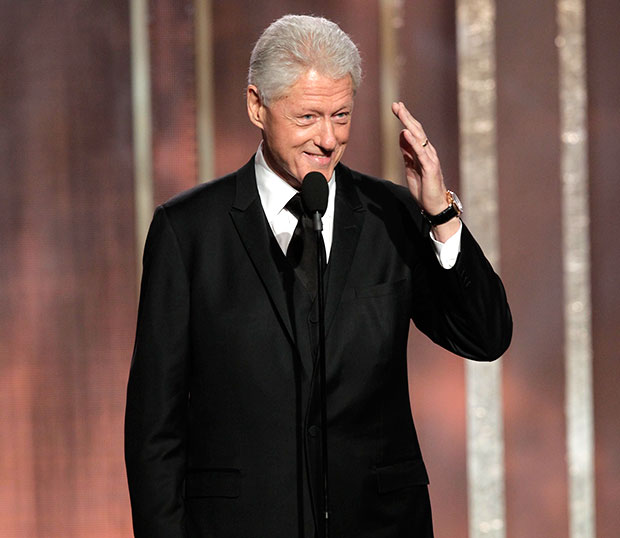 You're halfway through the 70th Annual Golden Globe Awards, marveling over the talent exhibited by some of the biggest names in show business so far through the ceremony: you're still laughing about Tina Fey and Amy Poehler's unbelievable opening routine, still chuckling with affectionate embarrassment at Paul Rudd's reaction to a malfunctioning teleprompter, and still trying to get Adele's "Skyfall" out of your head after her victory for Best Original Song. It's a night chock full of celebrities from the realms of film, television, and music. Oh, and also, there's a president there. Not one of those Hollywood Foreign Press Association presidents (well, yes, there is one of those, too… and one more than willing to target her charms toward a blushing Bradley Cooper), but an actual former White House resident. Around the turn of the Globes' first hour, America's 42nd elected leader, Bill Clinton, took the stage… not to accept a long overdue award for his supporting role in First Kid, but instead to honor the influence and achievement of one of 2012's biggest movies: Lincoln.
Twelve years out of office, a few months past his dynamic DNC speech, and over two decades since his iconic saxophone performance on Arsenio, Clinton's quick introduction of Steven Spielberg's acclaimed biopic proved that the POTUS can still pop on screen. In fact, his brief appearance warranted some heavy applause from the Golden Globes crowd… even if only for his being Hillary Clinton's husband (as pointed out quite hilariously by host Poehler).
It took a while to settle the room after Clinton's dismissal — followup presenters Kristen Wiig and Will Ferrell even introduced their own comedy bit with an extended amazed gawk. But on went the show, under the ruse that the men and women taking the stage thereafter could, in any way, still be considered impressive. I mean, they're great an all… but come on. Bill Clinton.
[Photo Credit: Paul Drinkwater/NBC]
More:
2013 Golden Globe Awards: See the Full List of Winners Here!
Globes 2013: Tina Fey & Amy Poehler Deliver The Best Monologue Ever?
Golden Globes 2013 Red Carpet: Who Has Award-Winning Style?

Megan Fox's 12 Hottest Moments (Moviefone)

Ryan Gosling's 'Airbrushed' Abs: Plus 19 More Reasons We Love the Actor (Moviefone)