Golden Globes: Kathryn Bigelow Is Amused by That James Cameron 'Torture' Joke — PHOTO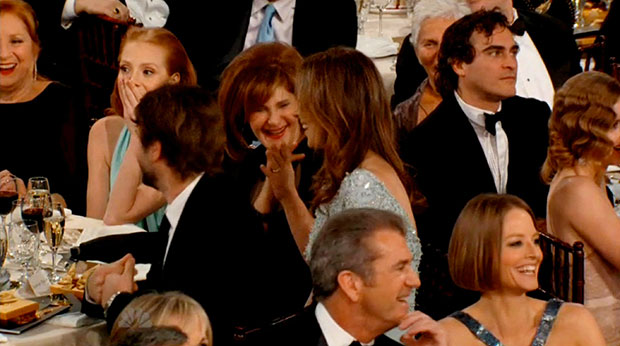 By any standard, Amy Poehler and Tina Fey killed it during their opening monologue at the Golden Globes. But there was one joke that really stood out, Poehler's line about Zero Dark Thirty director Kathryn Bigelow: "When it comes to torture, I trust the lady who was married to James Cameron for 3 years." Well, in case you were wondering what Bigelow thought of the quip at her ex-husband's expense, take a look at the photo above. She's pictured in the center, and may have just gotten the biggest consolation prize for being snubbed at the Oscars.
Mel Gibson and Jodie Foster seem similarly tickled—if anyone knows about torture, onscreen and off, it's Gibson. On the left, Bigelow's Zero Dark Thirty star, Jessica Chastain, however, looks about as shocked as Hillary Clinton in that famous White House situation room shot taken during the Osama bin Laden raid. And, on the right, Joaquin Phoenix proves once and for all that he's unfamiliar with this concept called "humor."
Follow Christian Blauvelt on Twitter @Ctblauvelt
[Photo Credit: NBC]
More:
Golden Globes 2013: See the Full List of Nominees Here!
Globes 2013: Tina Fey & Amy Poehler Deliver The Best Monologue Ever?
Golden Globes 2013 Red Carpet: Who Has Award-Winning Style?

Megan Fox's 12 Hottest Moments (Moviefone)

Ryan Gosling's 'Airbrushed' Abs: Plus 19 More Reasons We Love the Actor (Moviefone)