Who Will Win and Who Should Win the 2014 Golden Globes: Television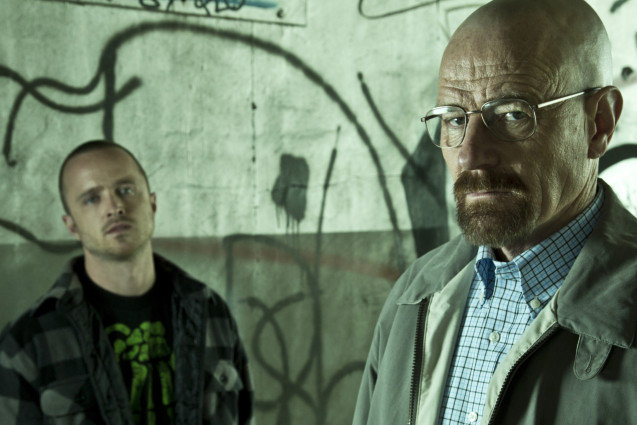 AMC
Here Are Our Picks For Who Will Win, And (More Importantly) Who Should Win The Major Golden Globes' Television Awards This Year:
Best Actor Drama
Bryan Cranston, Breaking Bad
Michael Sheen, Masters of Sex
Kevin Spacey, House of Cards
James Spader, The Blacklist
Liev Schreiber, Ray Donovan
Will Win: Bryan Cranston
Should Win: Bryan Cranston
Bryan Cranston punctuated his run on Breaking Bad with an astounding mix of vulnerability and ferocity, and more than deserves the Globe for his final ten performances as Walter White. It would almost be a sin to give the award to anyone else this year.
Best Actress Drama
Julianne Margulies, The Good Wife
Kerry Washington, Scandal
Tatiana Maslany, Orphan Black
Robin Wright, House of Cards
Taylor Schilling, Orange Is the New Black 
Will Win: Julianna Margulies
Should Win: Tatiana Maslany
If the Golden Globes were purely a numbers game, then Tatinana Maslany would win the Globe without contest for playing multiple of clones on Orphan Black,  but what's really special about her performance is the craft and care she put into each character as she imbues each clone with different characteristics, accents and mannerisms that almost magically make them feel like separate characters.
Best Actor Comedy
Jason Bateman, Arrested Development
Don Cheadle, House of Lies
Michael J. Fox, The Michael J. Fox Show
Jim Parsons, The Big Bang Theory
Andy Samberg, Brooklyn Nine-Nine
Will Win: Jim Parsons
Should Win: Jason Batemnan
Bateman has long played the straight man in his family of dysfunctional nit-wits on Arrested Development, and when Netflix revived the series for a long-awaited fourth season, the actor deftly slipped into this role again with ease. It's unfortunate, then,  that The Big Bang Theory's  Jim Parsons will probably come away with the award.
Best Actress Comedy
Zooey Deschanel, New Girl 
Lena Dunham, Girls 
Julia Louis-Dreyfus, Veep
Amy Poehler, Parks and Recreation 
Edie Falco, Nurse Jackie 
Will Win: Lena Dunham
Should Win: Amy Poehler
Lena Dunham is fantastic as the dippy and dream seeking Brooklynite Hannah Horvath, but Amy Pohler's Leslie Knope is even better as the sheer force of joy that lies at the center of  the hilarious Parks and Recreation. Plus, the fact that Amy has never won the award which should be considered a war crime.
Best Supporting Actress
Hayden Panetierre, Nashville
Jacqueline Bisset, Dancing on the Edge
Janet McTeer, White Queen
Monica Potter, Parenthood
Sofia Vergara, Modern Family

Will Win: Sofia Vergara
Should Win: Monica Potter
Parenthood, NBC's little drama that could, has long deserved some attention from the award's circuit, but last season saw the show take on the topic of breast cancer with an incredible amount of weight and sincerity. It would be unforgivable not to award the show some recognition, and Monica Potter's Kristina Braverman carried the aformentioned storyline with grace and soul-shattering pathos. 
Best Mini-Series or TV Movie
American Horror Story: Coven
Behind the Candelabra
Dancing on the Edge
Top of Lake
White Queen
Will Win: Behind the Candelabra
Should Win: Top of the Lake
Top of the Lake took the small town murder mystery in strange and darkly beautiful directions, and should take home the golden trophy, but Behind the Candelabra is certainly the more high profile nominee, and will probably take home the prize.
Best Comedy Series
The Big Bang Theory
Modern Family
Girls
Brooklyn Nine-Nine
Parks and Recreation
Will Win: Parks and Recreation
Should Win: Parks and Recreation
The prospect for a sixth season of Parks and Recreation  are looking grimmer than ever,  so if there were ever a time to award the drama, now is definitely it. We're thinking the Hollywood Foreign Press Association will be feeling a little guilty for overlooking this wonderful comedy series for all these years. It doesn't hurt that Parks and Rec is the funniest, and most consistent comedy on the list. 
Best Drama
Breaking Bad
Downton Abbey
House Cards
Masters of Sex
The Good Wife
Will Win: Breaking Bad
Should Win: Breaking Bad
Breaking Bad  ended its fifth season with a swaggering confidence, and delivered one of the most exciting and sure-footed finales in recent television history. It will win this category with ease, and duly deserves the honor without question.