Was the 2014 Golden Globes the Weirdest Award Ceremony Ever?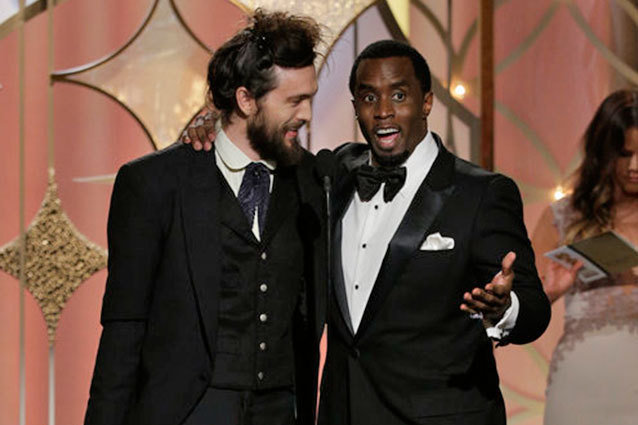 NBC
After seven decades, the Golden Globes can still surprise us. The Hollywood Foreign Press Association offered a particularly entertaining show this year — thanks not only to winning hosts Tina Fey and Amy Poehler or a wealth of surprising awards victors — but to the array of unplanned weird s**t that happened during the ceremony's three-hour run-time. The kind of madness you cannot plan, and certainly cannot contain. Practical goofs, drunken faux pas, and the odd reference to genitalia. This is the stuff that made the 71st Annual Golden Globe Awards one to remember.
WE SEEM TO BE EXPERIENCING SOME TECHNICAL DIFFICULTIES
Jonah Hill in The Teleprompter Tango — introducing Margot Robbie
What happens when a transformative funnyman and a showbiz newcomer are given the wrong cues at an awards show? Chaos ensues!
The Longest Bleep I and II, starring Jacqueline Bisset and Diane Keaton
We saw it first in Jacqueline Bisset's acceptance speech — a long, awkward, misplaced bleeping that returns to audio on the word "s**t." And we see it again with Diane Keaton's drunken praise of Woody Allen! Where will the bleeper strike next?
I DON'T THINK THAT MEANS WHAT YOU THINK IT MEANS…
HERPES! An Alfonso Cuaron film
From the director of Gravity, Y Tu Mama Tambien, and Great Expectations, comes an unexpected herpes joke.
Leonardo DiCaprio presents Philomania

A pandemic of mispronunciation hits the awards circuit in this outbreak thriller!
OKAY, WHAT THE HELL IS GOING ON?
Cheer Up, Rob Lowe: A Documentary About the First Golden Globe Win of Amy Meredith Poehler 
What is the real reason behind Parks and Recreation star Rob Lowe's frowny face during the announcement of costar Amy Poehler's Globe win?
Reese Witherspoon presents What Am I Doing Here? The Story Behind the Introduction of '12 Years a Slave' 
It's a case of mistaken identity in this experimental feature that assumes someone who "grew up in New Orleans" is the perfect person to deliver a slavery drama.
And finally…
Diddy and Ebert: Beyond the Boat — a musical buddy comedy
One's a madcap hip hop legend prone to wild outbursts. The other's an oddball composer with hair like Radagast the Brown. Together, they bring the love, the laughs, and some groovy tunes.