Golden Globes: Who's Joining Megan Fox and Nathan Fillion as Presenters?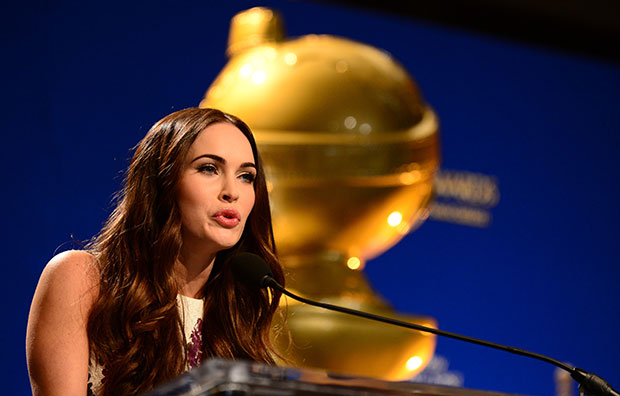 This Sunday, the International Ballroom of the Beverly Hilton is going to be packed with some serious starpower when the 70th Annual Golden Globe Awards are handed out. And the wattage is only cranking up as more and more celebrities are joining the roster of presenters. Hollywood.com has confirmed that the following will be presenting Globes to the lucky winners on Sunday night:
Megan Fox and Jessica Alba: The two of them got up early to announce the Golden Globe nominations on the morning of Dec. 13. Though late additions to the confirmed lineup of presenters, expect the two of them to be paired again when they take the stage Sunday night.
George Clooney: Last year's winner for Best Actor in a Drama for his topsider-wearing role in The Descendants will likely follow tradition and present this year's award for Best Actress in a Drama. Possible winners Jessica Chastain or Naomi Watts will receive a bonus prize in addition to their globular trophy: a kiss from Clooney.
Meryl Streep: Since she won Best Actress in a Drama last year for The Iron Lady, she's probably a lock to present Best Actor in a Drama. Ever wanted to see Streep work opposite Daniel Day-Lewis? This Sunday will probably be your only chance!
Robert Pattinson: Last year's Best Actor and Actress winners in the Musical and Comedy Categories, Jean Dujardin (The Artist) and Michelle Williams (My Week With Marilyn) are not presenting this year, so he could be announcing one of those categories. As could…
Jennifer Garner: It seems the four-time Globe nominee and one-time winner (for Alias in 2002) will present a movie category.
Debra Messing: You didn't think NBC was going to host the globes without including a little Smash synergy, did you?
Jennifer Lopez and Jason Statham: This unlikely duo will undoubtedly be paired up since they both star in Taylor Hackford's upcoming crime thriller, Parker.
Jeremy Renner and Will Ferrell: This even more unlikely duo actually makes a lot of sense. Ferrell's producing Jeremy Renner's upcoming action-comedy Hansel & Gretel: Witch Hunters, so expect some stylishly stilted banter between them.
Kerry Washington: Despite her work in Django Unchained, the Scandal star is almost assured to be presenting a TV category.
Nathan Fillion: Same goes for Fillion, who we can only dream will be partnered with…
Kristen Wiig: Guaranteed to be handing out one or more of the TV Comedy prizes.
Also taking the stage as presenters will be Amanda Seyfried, Dennis Quaid, Lucy Liu, and Rosario Dawson. And, though she's not expected to take the stage, Adele is planning on making her first awards show appearance see giving birth in October. She'll be competing against fellow confirmed-attendee Taylor Swift in the Best Original Song Category for the title song from Skyfall and "Safe & Sound" from The Hunger Games, respectively.
Excited for Sunday night?
Follow Christian Blauvelt on Twitter @Ctblauvelt
[PHOTO CREDIT: FREDERIC J. BROWN/Getty Images]
More:
Golden Globes Fashions That Trumped Oscar Fashion
Golden Globes 2013: Why You Can't Compare 'Zero Dark Thirty' to 'Homeland'
Fantasy Golden Globes: If 'Mean Girls' Determined the Seating Chart–INFOGRAPHIC

Megan Fox's 12 Hottest Moments (Moviefone)

Ryan Gosling's 'Airbrushed' Abs: Plus 19 More Reasons We Love the Actor (Moviefone)