'Gossip Girl': OMG! Chuck And Blair Get [SPOILER], But Who's Getting Arrested? — PIC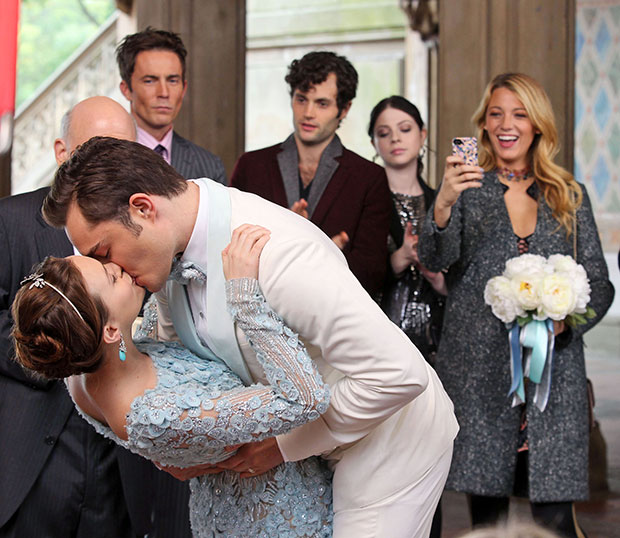 A Gossip Girl photo is making the rounds today and it hints at a happy ending for Chuck (Ed Westwick) and Blair (Leighton Meester).
In this spoiler-y photo, it looks like our two favorite schemers are finally putting that secret engagement ring Blair currently wears around her neck to good use: a wedding in Central Park! Blair is in a blue wedding gown, a subtle and realistic nod to the fact it won't be her first trip down the aisle. (Prince Louis, if only you were merely a dream.)
And unlike Blair's royal wedding last season, this affair doesn't seem to be a big event – the only witnesses are Chuck's uncle Jack, Blair's stepfather Cyrus, Serena, Dan, Nate… and, oddly enough, Georgina, who Blair hates. There doesn't even seem to be a real photographer on hand to catch the nuptial kiss: Serena is taking a pic with her phone.
Of course, this wouldn't be Gossip Girl without some drama added into the mix. The ceremony is interrupted by the police who pull Chuck away from his own wedding. So much for an Upper East Side fairy tale.
Now, this wedding doesn't seem to be in the style of Blair and Chuck (although, let's be honest, the drama sounds right up their alley), so we're scratching our heads a bit. How did it come to this? Well, we dreamt up a few different ways the UES royalty could have gotten to this point.
1. Chuck and Blair both decided being real adults is just too darn difficult, and gave up on their pact to wait to be together until they both accomplish success on their own. However, they didn't realize their contract was legally binding, and Chuck must spend their honeymoon in jail. Conjugal visits, anyone?
2. In the haste to get his hotel back from his father so he can finally be with the girl he loves, Chuck didn't bother coming up with any crazy schemes and just took the lazy – and illegal – route of putting his dad six feet under (for good this time). Poor B, married to a murderer?
3. Chuck's penchant for prostitutes finally catches up to him. It's about time, really.
4. Or Chuck's penchant for drugs finally catches up to him. Once again, it's about time.
5. Blair finds out that Chuck is the notorious Gossip Girl, and they plan a quickie wedding before he is arrested for invasion of privacy and slander.
How do you think Blair and Chuck ended up in this crazy situation? Hit the comments with your theories.
Gossip Girl airs Mondays on the CW.
Follow Sydney on Twitter @SydneyBucksbaum
[Photo Credit: Bauer Griffin]
More:
OMG! Identity of 'Gossip Girl' Will Be Revealed!
'Gossip Girl' Season Premiere: Was That an OMG or a WTF Moment?
OMSG, It's A New 'Gossip Girl' Preview! — VIDEO
From Our Partners:

Kristen Stewart and Robert Pattinson Cuddle at Chateau Marmont: 15 of the 'Twilight' Couple's Most Romantic Date Nights — GALLERY
(Celebuzz)

Reese Witherspoon Debuts Post-Baby Figure Two Weeks After Giving Birth — PHOTOS
(Celebuzz)