'Gossip Girl' Premiere: 5 Things You Need to Know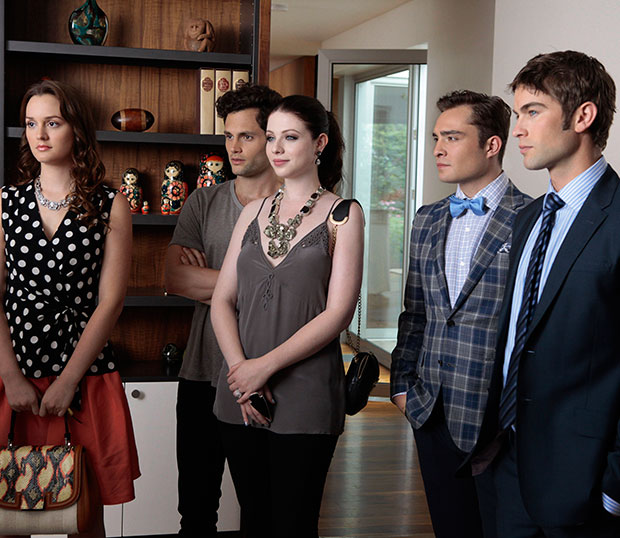 Hollywood.com here. Your one and only source truly obsessed with the scandalous lives of Manhattan's elite. This evening marks the very last season premiere of Gossip Girl and while many fans are dreading the beginning of the end, we at Hollywood.com are absolutely thrilled. No, we're not excited to say goodbye to our favorite Upper East-Siders. It's just that we've seen the premiere and there is only one way to describe it: OMFG.
To get you intrigued for all the sexy scenes, party-crashing plans, and unbelievable hookups, we've compiled a list of the top 5 things you need to know for tonight's season premiere "Gone Maybe Gone." Here goes:
Chuck, Blair, and Something Sparkly: Chair fans will be happy, and I mean very happy when the episode begins. The first word that comes to mind? Sexy. When we see our favorite scheme-loving couple, Chuck (Ed Westwick) and Blair (Leighton Meester) are getting hot and heavy in a Monaco hotel room. But when you fast-forward four months later, we were surprised to see that the newly rekindled duo has actually spent their summer apart! Not to worry Chair fans — this power couple is making sure that they take care of their individual needs before ending up together for good. "Blair, I love you will all my heart." Chuck reassures her in the back of his limo. Swoon! As for that sparkly part? Let's just say that it's a miracle that Blair can stand up straight with that large (and absolutely gorgeous) rock weighing her down. But shh! That last part's a secret!
Gossip Girl Begins Her Final Bow: After last season's debacle with Serena (Blake Lively), it's safe to assume that Gossip Girl wants absolutely nothing to do with the "legs for days" blonde. In fact, while everyone was panicking about Serena's whereabouts, the mystery blogger coolly explains, "From all over the world, our favorite upper east siders are asking the same question. But I couldn't care less. Serena van der Woodsen is dead. At least to me." Yikes! But fans really begin to sense that the end is near when the know-it-all of the Upper East Side says, "Call me superstitious, but I believes this fall could be my last season." Of course we all know that Nate (Chace Crawford) still has that tape of her…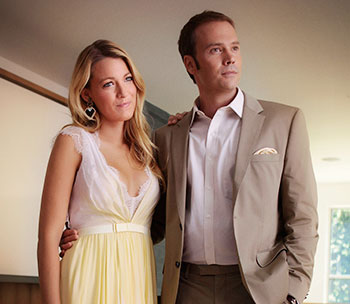 The Quest for "Sabrina": Serena is currently MIA (again) and Chuck, Blair, Nate, Dan, and, yes, even Georgina are on a mission to bring her back. While some assume she's back on drugs like we saw in last year's finale (Who was that creepy guy?!), Georgina (Michelle Trachtenberg) is hoping Ms. van der Woodsen is hauled up in some looney bin so Dan can have an exciting ending to his new book. So where oh where is Serena? You can just ask her new alter ego, Sabrina from Wisconsin. It seems that Serena/Sabrina's new man is not the brightest bulb in the box if he actually believes that this former queen bee would actually hail from Wisconsin. The fearless fivesome do eventually track down their old friend at a wedding, and you won't believe who's wearing white!
Rufus Has Got a New Roomie: In Lily's (Kelly Rutherford) panic to find Serena, she visits the closest thing to a father figure that her daughter has ever had: our beloved Rufus (Matthew Settle). But her visit is quickly cut short when she is baffled to see that her ex-husband's new housemate is… Ivy! We soon learn that Ivy has got some secrets hidden in that stringy lifeless hair of hers and it looks like she's going to use the sweetest guy in Brooklyn as the newest pawn in her games. Do not make her waffles, Rufus! It's a trap!
Dan's Naming Names: At the encouragement of Georgina (and by "encouragement," we mean snarky and sarcastic teasing), Dan (Penn Badgley) is finally getting over his writer's block while hiding out in the countryside of Italy. Georgina is determined for Dan to have the best tell-all book of all-time saying, "Real names this time. No holding back. Everyone gets exposed." And speaking of exposed, all you Dair fans will be pleased to know that Dan does indeed confront Blair for all of her wrong-doings. After all, why would she give up "unconditional love" if she isn't actually, technically, with Chuck at the moment? Hmm… good point Lonely Boy.
How are you feeling about tonight's last premiere Gossip Girl fans? Are you Team Chair or Team Dair? What are you hoping to see in this final season for your favorite characters? Give us the dirt in the comments below!
Follow Leanne on Twitter @LeanneAguilera
[Photo Credit: Giovanni Rufino/The CW]
MORE:
OMG! Identity of 'Gossip Girl' Will Be Revealed!
OMSG, It's A New 'Gossip Girl' Preview! — VIDEO
TV Tidbits: 'Gossip Girl' Heats Up, Liza Minnelli Gets 'Arrested'