'The Carrie Diaries' Costume Designer Eric Daman Shares Spring Style Tips for Today's 'Gossip Girl'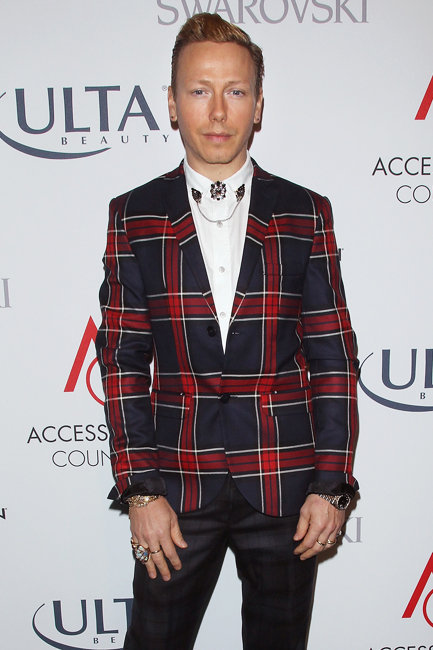 Jim Spellman/WireImage/Getty Images
From the neon brights and fingerless gloves of an '80s era Carrie Bradshaw on The Carrie Diaries to the high-class couture sported by your favorite Gossip Girl, costume designer Eric Daman has certainly left his mark on the small screen. He's also made the fledgling CW network a much more stylish destination, turning the little network into a big name when it comes to fashion. With The Carrie Diaries ending its run and Gossip Girl having signed her last "xoxo," Daman is likely to be in high demand for productions looking for his magic touch. Until he finds his next gig, the viewing public will remain in desperate need of styling tips from our television fashion idols. Thankfully, we managed to track down Eric Daman to ask our most pressing fashion questions, from how to adopt '80s trends without looking like a throwback, to what our favorite Gossip Girl characters would be sporting in 2014. 
The weather is finally warm and spring has sprung, so what are your top tips for killing it sartorially this spring? What trends should we all keep an eye out for?
ED: "For spring this year, what's trending are pretty pastels in hi-tech silhouettes. Vintage bomber jackets are getting a modern makeover. Skirts are getting longer (the retro tea length is gaining popularity). And boxy tops in shift shape are giving the body con trend a run for its money. Carrie's 'Carrie Bag' would certainly be on trend with the giant designer DIY movement underfoot. The low heeled pump is seeing a moment in the sun, while the kaleidoscopic print is still on trend and being mixed with other print patterns for emphasis. Tribal stripes and fringe are enjoying worldwide appeal. Lace and open-weave are on board this spring, and metallic hasn't lost is foot-hold either. My top tip is to be mindful of what I call the allure of the hybrid: structural, material, visual, and cultural hybrids are the name of the game overall this coming year in style."
If you were still dressing the characters of Gossip Girl today, in 2014, what would today's Serena outfit look like? What would Blair be wearing? How about Chuck?
ED: "Serena would definitely be hanging out at Coachella, in maybe a soft-hard beautiful broiderie anglaise Isabel Marant top in soft pinks and whites with layer-cakey ruffley details, a lite-puff shoulder and see-through seams. She'd pair it with something by Emilio Pucci, either black-and-white graphic shorts or a rainbow metallic mini with Nicholas Kirkwood sleek pointed zig-zag leather and suede pumps in orange, turquoise, and pink. She'd throw on a shaggy Proenza Schouler coat if the evening got a little chilly, with a pair of retro-deco earrings that sparkle by the light of the bonfire."
"Blair would be having lunch at the Pierre Hotel, very much in a calf-length Burberry pencil skirt in structured lace with Byzantine inspired crystal cluster embellishments. She'd wear an Elie Saab watercolor shouldered top, under a floral embossed Christian Dior vivid orange half jacket, with an Alexander McQueen studded black nappa leather knucklebox clutch and Christian Louboutin Bollywood Boulevard PVC pumps."
"Chuck would be at the cricket club with the urban daddy crowd for a quick round in a Bastiaan Van Gaalen polo shirt, summer weight Moncler blue quilted blazer with white trim, a Salvatore Ferragamo vest, Louis Vuitton plaid trousers, and a Jimmy Choo tassled summer loafer."
What's one current trend you think the Gossip Girl characters would love? You're always taking trends and making them your own. How would you have made the trend Upper East Side worthy?
ED: "I can see a 2014 version of Uptown meets Downtown in looks where Renaissance-inspired maximalism meets tribalistic geometry."
What are the challenges of working with time period costuming for The Carrie Diaries? How do you keep things fresh while still staying true to the '80s?
ED: "We knew we had to be honest and address the '80s, but we had to be honest in a selective way from an editorial perspective. The term 'aspirational authenticity' was a guiding mantra that served reliably. I wanted to do justice to styles of the '80s that were inspiring designers from Calvin Klein to Dolce and Gabbana to Balmain to Marc by Marc Jacobs to Charlotte Ronson to DKNY, all the way down the fashion food chain to include fast fashion purveyors like TopShop, UrbanOutfitters, Zara, and H&M. There was so much '80s inspired fashion available by contemporary designers and retailers, the opportunity to select the most flattering of the range of choices was clearly the best direction."
For people who love The Carrie Diaries fashion but don't want to look like they just walked out of a vintage MTV video, how can you translate that killer '80s fashion into a more modern look?
ED: "I know what you mean. I made a point to keep it a camouflaged combination of vintage and contemporary designs, which is kind of a very '80s approach to begin with. I indulged a bit in my irresistable desire to mix and blend actual vintage pieces from the '80s, which we acquired from Bill Blass, Norma Kamali, Thierry Mugler, Arnold Scaasi, and Sonya Rykiel, with modern fashions like Missoni, American Apparel, Modcloth, Nasty Gal, and Mara Hoffman. We used accessories by Alexis Bittar, Alex Woo, Swarovski, Alex Woo, and Magdalena Stokalska among many others."
As a huge fan of Gossip Girl and an even bigger fan of the fashion, I have to ask what some of your all-time favorite looks were from the series. 
ED: "That's a tough one. I'll make a deal with you. I'll tell you some of my favorite episodes and you can extrapolate the outfits from there…
Season 1: 'Hi Society.' Season 2: 'Summer Kind of Wonderful.' Season 3: 'Last Tango, then Paris.' Season 4: 'The Undergraduate.' Season 5: 'GG.' Season 6: 'New York I love You XOXO.'" 
What were your favorite looks from Gossip Girl and The Carrie Diaries? Share in the comments!