'Gossip Girl': Who ELSE Is Getting Married?!? — PIC

Another spoiler-filled Gossip Girl photo is making the rounds today and it hints at another happy ending, this time for arguably the most on-again-off-again couple on this show. It looks like Lonely Boy Dan (Penn Badgley) and Serena (Blake Lively) will finally find their way back into each other's arms by season's end. And lest you think this is another one of their short-term relationships, take a peek at the spoiler-ific photo below: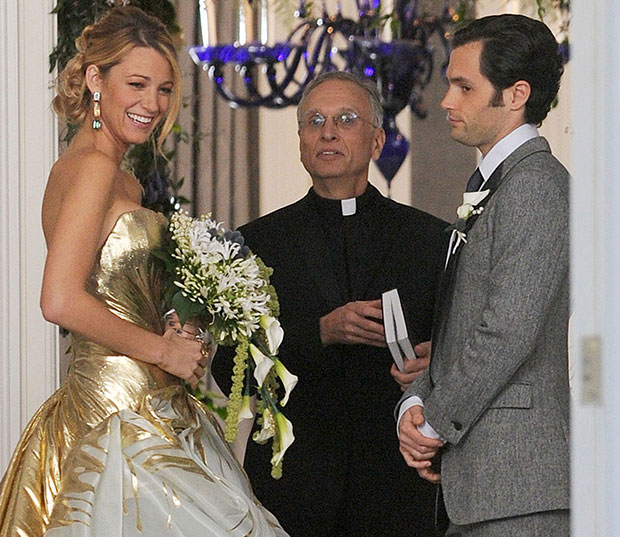 In this pic, we see Serena and Dan… getting married? What the what?!? Could this be a dream, a PR stunt, or a fake-out of any kind?
No, my dear, skeptical Gossip Girl fans. Feast your eyes on the truth: Sources tell Hollywood.com that the wedding is real. Serena and Dan do get married. Added bonus scoop: They're also filming a "five years later" epilogue.
This latest bit of news comes right on the heels of two other big reveals about the final season of Gossip Girl. First, we found out that the identity of Gossip Girl will be revealed, and then this photo revealed that another UES couple, Blair and Chuck, are also on their way to the altar. With all of these crazy stories being spoiled, we can only wonder what even crazier stories are being kept under wraps.
The final season of Gossip Girl airs Mondays on the CW.
Follow Sydney on Twitter @SydneyBucksbaum
[Photo Credit: AAR/FameFlynet Pictures]
More:
OMG! Identity of 'Gossip Girl' Will Be Revealed!
'Gossip Girl' Season Premiere: Was That an OMG or a WTF Moment?
OMSG, It's A New 'Gossip Girl' Preview! — VIDEO
From Our Partners:

Kristen Stewart and Robert Pattinson Cuddle at Chateau Marmont: 15 of the 'Twilight' Couple's Most Romantic Date Nights — GALLERY
(Celebuzz)

Reese Witherspoon Debuts Post-Baby Figure Two Weeks After Giving Birth — PHOTOS
(Celebuzz)