Fox Picks Up 'Gotham' Series — Can Batman's Commissioner Gordon Carry His Own Show?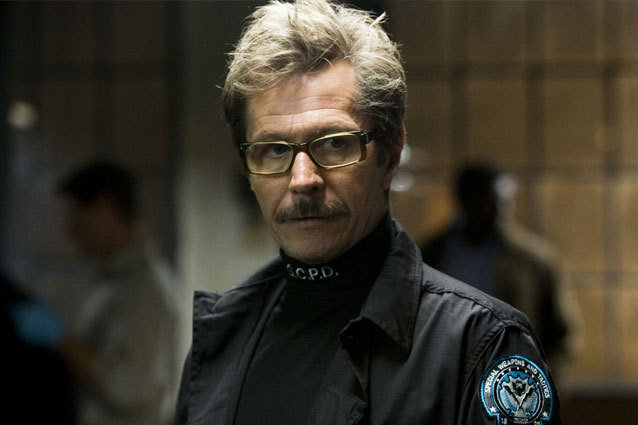 Warner Bros.
"We'll see your Coulson and we'll raise you a Gordon!" That's the way we imagine this news came to be — an angry Warner Bros directing this threat at Disney during Tuesday night's premiere of ABC's Marvel's Agents of S.H.I.E.L.D.. Taking note of the buzz gained by the small screen Avengers spinoff, the studio behind every DC Comics film since 1978's Superman (excepting the two Swamp Thing movies — and we can't imagine why they passed on those) is setting into play its own television project, based unsurprisingly on its most popular and critically acclaimed franchise today. Deadline reports that the WB and the Fox Network will reproduce the Batman universe in an origin story series titled Gotham, which will focus not on the Dark Knight but on his pal Commissioner James Gordon.
The series will follow the exploits of lawman Gordon through the decrepit streets of Gotham long prior to the days of Bruce Wayne's reign. Like DC's last origin series, Smallville, Gotham will present a new look at the backstory behind the world built in decades of comic book and Hollywood movies. But taking a page from the S.H.I.E.L.D. book, Gotham diverts attention away from Batman — he won't be in the show at all, in fact — and toward the familiar but not particularly colorful character of Jim Gordon, who Christopher Nolan fans will know in the form of Gary Oldman.
And it is that lack of color that makes us wonder whether Gordon can and should headline his own program. He's a brick wall in the Nolan trilogy, a substantial and sturdy presence but not one you'd ever really marvel at. Surrounded by more ostensibly engaging characters — Batman, Robin, Alfred, Lucius Fox, Rachel Dawes, Selina Kyle, all the villains, and that boat full of convicts in The Dark Knight — Gordon's primary provision is audience surrogacy. He's the "normal" good guy through which we can view and relate to this crumbling Gotham. A fact that might make him a viable candidate for a meaty series were he not weighted down by the riveting connotations by all other corners of the Batman world. Independent from all things Wayne, we fear Gordon will bore fans expecting a reproduction of the Nolan aesthetic in the form of a weekly series. He doesn't have the geeky charm of Marvel's Agent Coulson, or the psychological traumas of pretty much anyone in his own canon. Without a pretty engaging supporting cast, we have apprehension that a Gordon series might translate to little more than a glorified crime procedural.
But perhaps there is more to be done with the everyman character than we're predicting. With a charismatic performer (S.H.I.E.L.D. got Clark Gregg, but don't expect Fox to snag Oldman for this project), Gordon might have more in his pocket than just grimaces of fading hope and a giant flashlight. With a dense world and writing with some teeth, a James Gordon Gotham is hardly D.O.A..

More:
Ben Affleck Will Bring 'Tired and Weary' Batman to Life
45 Bad Jokes About Ben Affleck Playing Batman
Batman Mashups Feature 'Breaking Bad' and 'The Notebook'
Follow @Michael Arbeiter
| Follow @Hollywood_com
---
From Our Partners


Stars Pose Naked for 'Allure' (Celebuzz)


20 Grisliest TV Deaths of 2012-2013 (Vulture)