'Graceland' Recap: Goodbye High (Season 1, Episode 7)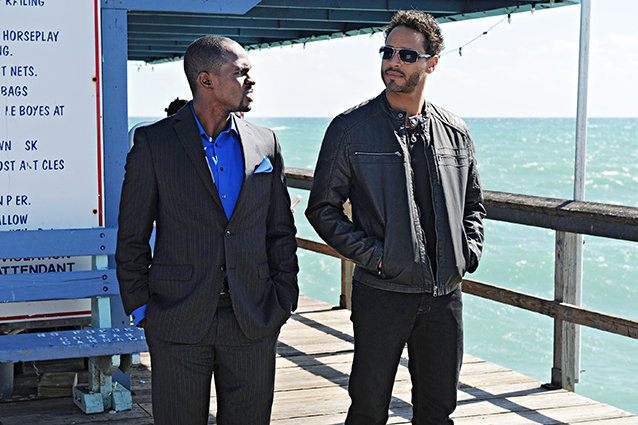 Last week's episode of Graceland ended with Briggs' shocking revelation: "Hi, My name is Paul, and I'm a heroin addict. Thursday's new installment seems to elucidate the enigma of Paul Briggs, but then the senior agent character takes a turn for the uber-mysterious. 
Case Closed?
After Mike shows up at Briggs' Narcotics Anonymous meeting, the rookie agent obviously demands answers. Thus, the tale of Briggs' addiction begins. A few years ago, he was investigating the Kaza cartel and made the mistake of going down to Mexico against orders. His cover was blown, and he was promptly captured and tortured by an infamous killer named Jangles. But instead of mutilating his body, he decided to routinely inject him with heroin and then let him go, sending a junkie back to the FBI. We're not sure we're totally sold — it's a pretty convenient story. Briggs also mentions that he was "in love" at the time but says that's a story for another occasion. Oh and the contents of Briggs' mysterious duffel bag? A coffeemaker to brew better refreshments for future meetings.
D.J. is Back!
Mike and Abby have been getting pretty close, so she asks Paige to take a picture of them with her cell phone. Paige obliges but then steals and destroys the phone, telling Mike that it's too risky to have photos of his face floating around the Internet. She and Johnny advise him to break up with Abby, as they can't have a future together given his line of work. But Mike doesn't end up going through with it after D.J. tells him to stay with her. In this episode, we also learn that D.J. has a seven-year-old son, but he can't have a relationship with him because of hsi undercover agent job. 
We Don't Keep Secrets
Charlie decides to tell the house about her two-time run with heroin. Mike wants to make sure that she doesn't have any more of it to tempt her, and everyone is generally supportive, though Paige will be checking her fingernails every day for signs of usage. "An addict can never be trusted," she tells Mike. Briggs is not happy that Charlie decided to tell the group what happened, but Charlie is adamant that she won't keep secrets from the Graceland housemates. And speaking of not keeping secrets, Mike tells Juan (who makes for a seriously creepy sight in the rookie's rearview mirror) about Briggs' addiction, insisting that he's a great agent who deserves help from the Bureau, not punishment. Juan makes a sort of promise that they'll help Briggs out and send Mike back to the East Coast, but we can't help but question this arrangement. Like Briggs' heroin story, it seems way too convenient.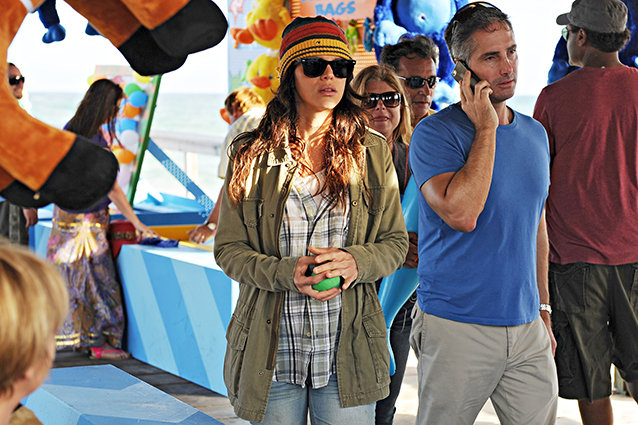 Chasing A Ghost
Hoping to gain more traction in the Bello case and get closer to locating the mysterious Odin, Briggs suggests that Charlie and Mike merge their cases. Odin may not show his face to junkies on the street, but he would probably meet with a big shot like Bello. Everything is all set: Briggs will act as liaison, and the group will monitor their meeting on a pier in broad daylight. But then Briggs' communicator watch cuts out. And Odin doesn't show up. Or does he? It turns out that Briggs has intentionally disabled his watch so that the others can't hear him when he informs Bello that he is in fact Odin Rossi. WHAT?
Graceland, you've done it again. Is it next Thursday yet?
Follow Caroline On Twitter @Carolinesb | Follow Hollywood.Com On Twitter @Hollywood_com
More:
SXSW: 'Graceland' Star Aaron Tveit On Jumping to TV and (Eventually) Returning to the Stage
'Graceland', 'Horizon', 'Sirens', 'Playing House', and 'Modern Family' Join the USA Family 
USA's Summer Lineup: 'Graceland' to Debut, 'Suits' to Return, and More!