'Graceland' Recap: Hair of the Dog (Season 1, Episode 6)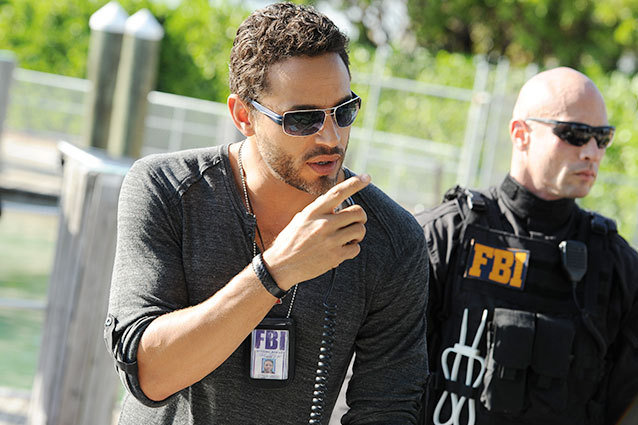 Last week's episode of Graceland ended on a hell of a cliffhanger as Charlie shot up some real drugs. Seriously, this was not a drill. Thursday's installment picks up the morning after the fateful incident, and "hungover" doesn't even begin to describe this tough DEA agent's bodily state.
Our Little Secret
Charlie awakens with hazy memories of what went down at Quinn's. We learn soon learn that Briggs carried her out of the drug den and placed her in this ramshackle apartment to keep what transpired a secret and most importantly, to help Charlie keep her job. But all she wants is to sleep in her own bed and puke in her own toilet. Don't worry, Charlie, we've all been there. Well, sort of. When she has to meet with the boss to discuss what happened during the botched deal, the rattled cop does the only thing she can to keep herself composed for the hearing: take more heroin. Lucky for her, Briggs just happens to have some in the apartment. Very suspicious stash, Paul. And what's in that locked closet?
Talk About A Yellow Submarine
Meanwhile, Johnny and Paige successfully bust Bello's "Bigfoot" submarine drug smuggle. Only problem is, there aren't any drugs on board. But that's not the end of this underwater mission. Mike learns from Bello that the cartel delivering the drugs stored them in a torpedo that they shot into the ocean floor when the DEA captured the submarine. Loath to waste an opportunity to bust both Bello and Briggs, Mike suggests that the boss recover the torpedo himself. He even brings in his "expert ex-Navy SEAL friend" (aka undercover Johnny) to help locate and retrieve the drugs. It's a dangerous mission, but Mike is just that determined finish his investigation of Briggs and get back to D.C. (though that possibility seems less and less likely after every meeting with Juan).   
Flying Solo, Mr. Pilot?
Blowing off a little post-work steam, Mike meets up with Abby at the bar. After his East Coast love expresses her desire to hang out with his roommates, he invites Paige on a double date. The cute DJ she brings (oh and speaking of which, where the hell is D.J.?) seems a little sketchy, so it's not too surprising when we find out that he's actually a dealer she's using to get close to an ecstasy ring. Talk about bringing your work home with you. Mike is not pleased and doesn't understand why she couldn't bring a real date to the outing with Abby, but Paige gives him a little reality check: it's not possible to have a real relationship in their line of work.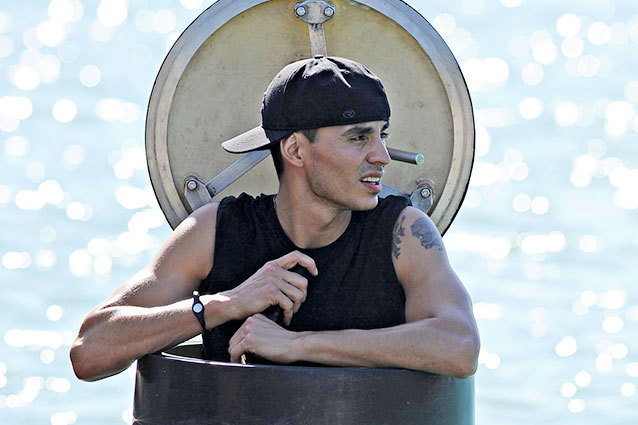 Rough Waters
At the meeting with the FBI, Johnny notices Charlie's fidgeting and takes the blame for the failed bust. After correctly guessing what happened to her, he really rails into Briggs for not telling him. Still, the two have to team up to find the drug-filled torpedo. They see that it's wired with explosives, but Johnny insists on going through with the mission with Bello. The next day, after Johnny dives in to locate the torpedo, Mike finds out that Bello intends to kill the "ex Navy SEAL" because he knows too much. Uh oh. Just when it seems like things can't get any worse, BOOM! The torpedo has exploded, and Johnny is dead. Or is he? Finally off the boat, Mike frantically calls Briggs to tell him what happened to their roommate. When he arrives at the FBI headquarters, he's shocked and relieved to find that…Johnny is alive! It turns out Briggs overhead Bello's plan and warned Johnny, who then detonated the explosives away from the torpedo to fake his death and the destruction of the drugs.
Hi, My Name is Paul
Mike is obviously super pissed that Briggs didn't tell him that Johnny was alive and that he went behind his back to look at the torpedo the night before. When they open the torpedo to find it only half full, Mike is highly suspicious and decides to follow Briggs, who's toting a mysterious duffel bag. The mission leads him to a secret meeting. As Briggs stands up in front of the group and opens his mouth to start talking, he sees Mike poke his head in. But that doesnt stop him from uttering the words, "Hi, I'm Paul, and I'm a heroin addict."
Graceland, you always leave us hanging! Next Thursday can't come sooner.
Follow Caroline On Twitter @Carolinesb | Follow Hollywood.Com On Twitter @Hollywood_com
More:
SXSW: 'Graceland' Star Aaron Tveit On Jumping to TV and (Eventually) Returning to the Stage
'Graceland', 'Horizon', 'Sirens', 'Playing House', and 'Modern Family' Join the USA Family 
USA's Summer Lineup: 'Graceland' to Debut, 'Suits' to Return, and More! 
---
From Our Partners


Battle of the Bikini Bodies (Celebuzz)


Fangbanging: Complete Guide to All of 'True Blood's Sex Scenes (Vh1)