'Graceland' Recap: O-Mouth (Season 1 Episode 5)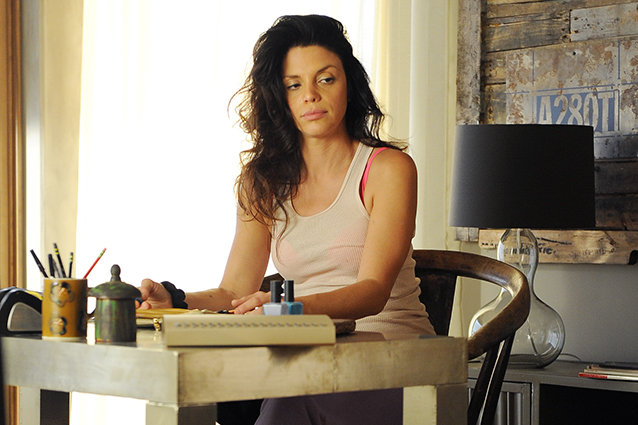 At the end of last week's episode of Graceland, Mike was pretty shaken up after witnessing Eddie's suicide. Thursday night's installment begins the morning after the traumatic experience as Johnny jumps on Mike's bed and summons him down to the beach for a game of football. As they frolic in the sand with a bikini-clad Paige, the rookie seems to cheer up a bit. It's nice to see our straight-laced D.C. boy looking a little more West Coast in his T-shirt and backwards cap, but we can't help but feel sorry for poor Mikey when we catch a glimpse of his exhausted eyes. 
Demanding Answers
After their little football game, Mike goes to meet with his "therapist" aka the FBI official overseeing his mission to investigate Briggs. Having just watched a thug blow his brains out, Mike is unsurprisingly a little more aggressive in his demand for information about why exactly the bureau is going after the head of Graceland, but all we get is the non-answer "There are really good reasons why we're investigating Briggs." Still, Mike wants to know those reasons, and he refuses to take no for an answer. Later, he receives proof from the FBI that Briggs may be stealing heroin, but we still suspect that there's more to the story than some petty drug theft.
No Love in Graceland
Meanwhile, Briggs and Charlie have teamed up, assuming their former covers as a sexually charged couple name Eric and Katie. When Charlie's former CI Whistler shows up at the drug den during their sting operation, the duo have to make out to prevent him from recognizing her and blowing their cover. After this incident, we learn that Briggs and Charlie used to be together, and Johnny and Paige make a bet about whether or not they'll hook up again. When the former lovers find themselves with time to kill in a hotel room after a failed bust, they almost have sex (the buildup is violently hot) but decide not to at the last minute. Still, they trick Johnny into thinking they went through with it so that Paige wins the bet (and a week of free drinks). 
Whistler's Back
To confirm that Whistler didn't recognize Charlie during her meeting at the drug den with Briggs, she pays her former CI a visit. Whistler thinks that she wants to use him as a CI again, but Charlie says she just wanted to check in because she cares about him. She even buys him a new flannel shirt. When the drug dealer she and Briggs are trying to bust gets paranoid and abandons their meeting, Charlie does end up turning to Whistler for help.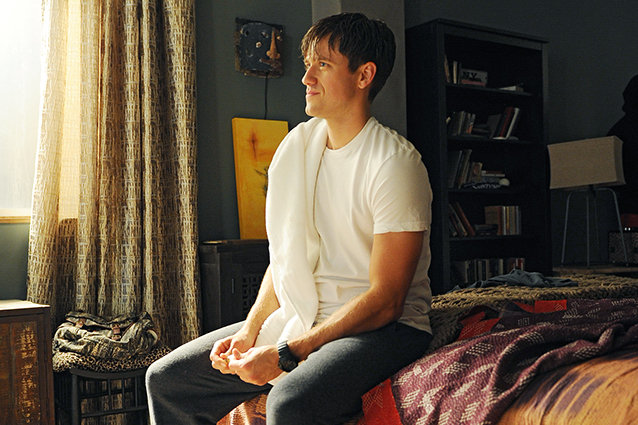 Shoot Straight, Partner
After working as a "glorified camp counselor" and teaching Bello's thugs how to shoot, Mike wants to get closer to the boss. To gain his trust and get more intimate, he bonds with Bello over American Western movies, even beating a poor electronics store employee into letting them watch a dvd on one of the flatscreen TVs for sale. Later that night, Mike gets a glimpse of Bello's calendar, where he sees a note about something called "Bigfoot," which we learn is a tactic for dealers to ship drugs via submarine. 
Things Fall Apart
After Whistler vouches for them, Charlie and Briggs arrive at a meeting with the drug dealer who bailed. Just before they begin their deal, Charlie finds Whistler in the bathroom, dead of an overdose. She feels overwhelmingly guilty and starts to break but ultimately decides to go through with the deal so that his death won't be for naught. Then, to make matters worse, the dealer suspects that Charlie and Briggs are undercover cops and demands that they shoot up some of his real stuff to prove him wrong. Briggs is ready to bounce, but Charlie grabs the needle and injects herself. The episode ends on a major cliffhanger as we see an O-mouth appear on her face. What will happen to Charlie? Did she actually take the real stuff or stealthily swap it with hemoglobin? We'll have to wait to find out. 
So that about covers this week's episode of Graceland. Oh and Mike hangs out with that East Coast girl Abby again (after messing up the second date by being "all weird and emo"). They rescue a beach dog, and she thinks he's a pilot. So we'll see what (if anything) happens there — the writers are sure doing a good job of dragging out this relationship. Noticeably absent is in this episode is DJ, but hopefully he'll be back next week.
Follow Caroline On Twitter @Carolinesb | Follow Hollywood.Com On Twitter @Hollywood_com
More:
SXSW: 'Graceland' Star Aaron Tveit On Jumping to TV and (Eventually) Returning to the Stage
'Graceland', 'Horizon', 'Sirens', 'Playing House', and 'Modern Family' Join the USA Family 
USA's Summer Lineup: 'Graceland' to Debut, 'Suits' to Return, and More! 
---
From Our Partners:


What Happened to 33 Child Stars (Celebuzz)


40 Most Revealing See-Through Red Carpet Looks (Vh1)