2013 Grammy Ratings: Down From 2012, But Still Solid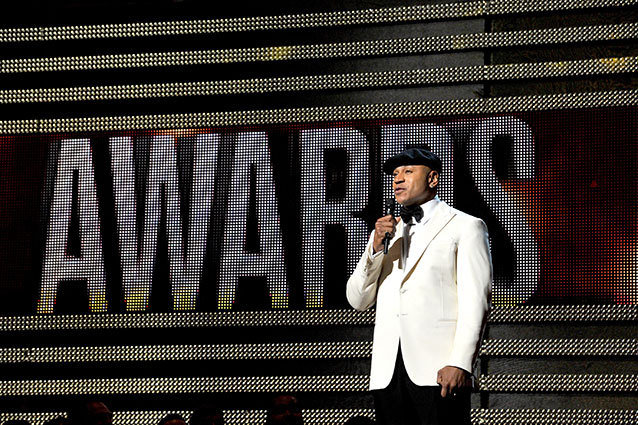 Apparently not even the allure of the return of Justin Timberlake to the music world, the morbid curiosity of seeing if Rihanna and Chris Brown would sit together (they did, blergh), or the appeal of listening to host LL Cool J explain what a hash tag is could bring in a slew of Grammy viewers. (Perhaps CBS' threat of no sideboob scared off some viewers.)
According to TV Line, the 2013  Grammy Awards ceremony, which was capped off by rockers Mumford and Sons taking home the night's biggest honor — Album of the Year, for their hit record Babel — brought in a total of  28.1 million total viewers for CBS, while scoring a 10.0 rating in the 18-49 demo. 
RELATED: Grammys Best and Worst Performances 
While those numbers are nothing to sneeze at (it was the highest-rated show of Sunday night, besting competition over on ABC like Once Upon A Time and Revenge, and it was the Grammys second-highest rated showing since the 1993 broadcast) it's still a major difference from the 2012 show, which brought in a staggering 40 million viewers. Of course, last year's ceremony aired in the wake of the passing of Whitney Houston (who was mentioned by host LL Cool J during last night's broadcast as well) and viewers tuned in to see the tributes for the recently deceased music legend. 
RELATED: Grammys 2013: Taylor Swift Sings Along to Every Song — PICS 
The 55th Grammys earned the same numbers as the 2011 broadcast of the 53rd Grammys, the year that Arcade Fire pulled a major upset and won Album of the Year for their indie masterpiece The Suburbs. 
RELATED: Holy Sideboob! 10 Looks That Broke CBS' Rules 
[Photo credit: Lester Cohen/WireImage]