Great Job, 'SNL'! Jay Pharoah Set to Take Over Obama Impression This Fall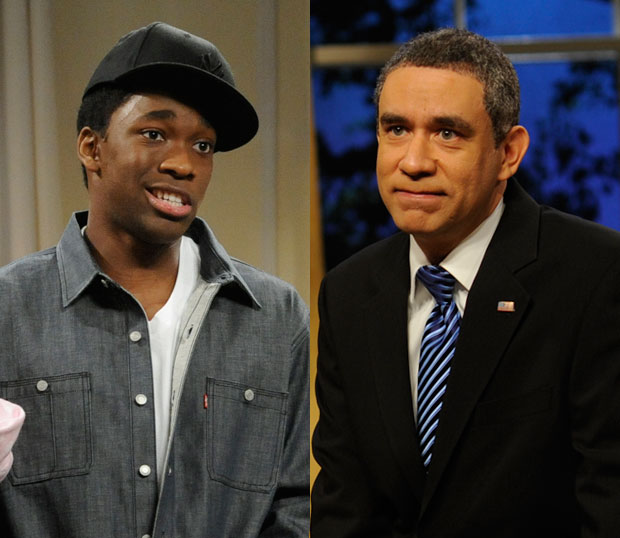 There are few television events more exciting than Saturday Night Live during an election. And as we head into the start of the SNL season (oh, and just this thing called the U.S. Presidential Election), we can look forward to lots of great political comedy. Yesterday, NBC confirmed to Hollywood.com that Jason Sudeikis would reprise his Mitt Romney impression through January. And today, Lorne Michaels revealed to the New York Times that relative SNL newbie Jay Pharoah would relieve 10-year series veteran Fred Armisen of his President Obama impression. Mr. Armisen, you're still great (thank you for Portlandia, by the way), but this decision is a stroke of sheer genius. 
Pharoah has long been underutilized at SNL, brought in here and there for his spot-on impressions of Jay-Z, Will Smith, and Denzel Washington. But these moments were few and far between, and it's been disappointing to see someone as wildly talented as Pharoah show up in a relatively sparse capacity. With him in place as the de facto Obama impersonator, he'll be all over the screen in both regular Saturday night episodes and SNL's prime time specials leading up to the election. 
Of course, the big question is whether or not Pharoah can hack it as the P.O.T.U.S. Sure, he can do rappers and actors, but Obama's voice is a unique one. As it turns out, not only can Pharoah do a frighteningly good voice impression of
Joe Biden's best friend Bo
, but he's been doing it
for years
. Give yourself a pat on the back,
SNL
. Check out this video from 2009 in which Pharoah performs his nearly immaculate Obama impression for an audience at a comedy club:
And if that wasn't good enough, here's a close-up on his impression:
Follow Kelsea on Twitter @KelseaStahler
[Photo Credit: Dana Edelson/NBC]
More: