'Grey's Anatomy': Please Stop Banking On Your Finales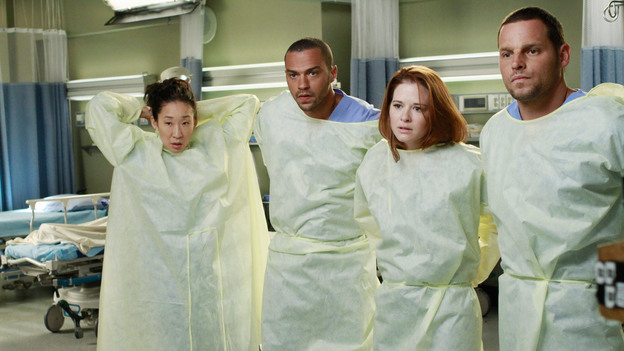 Ever since Grey's Anatomy premiered on March 27, 2005, I've been hooked. Whether I was educating myself with medical jargon (did I mention I have a Ph.D. in surgical lingo?) or swooning over the McDreamy-Meredith romance, I was officially diagnosed with Grey's Obsession. It was a beautiful (albeit semi-unhealthy) relationship that I was happy to be a part of. But somewhere along the way, Grey's has lost a bit of its edge. It's developed a pattern of repetition, downgrading the caliber of its episodes. However, I continue to get roped back in year after year after year for one major reason: The epic Grey's Anatomy finales.
Yes, creator Shonda Rhimes definitely knows how to leave an audience hanging with her numerous finale cliffhangers. And as the years have progressed, the finales have become bigger and bigger — even reaching new heights (literally) with last week's devastating plane crash. (Did we mention this looks a little familiar?) It really is great television at its finest. Rimes knows it, we know it. But therein lies the problem. Rimes has become so comfortable with piquing our interests come finale time, that she's neglecting to give viewers exciting content throughout the rest of the season. It's like she's saving up all of her good material for the final episode, but we need more than that.
Now, please remember that I've already demonstrated my profound allegiance to the show, so my disappointment does not come lightly. But I'm growing tired of the repetitive storylines that seem to go absolutely nowhere from week to week. For weeks I've wanted something monumental to happen and now that it has, I'm annoyed at how long I had to wait to get there.
This isn't just a one-time thing, though. It's something the show has been getting away with for years. Whether it be a tragic death from a beloved character (R.I.P., George) or a devastating hospital shooting, the series has solely banked on these finales to get fans to come back for the following season even when the rest of the episodes make us want to throw in the towel. It's the perfect trap. And it may have worked again this time, my patience is wearing thin.
These finales prove Grey's still has the potential to be the show we once knew, but it needs to start showing more of that throughout the entire season, not just at the end. A plane crash is suspenseful, but I'd much rather settle for a less shocking finale (like when Meredith discovered McDreamy was married in Season 1) if it meant raising the bar on the caliber of content as a whole. Fans don't want all the intrigue to be crammed into one episode and then be done with it — we want a little foreplay along the way.
So please, Grey's Anatomy, you know I love you, but stop relying solely on your finales to be the main course of the show. Because one of these days, I may not stick around for seconds. Now, scrub up and get to work!
Grey's Anatomy kicks off their finale tonight, May 17 at 9 PM (ET/PT) on ABC. Will you be watching?
More: