'Grey's Anatomy' Recap: An Unsettling Settlement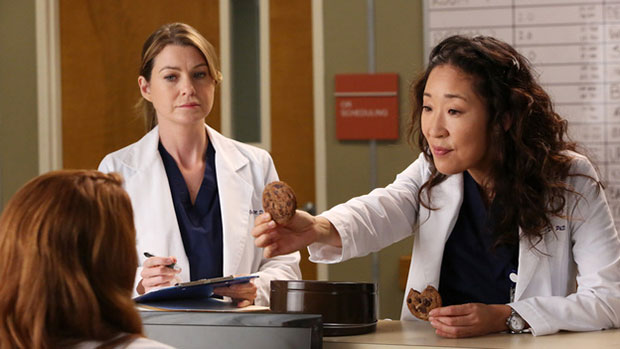 Money changes everything. Whether you're earning it, spending it, losing it, or — in the case of Grey's Anatomy's plane crash victims — winning a whopping $15 million in court, any significant change in the moola department can impact your life in a huge way…for better or for worse. This week's episode titled "The End Is the Beginning Is the End," made sure to drive this point home with a little trial…and error. So grab your scalpels courtroom gavels and let's get this recap started!
McDreamy Returns…Sort of: Ever since Derek's surgical hand has been out of commission, so has our beloved McDreamy's storyline. But fortunately, it looks like all of that's about to change. Fresh off his recent nerve surgery, Callie's instructed Derek to play 8 hours of ping-pong with Dr. Williams as a form of physical therapy. And though things got a little overly competitive at one point (though both guys need to work on their trash-talking skills), his hand didn't bother him once, which means our favorite neurological surgeon should be able to scrub back into the OR in no time. Huzzah!
The Ex-Factor: Ironically, Cristina and Owen's divorce is doing wonders for their relationship…not to mention their re-established sex life. Yes, they may no longer be husband and wife, but that isn't stopping this on-again, off-again couple from having hot, steamy, on-call sex with one another. So what does this mean? Who knows! But fans can take comfort in knowing that these star-crossed lovers haven't thrown in the towel just yet.
Richard the Remorseful: It's been weeks since Adele's death, but Richard is still suffering from a severely guilty conscience. Not only has he been thwarting Catherine's attempts to comfort him, but he's also flat-out refusing to perform any surgeries. Instead, the ex-Chief has taken to cataloging all the weird Fear Factor-like body parts that he's removed from patients throughout his years as a surgeon (seriously, are hospitals actually allowed to keep all that stuff?!?!). But what were once thought of as (gross) trophies, now serve as bitter reminders of all the times he chose surgery over spending time with his wife. Luckily, Meredith — who is bizarrely one of the most normal people on the show now — pushes him to get back to the OR and forgive himself for his past wrongdoings. This, naturally, led to some sweet hand-holding between Catherine and a teary-eyed Richard over dinner.
Show Me the Money: And last, but certainly not least, we come to the main event: the lawsuit trial. It's time to decide if the hospital is found guilty and needs to pay the piper…or rather the doctors, in this case. The plane crash victims (which include Cristina, Arizona, Meredith, and Derek) were summoned to court where a judge charged Seattle Grace (aka their employer) with negligence and awarded the plaintiffs with a total of $15 million. Each. So they won! They can finally put the ordeal behind them! However, the only one who really feels like celebrating is Callie, who suggests they all go out for a "Survivors Dinner" to commemorate the victory. I get it. It'd be hard to celebrate a win like that when's there's so much that you lost in return (Lexie, Sloan, Arizona's leg). But Callie eventually coaxes all of them into going and manages to put everything into perspective as only she can. "It feels weird and sad and wrong, but it also feels exciting," she said during a toast. "I miss Mark and Lexie and I'm heartbroken that they're not here tonight. But I'm also grateful that all of you are, and I'm going to celebrate that." This seemed to sufficiently lighten the mood and even gave Meredith the courage to officially announce to the group that she's pregnant.
Derek and Cristina call Owen to try and get him to come join in the festivities, but the poor Chief of Surgery is too busy dealing with another huge crisis. During an important meeting with the hospital board, Owen learns that — thanks to a loophole in the contract — the insurance company is refusing to pay for the lawsuit, forcing the hospital to pay the millions ($60 million to be exact) from its own pocket. The problem is, Seattle Grace doesn't have that kind of cash on hand and will be forced to go bankrupt and close its doors, possibly for good. In other words…this could be the end of Seattle Grace.
Other noteworthy items:
-Karev and Wilson are hellbent on keeping things in the friends zone (even though she just bought him furniture for his place, which is a totally girlfriend thing to do).
-Avery admitted to a brokenhearted April that he's currently sleeping with the intern Stephanie. Sorry April, but you only have yourself to blame.
-Bailey learns about vajazzling from an elderly patient (it's hilarious, but also mildly unsettling).
So what did you think of this week's episode? Did you see this big twist coming? Were you surprised by the court's decision? Could this really be the end of Seattle Grace Hospital? Did you know what vajazzling was before now? Sound off on your dissections and opinions in the comments below!
Follow Kelly on Twitter @KellyBean0415
[Photo credit: ABC]
More:
Grey's Anatomy Recap: Bride and Gloom
Grey's Anatomy Recap: Wedding Belle Blues
Grey's Anatomy Recap: We Need to Talk About the Interns

The Cutest Celebrity Kids! (Celebuzz)