'Grey's Anatomy' Recap: If/Then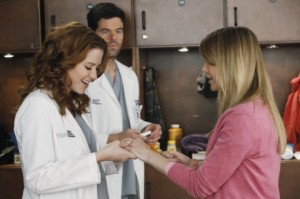 S8E13: Tonight's episode of Grey's Anatomy explored the age-old adage of "What if?" We've all experienced this dilemma at one point in our lives, thinking, "If this had happened, then how would my life be different?" While putting her daughter Zola to bed, Meredith drifts off and starts to dream of an alternate reality for herself and her fellow Seattle Grace doctors, seeing what life would've been like if a few things had gone differently. And what a different world it is: Meredith's cheery, McDreamy is McDreary, everyone is with someone different, and Lexie has dreads. So yes, everything's a bit crazy, but I think it's a great way to change things up a bit on the show. So many of the episodes have just centered around different (yet highly similar) surgeries. And while I get that these people are doctors – and medical procedures kind of come with the territory – it's nice to divert from the pattern every so often. And Meredith's dream held a lot of interesting discoveries as to just how different these doctors' lives could have been.
Here's a little preview of what we learn: IF Meredith's mother didn't have Alzheimer's, THEN Meredith would be engaged (but not to McDreamy). IF Meredith had never met Derek Shepherd in a bar, THEN he would still be with Addison (which means a guest appearance by Kate Walsh!). And IF Callie never met Arizona when she did, THEN she would be with…Owen. Interesting…but that's not the end of it.

"What if one little thing i said or did could have made it all fall apart? What if I'd chosen another life for myself or another person?" – Meredith
In Meredith's alternate dream world, we find her mother, Ellis Grey, healthy and married to Richard Webber, who Meredith now calls "Dad." Ellis is also the Chief of Surgery, but instead of leading the hospital's doctors with guidance and support, she belittles most of them, including Meredith, in order to make herself seem that more magnificent. In fact, she even hijacks Bailey's whipple surgery as a way to show off to the press and perform her newly invented technique. And since Bailey is a complete pushover in this world for some reason, she lets it happen. But things take a turn for the worst when Ellis, not taking the time to thoroughly read the patient's chart, misdiagnoses the type of surgery she should perform, she looks like a fool in front of everyone. But, of course, she's not to blame since Bailey didn't properly brief her on the patient, so Ellis has Bailey fired. Sounds fair, right?
Later, Ellis has a mini-breakdown in front of Richard who immediately comforts her. Poor guy, if he's not taking care of one wife, then he's taking care of another – no matter what world he's in. Ellis has clearly stomped on his spirit and restrained him from growing into the power surgeon he was to become.

"She wants everyone around her to be ordinary, so she can be extraordinary." —Meredith
But somehow Meredith has survived her mother's wrath and doesn't show any signs of being emotionally stunted like she used to be, thanks in large part to Richard's constant nurturing. And on this particular morning she also announced the exciting news that she's engaged to none other than Alex Karev, who seems to have dropped the bad boy look entirely and become an upstanding husband-to-be. That is until Cristina catches him fooling around with April in an empty office. Oh Karev, apparently you can't change in any world, can you? So there goes that engagement.
Speaking of Cristina, she's extremely closed off and intense, even more-so than usual. Once Preston Burke left, she became somewhat of an office pariah for sleeping with the boss, so no one really talks to her, including Meredith. In fact, they kind of hate each other and are constantly fighting over cardio surgeries (oh yeah, Meredith's specializing in cardio thanks to the constant influence of mommy dearest). But Cristina still finds time to secretly tend to Owen's injuries since he's still having trouble controlling his aggression as part of the side affect of being in a war. However, these two aren't together, they just make eyes at one another every so often. No, Owen is actually married to Callie and they share twin boys and a girl. Random much?
And then there's Lexie, who is a cocaine user and is brought into the hospital for overdosing. Yes, indeed the dreads and tattoos make her a far cry from the good girl we've grown so accustomed to, but Jackson takes a liking to her and tries to help guide her down the path of inspiration. But that doesn't work since she ends up stealing hospital drugs and running out of the building before anyone can stop her. Don't worry though, Mark Sloane finds her on the street after almost hitting her with his car and brings her right back to the hospital.

"Oh, this is awkward." – Mark
But the twists just keep on coming. We also learn that George O'Malley isn't dead since he failed his intern exam and Meredith got Izzie fired after that whole Denny debacle went down. Charles is also alive and kicking, so I guess it's safe to say that shooting at the hospital never happened as well. But the biggest difference of all is the dramatic personality change in Derek Shepherd. Since he and Meredith never hooked up, he's still with Addison, who's pregnant with their child. But you can tell he's not happy and it shows on his face and in his work. Ellis even comments that he has no drive or initiative in anything, which is so different from the McDreamy we know and love. All we see is a depressed, hollow shell of a man, who is now known by the residents as McDreary. However, in the end, he makes a speech to Addison saying how he wants their relationship to work and how the baby will make everything better. That's when she decides to drop the bombshell on him by admitting that the baby isn't his. And at that precise moment, Mark Sloane (aka McSteamy) emerges from the bathroom. Oops…awkward.
By the end of the episode both Meredith and Derek end up at the infamous bar where it all initially began from Day 1. Cristina and Meredith bond while saving Lexie's life (without knowing she is in fact Meredith's half-sister), so they go out for a few drinks and Derek is there to drown his sorrows about his failed marriage. They get to talking and before you know it, there's a spark. Some things are just meant to be, I guess.
So what did you think of the episode? Were you surprised to see how different things could have been? Did you like how this showed Derek and Meredith were destined to end up together no matter what?