'Grey's Anatomy' Recap: The Fate of Seattle Grace Comes to a (Fore)Closure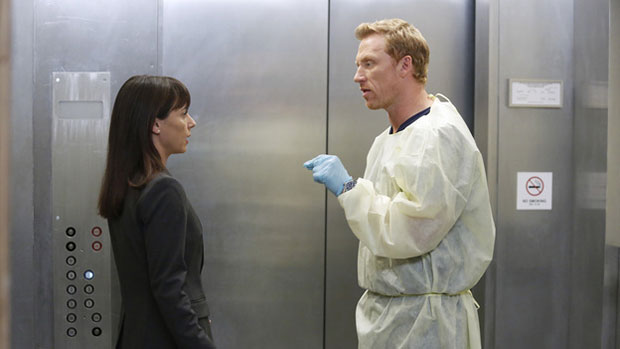 For the past several weeks, Grey's Anatomy fans have waited anxiously with baited breath for the true fate of Seattle Grace Hospital to be revealed. And while we all know deep down that this issue must eventually be resolved (this is a hospital-centric show, after all), this week's episode, "Bad Blood," added an extra slice to the plot: Seattle Grace is getting sold! And while we have yet to learn any of the major details (like who's the buyer?), it's most certainly going to make the lives of our favorite doctors even more complicated. Let's dig in, shall we?
Big Brother is Watching: As part of the hospital's new refurbishing process, several cameras have been installed around the CCU to monitor medical decisions and help reduce mistakes. Naturally, Cristina hates the idea of Big Brother — he goes by Dr. Bob — watching her every move and second-guessing her diagnoses. Cristina yelling at newbie interns is awesome, but watching her yell at an electronic eye is even better. But Bob proves to be somewhat handy after all when he catches Intern Leah attempting (and failing) to give a dying Jehovah's Witness patient a transfusion (which is apparently not something they're allowed to have). And even though Bob decides not to blow the whistle on Leah's little almost-stunt, Cristina gives her a stern lecture in the importance of respecting a patient's wishes. She's actually become a pretty good teacher. Mr. Feeny would be so proud!
Walking on Sunshine: Alex and Callie find themselves struggling to convince their 13-year-old patient — who recently went through a double hip replacement — to start walking around again. If she doesn't, there's a good chance her hips won't heal correctly and she'll never be able to walk again. Unfortunately, she's become insanely bitter about the whole ordeal since her dream of being a professional gymnast has been completely squashed. She refuses to move from her bed and ends up deeply depressing every doctor she comes into contact with, even turning Alex "into a suicide risk." Luckily, Arizona, who happens to have a little experience in this matter, manages to give the girl a good dose of tough love and gets her up on her feet in no time.
The Hernia Hunger Games: How do you make a hospital more efficient? Learn the fastest way to treat hernias, of course! Bailey, Richard, and Meredith are forced to take a class to teach them the "correct" way to treat hernias from now on. And while Richard is none to happy with this new policy (he has his own hernia treatment technique, thank you very much), Bailey — in the hopes of keeping her job — becomes extremely enthusiastic about the whole thing and even gets in touch with her inner-Hunger Games competitive drive. "Tributes, may the odds be ever in your favor." But both become horrified when the instructor accidentally blurts out that "The patients don't matter!" in the middle of their class. (Um, huh???)
Doctor Nose Best: Owen tries his best to show Alana just how important having an ER really is. He even has her participate in an emergency surgery where the guy's nose is pretty much hacked off, as a way to remind her how rewarding it is to save a life under dire circumstances. Without the advantage of having an ER, this patient would not have survived. And you think she gets it! But when April and Derek come to her with a solid plan to perform small budget cuts in each department in order to keep the ER open, she automatically declines the idea. You see, the hospital is going to be sold. She only shut down the ER to make Seattle Grace look more appealing to potential buyers. Uh oh…
Kick Back and Relax: But the night still managed to end on a tender note, showing Meredith and Derek in bed together while feeling their McBaby kick. (Side note: Wasn't it adorable how Bailey had to explain to a panic-stricken Meredith that that's the "fluttering" sensation she was feeling? So precious!)
So what did you think of this week's episode? Did you like Cristina's interaction with Bob? What will being sold mean to the future of Seattle Grace? Sound off on your dissections and opinions in the comments below!
Follow Kelly on Twitter @KellyBean0415
[Photo credit: Kelsey McNeal/ABC]
More:
Grey's Anatomy Recap: The Phantom Menace
Grey's Anatomy Recap: An Unsettling Settlement
Grey's Anatomy Recap: Bride and Gloom

'Hunger Games: Catching Fire': Spoilery Pics From Google Maps