'Grey's Anatomy' Recap: The Plane Crash Claims Another Victim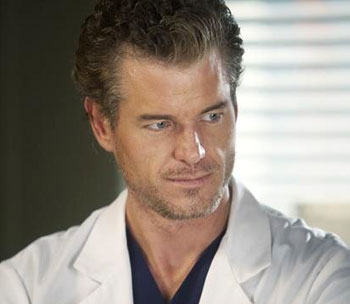 Grab your scalpels, forceps, and navy blue surgery garb, folks, because ABC's hit drama Grey's Anatomy has officially scrubbed in for another heart-wrenching season that's already gearing up to be just as emotionally exhausting as its shocking Season 8 finale. (If you haven't done so already, I suggest you make your tissue supply well-stocked).
Yes, believe it or not it's been four months since the plane carrying our beloved doctors — Meredith, Cristina, Derek, Lexie, Mark, and Arizona — took a nosedive into a very Lost-like scenario (minus the smoke monster, of course), leaving several of our favorite characters severely wounded and others knocking on death's door (RIP Lexie). But, as we discovered during last night's premiere episode "Going, Going, Gone," this little weepathon is far from over. Thirty days after the horrific accident, showrunner Shonda Rhimes throws us directly into the aftermath of the accident, showcasing how well (or not-so-well) our Seattle Grace doctors are handling their everyday lives post-crash.
At first, it almost felt like another alternate-reality episode since nothing was as it should be: new interns referring to Meredith as "Medusa" (apparently they all took Classical Mythology classes before medical school); Alex Karev returning to his slutty, man-whore ways; Cristina serving her fellowship in Minnesota under the long-winded, story-telling gaze of Dr. Thomas — or as I will always think of him: Mr. Feeny from "Boy Meets World"; Miranda Bailey acting uncharacteristically happy (and horny); Arizona Robbins being MIA; and — most shockingly — finding the hunky Dr. Mark Sloane on life support! Apparently those internal injuries were more severe than we thought.
Of course, we knew McSteamy's exit was underway, but it was unclear how or when this was exactly going to take place. So — much like ripping off a Band-Aid — Rhimes made it a quick, but very painful process. According to Sloane's living will, in the event of a trauma, it was his wish to be taken off life-support after 30 days of no improvement – a deadline that would end at 5 p.m. that day. No loopholes. No miracle cures. No last second remedies. This episode simply provided 60 minutes of heartbreak and torture not only for the characters, but for the fans as well. Like Meredith said in the opening monologue, "Death changes everything," – not just for the people who are dying, but for the loved ones that they leave behind.
So, naturally, everyone took turns expressing their grief in different ways. Derek decided now would be the perfect time to attempt his first surgery since the crash (which became a total bust after his recently mutilated hand went completely numb midway through); Bailey continued to live up to her new nickname as Booty Call Bailey by getting busy in the on-call room with Dr. Ben (not that we blame her one bit); Avery got a new hairdo and frequently sat by Sloane's bedside, updating him about his current patients (Plastics Posse for life!). 
Meanwhile, Meredith and Cristina did what they do best: opted to ignore the emotional situation altogether. Callie, however, did manage to bring a few light-hearted moments to an otherwise depressing episode and attempted to rouse McSteamy from his catatonic state using one of the biggest weapons at her disposal: her feminine whiles. Though to no avail. But Rhimes wasn't about to let fans get off easily. She made sure to pull at our heartstrings even more by including a variety of home videos from years past of Sloane in all his glory – not only as a sexy bachelor, but as a great father, friend, and doctor (like we really needed more reasons to love him). And while it's hard to see yet another beloved Grey's character leave for good, we can at least take solace in knowing that he and Lexie can be reunited — even if it's in a very Romeo and Juliet type fashion.
Next: Cristina Gets Backed Into a Corner and Where is Arizona?
Even though Sloane's storyline dominated a major portion of the plot this week, Rhimes made sure to include plenty of face time for several other fan favorites as well. Cristina seems less than thrilled with her new job and is asked to take a short sabbatical in the hopes of making her become more team-oriented and less self-involved. Is it just me or does this has transfer written all over it? She'll be back to Seattle Grace in no time. 
And as for Karev's imminent departure — it seems this bad-boy doctor won't be going anywhere anytime soon. After receiving an unfair guilt trip from Meredith at the airport and learning that his orphan program was getting moved to a new hospital, Karev made the decision to remain at Seattle Grace (if only all jobs allowed their employees to be so fickle). 
And in completely unrelated news, Owen Hunt, who apparently just needed something to do this episode, decided to go find April Kepner and ask her to return to the hospital, which she undoubtedly will do if for no other reason but to question Avery's latest hairstyle (am I right, ladies?).
But the big question on everyone's mind was: whatever happened to Arizona? Though others continually offered Callie their condolences and talked about Dr. Robbins in hushed tones, no one ever came out and said what really happened. It wasn't until the last few minutes of the episode that a tearful Callie returned home shortly after Sloane's death and demanded that Arizona get out of bed and face the world. But that's much easier said than done, especially considering the fact that Arizona now only has one leg….and apparently Callie is responsible for the amputation, which has sent Arizona spinning into a deep sea of depression. I think it's safe to say this emotional aftermath won't go away quietly.
But, in the meantime, there are still sooo many questions that need answering — like what exactly led to Mark's death? Why was Arizona's leg cut off? Will Cristina follow in Karev's footsteps and opt to return to Seattle Grace? And, most importantly, how exactly did they all get saved from that island in the first place? There may be no happy endings in the near future, but it sounds like all the makings for an equally riveting second episode — not to mention a drama-packed season.
What did you think of tonight's season premiere? Were you angered by McSteamy's departure or did you feel it was a fitting tribute? Is the storyline starting to feel a little too reminiscent of the shooting a few seasons back or is Grey's better than ever? Sound off in the comments below!
Follow Kelly on Twitter @KellyBean0415
[Photo credit: ABC]
More:
'Grey's Anatomy' Season 9 Promo: Who Lives? Who Dies?
Did Patrick Dempsey Just Spoil McSteamy's 'Grey's Anatomy' Exit? — PICS