'Grey's Anatomy' Recap: To Settle or Not to Settle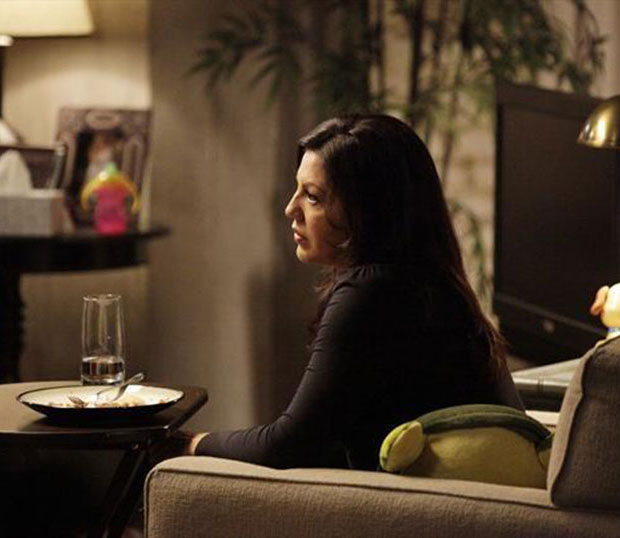 The Beatles were right when they said that money can't buy me love…but can it buy closure? That was the difficult question the survivors of last May's plane crash were faced with during this week's Grey's Anatomy episode, "Love the One You're With."
Now that a significant amount of time has passed since the accident, the airline at fault is doing everything it can to cover its assets and put this terrible ordeal out of their (and their clientele's) minds. So Derek, Meredith, Cristina, and Callie (on behalf of Mark and Arizona) agree to a meeting with the airline's corporate lawyer who offers them a very generous settlement agreement. They can either take the money and close the case or decline the offer and take the investigation to court.
From a financial standpoint, the decision couldn't be easier: just take the money and move on. But – as this show has proven to us time and time again – emotions make everything much more complicated. Oh, and they have three days to decide what to do and the vote has to be unanimous. No pressure, though!
For her part, Cristina remains completely indifferent about the whole ordeal. She tells Owen – during one of their very couple-y type phone calls – that she's willing to just go along with whatever everyone else decides. And while compliance and cooperation isn't really apart of Cristina's MO, she's doing her best to turn over a new leaf. After taking a mandatory vacation from her new job (which hilariously included buying a pair of jeggings), she returns to work ready to become a team player. But her boss believes actions speak much louder than words, so she's ordered to continue working with Dr. Thomas (aka Mr. Feeny). Which turns out to not be such a bad thing after all. In fact, between Dr. T's surprising surgical know-how and their adorable bonding moment outside the hospital, methinks this could be the start of a beautiful friendship.
Back at Seattle Grace, Callie makes it clear that she's 100 percent behind the idea of settling. And really, who could blame her? Arizona is still too busy hosting her own pity party to really take part in anything else… like having an actual opinion about anything. She clearly hasn't forgiven Callie for amputating her leg to, you know, save her life and has since perfected giving her wife the stink-eye. So Callie figures they should at least make some money out of it. Plus, it would be great for their daughter's future.
But hey! There are actually still patients and surgeries going on at the hospital (go figure), so let's take a brief look at them. Since Grey's prides itself on its sense of irony, Callie gets assigned a young girl patient who's suffered from a horrendous, makes-you-want-to-turn-away-from-the-television type of accident, leaving her foot almost completely severed from the rest of her body. Looks like this calls for another amputation. But wait! The girl somehow still has mobility in her foot and should be able to make a full recovery. The only problem is, the patient is an avid sailor and plans on getting back out to sea way before she's fully recovered, which could result in extensive damage to her foot. At first, the girl's mother is afraid to object to her daughter's demands, but Callie explains that "she needs you to be the bad guy," even if it means being hated for it. Sound familiar?
NEXT: Kepner's Back, Avery Gets Shirtless, and a Decision Gets Made.In other news that is completely off topic but definitely worth mentioning: April Kepner has returned, which results in a lot of sexual tension between her and Avery. But if that means more scenes with Jesse Williams taking his shirt off, then we'll take it! She was in the process of re-virginizing herself to help start a clean slate, but as we all could have predicted, that lasted for about a day. Get ready to see some hot on-call sex between these two in the near future, my friends.
Bailey's also having a hard time of letting go of things. Her former interns are now attendings; her ex-husband is getting remarried; her boyfriend is pursuing his medical career; and her son even let go of her hand on his first day of school. Everyone is moving forward except her. So Richard, who's now become a somewhat Yoda-type figure at Seattle Grace, reminds her that the benefits of letting go is that she can now get her hand back and pursue things she didn't use to have time for. Wise, this man is (that's for all you Star Wars fans out there).
But no one, not even Richard, can solve everyone's problems. As the end of the hour draws near, Meredith, Derek, Callie, and Owen (who's representing Cristina) are pulled into a room to tell the airline's attorney their decision: to settle or not to settle. And just when you think they're going to accept the hefty cash payout, McDreamy pulls a complete 180. After taking a look at the wreckage from the crash (because I'm sure it would be that easy to do), he discovers that he wants some answers as to what happened on that fatal day. Like what caused the crash in the first place and – even more importantly – could it have been prevented? If they settle, the investigation will stop, making it possible that something like this could happen again to some else's Lexie and Mark. Like the good doctor that he is – he wants to try and save some lives if he can. In the end, they all decide to decline the offer. I guess it goes to show that some things you just really can't put a price on.
What did you think of this week's episode? Were you surprised with the group's decision not to settle? Did you enjoy April and Avery's sexy hookup? Does Cristina need to return to Seattle Grace ASAP? Give me your dissections of the episode in the comments below!
Follow Kelly on Twitter @KellyBean0415
[Image Credits: ABC]
More:
Grey's Anatomy Recap: We Have to Go Back
Grey's Anatomy Recap: The Plane Crash Claims Another Victim
Grey's Anatomy Season 9 Premiere
From Our Partners:

Giuliana and Bill Rancic Planning for Baby No. 2: 'I Would Love a Girl,' Says E Host
(Celebuzz)

Kate Upton Flaunts Major Cleavage in Vogue's November Issue — PHOTOS
(Celebuzz)