'Grey's Anatomy' Recap: We Need to Talk About the Interns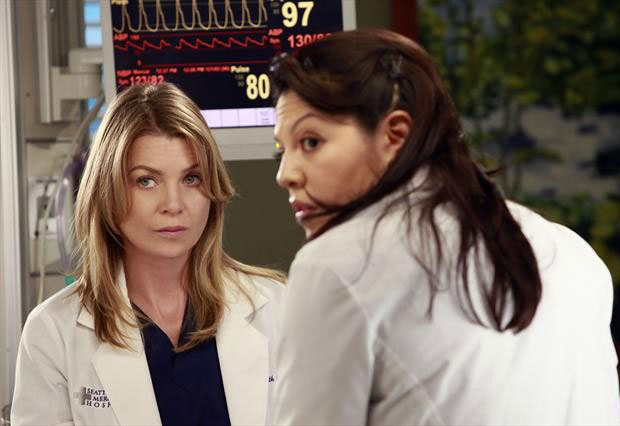 Interns. They can be found almost everywhere. Eager, ambitious, job-hungry creatures who are desperate to find their way in the world (and hoping to finally get paid while doing it). It's a feeling we're all too familiar with, especially in this economy. Grey's Anatomy managed to bring that concept to the forefront of this week's episode, titled "Love Turns You Upside Down," and shifted much of the plot's focus on the constantly-seen-but-rarely-talked-about baby docs. Ladies and gentlemen…let's talk about the new Seattle Grace Interns.
The show opened up with our favorite veteran interns (now known as the Attendings), looking on at the new interns with a sort of fascination. "I can't believe we used to be them," Meredith remarked. And it's true. These doctors have come a long way since they first set foot in Seattle Grace. Those scared, driven students have now blossomed into incredible surgeons…which is great, but leaves a spot wide open for the next generation of freshly groomed doctors. Enter Leah, Stephanie, Shane, Jo, and Heather.
Leah and Stephanie (also dubbed "Perky" and "Grumpy") were put on Cristina's service, which apparently made them inherit Cristina's surgery-hungry drive. They became super competitive with each other throughout the entire episode: one consisting of two sick babies in need of heart transplants and the other regarding a pacemaker patient who loses her pulse whenever she's not standing upside down. (No, I'm not kidding. That was really what her problem was) In the end, however, their eagerness to out-do each other made them nearly kill a patient and got them temporarily banned from the OR. Isn't interning just the best thing ever?!
Meanwhile, Dr. Heather Brooks was placed under Meredith's watchful and somewhat tyrant-y eye. But the poor girl barely saw the inside of an OR since she was so busy being Meredith's little lap dog. Now that Derek is attempting to restore his damaged hand back to its full function, he needs a nerve donation ASAP. And since live nerves are better than cadaver ones, Meredith makes poor Heather call each and every one of Derek's sisters to try and convince them to be a donor. Of course, being the McMartyr that he is, Derek hates the idea of asking for his sisters' help. Meredith wins out in the end (which is the case in most marriages) and his sister Lizzie Shepherd (played by Neve Campbell) flies in for the operation. If his sister never got on his nerves before, she certainly will now (get it?).
Elsewhere in the hospital, Dr. Shane Ross got stuck on "The Dud" April Kepner's service, where he assisted in "lumps and bumps" duty (it basically involved removing really gross things from multiple patients' bodies). They weren't glorified surgeries by any means, but it allowed Shane to practice his bedside manner, which proved to be a quite useful skill to have. With Derek's donor-nerve surgery about to get underway, Callie and Jackson are in the market for an intern they can trust to help assist in the procedure. It's a groundbreaking operation, which means everyone wants in. But since Shane was the only one who actually treated Derek like an actual patient, the position was his for the taking. Way to go, Shane!
And that leaves us with Dr. Jo Wilson who was assigned to Alex Karev's service. Now these two have always had some sexual tension between them that's been masked by an array of hurtful insults. However, this week Karev got to see his intern — who he's coined "Princess" since he thinks she's privileged — in a completely different light. After a teenage girl gives birth to a baby with CDH, she attempts to abandon the baby altogether, which prompted Jo to yell at and completely body-check the girl's mother in an elevator. Impressive! Jo later confesses to Karev that her mother abandoned her when she was two weeks old. She has no family and had to work hard for everything that she's accomplished. Basically, she made Karev look like an ass (which isn't a very hard thing to do), but he actually seemed remorseful about the things he said. Could this be the start of a beautiful sexy relationship? I sure hope so!
The episode concluded with the interns admirably looking at their mentors with awe and admiration. "I can't believe they used to be us," Heather remarked. And so goes the circle of (medical) life.
So what did you think of this week's episode? Did you enjoy learning more about the new interns? Do you miss the days when that used to be Meredith & Co.? Sound off on your dissections and opinions in the comments below!
Follow Kelly on Twitter @KellyBean0415
[Photo credit: Ron Tom/ABC]
More:
Grey's Anatomy Recap: Babies, Breakups & Bruised Egos
Grey's Anatomy Recap: The Blame Game
Grey's Anatomy Recap: You've Got a Friend in Me

Kate Middleton Pregnant: A Look Back at Famous Royal Baby Portraits (PHOTOS)

Pregnant Kate Middleton Leaves Hospital After Four-Day Stay