'Grey's Anatomy' Recap: How Much Kleenex Did You Use?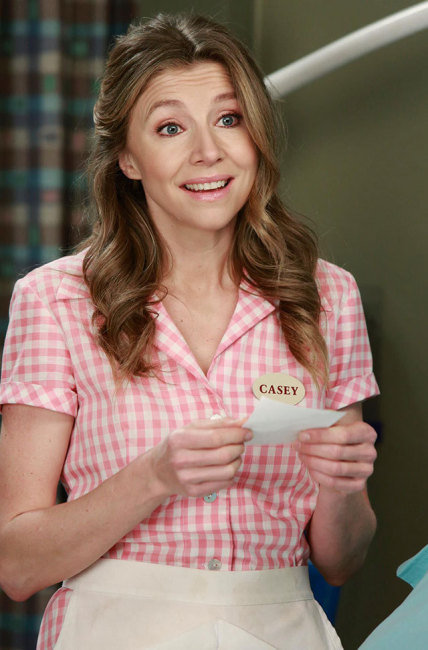 Anyone who's ever watched an episode of Grey's Anatomy knows crying is not only possible, but absolutely probable. In fact, if you haven't found yourself weeping into a bowl of microwave popcorn at least 10 times over the past nine seasons, it may be time to call up a certain wizard because someone is in need of a heart STAT!
Suffice to say, this show has more than lived up to its drama status and this week's episode, "Can't Fight This Feeling," was no exception since it dealt with a topic that would even pull on the Grinch's heartstrings: a sick child. Add in a dangerous gas explosion and a potentially parentless young boy and you have all the makings for a full-out weepathon.
I hope you have a box of Kleenex on hand, folks, because this one's a doozy….
RELATED: 'Grey's Anatomy': Meredith and Derek's Baby Is A…
Battle of the Male Doctors: In true brooding guy fashion, Karev continued to showcase his secret feelings for Jo by harping on her current beau, Dr. Jason. (You know, because just confronting Jo about your feelings like an adult would just be too obvious.) Instead, the animosity grew so intense that the hunky docs progressed to some good old-fashioned name-calling. "You're a douche," said Karev. "No, you're a douche," replied Jason. Welcome back to the first grade, everyone!
Parentless: Owen found himself playing a father-type role to a young boy named Ethan, whose parents were both in critical condition after the highway gas disaster. To potentially lose one parent at a young age is a devastating thought, but to possibly lose both is just heartbreaking. So, of course, Owen felt for the poor boy. Not only did he convince the social worker to let Ethan stay at the hospital overnight to be close to his folks, but he also provided him with a few helpful soccer tips. (Adorable, I know.) Clearly, Owen has a knack for parenting (which, if you recall, was part of the reason that tore him and Cristina apart). And the fact that he questioned Cristina's treatment of the boy's dad proves that the whole "kid" subject could still come between them, even after all this time.
Three Little Words: We all knew April's relationship with the handsome and abstinent Matthew wouldn't last long (especially with the ever-dreamy Jackson Avery waiting in the wings), and she seems to be finally figuring that out too. When the gas tanker exploded, Matthew used his body (more specifically, his lower backside) as a shield to protect a patient, which resulted in a pretty bad burn. However, no good deed goes unpunished, which was made clear when Matthew had to endure Avery rubbing ointment all over his derriere. To be honest, I'm not sure if this is awkward or hot? You decide.
But instead of fawning over her beau's heroics, April began questioning her feelings for Avery, who she obviously still holds a torch for. (We seriously don't blame you, girl!) After the death of April's patient — a young mother who found her husband by a strange twist of fate — the two of them almost kiss, leaving April sufficiently confused. But things only got worse from there when she tried to relay her thoughts of destined lovers to Matthew, who mistakenly took her confession to mean that she loved him — to which he responded, "I love you, too." Double awkward.
RELATED: 'Grey's Anatomy': Sarah Drew on April's Future
Under My Skin: Things are getting a little competitive in the world of the interns these days. After telling Derek to quit hoarding Shane and allow him to become well-rounded in all surgical areas, Brooks stepped in on the bromance to learn "brainy things." At first, Shane seemed fine with her presence, but as her fast hands continued to impress Derek to the point of putting her on his services and not him, Shane decided to declare war on his fellow intern. "I'm not going down without a fight," he proclaimed at the bar. These baby docs just got a whole lot more interesting.
Meanwhile, the grown-up docs were experiencing a few confrontations of their own. The gas explosion crisis prevented Callie from making it to the TED conference where she was supposed to be giving a speech about cartilage. Sounds pretty dull, right? Well, Arizona thought so too and accidentally portrayed that sentiment to Callie, who was sufficiently hurt. But Arizona quickly redeemed herself by teaming up with Richard and pulling some strings that allowed Callie to attend the conference via a live video stream, where she spoke from her heart and not from her notes.
Mother's Intuition: Sarah Chalke may be best known for her role as the lovable and quirky Elliot on the hit medical comedy Scrubs, but her guest appearance on Grey's this week was anything but funny. Chalke played a single and extremely worried mother, trying desperately to uncover the cause of her son's mysterious illness — a subject very near and dear to the actress herself, given that her own son has been faced with the same rare illness.
But while everyone else assumed she was just a nutty, over-protective mother, Meredith (who's become very perceptive to the whole mother's intuition thing) actually believed the mother's fears and discovered the boy, in fact, had a very unique and sometimes fatal, autoimmune disorder called Kawasaki Disease. Luckily, they were able to catch it in time and the boy was predicted to make a full recovery. But Chalke's performance was nothing short of impressive. To watch your child suffering and be powerless to do anything about it is a nightmare in its cruelest form. Chalke brought that feeling to life on the screen and proved that, sometimes, mother really does know best.
RELATED: 'Grey's Anatomy': Scoop on April's Boyfriend and More!
This left Meredith to ponder some pretty big questions concerning her future and the future of her children. She approached Bailey and requested that she use her genome mapping to learn everything about Zola's medical background in case she ever needs to fight for her kid someday. Furthermore, Meredith also wanted to get herself tested and find out once and for all — will she or won't she get Alzheimer's? (So I guess this genome thing can predict the future?)
So what did you think of this week's episode? Were you impressed with Sarah Chalke's performance? Will the subject of children come between Owen and Cristina yet again? How many tissues (or boxes of tissues) did you go through this episode? Sound off on your dissections and opinions in the comments below!
Follow Kelly on Twitter @KellyBean0415
[Photo credit: ABC] 
---
You Might Also Like:


Topanga's Revealing Lingerie Shoot: Hello '90s!


13 Most WTF Fan Tributes