'Grey's Anatomy' Recap: The Hospital Gets an Offer It Can't Refuse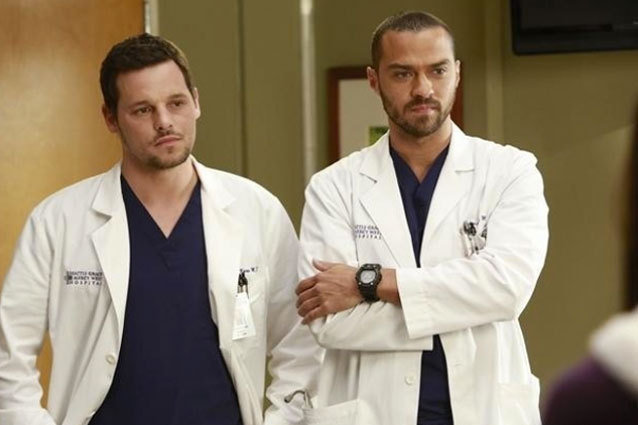 Well folks, we all knew this was going to happen eventually. Grey's Anatomy's epic solution for how Seattle Grace will return to its former (out of debt) glory has finally been revealed in this week's episode, properly titled, "The Face of Change." And while I'm looking forward to no longer worrying about the hospital's money problems (I do enough of that sort of thing on my own time, thank you very much), given this show's history (and the suspenseful promos for next week), another dose of drama is already well underway. Let's dig in!
Hide and Seek: The first rule about having a secret ER is that nobody talks about the secret ER. Now that Seattle Grace has officially closed its ER doors and is no longer considered a trauma center, everyone has started adjusting to the change in their own way. For April, this meant eating delicious-looking burritos in an ambulance with Matthew, the hot paramedic she met last week. (And they say romance is dead.) Midway through their "date," Matt received a call about a hit-and-run victim who was in desperate need of some medical attention. With no other nearby hospital available to help, April managed to convince Avery to let her bring the patient back to the now-defunct ER for an emergency secret surgery. Hard to say no to that!
Avery quickly enlisted the help of Meredith, Alex, Cristina, and Derek, not to mention a few trusty interns, and together they were able to save the young boy's life. Alana eventually caught on to what they were doing, which led to a stern talking to, but by then it was too late to turn back. Way to stick it to the (wo)man, you guys! This secret mission also culminated with a first kiss for April and Matthew, while a jealous Avery looked on. I think I sense a love triangle forming here. (And a really hot one, might I add.)
RELATED: 'Grey's Anatomy' Recap: The Fate of Seattle Grace Comes to a (Fore)Closure
The Hospital Gets a McSexy Facelift: If you're going to have a hospital full of attractive doctors, then you might as well make the most of it. Seattle Grace is looking for a new brand ambassador — or as Alex so rightfully calls it, a "mascot" — to go with hospital's new image. Naturally, Alex and Avery (two of Seattle Grace's hottest doctors) became two prime candidates for the job. Apparently, Cristina had already turned the offer down because, "This face only goes on the Nobel brochure." She really is the best, isn't she? In the end, however, the young hunks lost out on the role to none other than McDreamy, the original hottie of Seattle Grace. That's one look that hopefully will never go out of style.
RELATED: 'Grey's Anatomy' Recap: The Phantom Menace
Undercover Discoveries: After doing a little research about the hospital's future owner, "Pegasus Horizon" (it looks just as scary as it sounds), Callie and Richard decided to perform a secret ops mission of their own. Posing as patient Julio Plantain and his wife, Calliope, at one of the buyer's other hospitals, the undercover duo soon learn that life in the efficiency lane is not all it's cracked up to be. The doctors there are miserable and never get the chance to think for themselves. They're all just part of one big assembly line.
Bummed out from this less-than-cheerful road trip, Richard started contemplating an early retirement, while Callie came up with the solution that could save them all. "I think we should buy the hospital ourselves," she proclaimed to her fellow lawsuit winners. (I think we all saw that one coming a mile away.)
RELATED: 'Grey's Anatomy' Recap: An Unsettling Settlement
So what did you think of this week's episode? Is anyone else a little disappointed by how predictable this season is becoming? I mean, this is a show that has put a live explosive in a patient's chest and cut LVAD wires in the name of love. (RIP Denny!) So taking a heart-wrenching plotline like the plane crash and turning it into a money problem feels a little anti-climatic, no? Perhaps I've just been spoiled over the years, but I could really use an exciting plot twist right about now. Come on's, bring on those jaw-droppers we all know and love. Sound off on your dissections and opinions in the comments below!
Follow Kelly on Twitter at @KellyBean0415
[Photo credit: ABC]
---
From Our Partners:

Young Han Solo Movie: Dave Franco to Star? (Moviefone)