'Grey's Anatomy' Recap: Is [SPOILER] Getting Fired?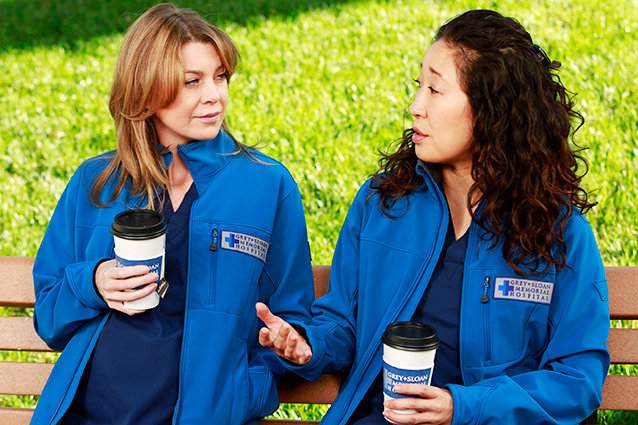 Okay everyone, I'm going to be honest with you — I've found the majority of this Grey's Anatomyseason to be a bit of a snoozefest. I mean, let's face it, nothing really big has happened aside from a drawn-out lawsuit and an unnecessary hospital name change. (I'm sorry, but I'm still not over it, guys. SEATTLE GRACE FOREVER!)
However, this week's episode, "She's Killing Me," managed to bring a bit of the show's old spark back to life (much like those nifty defibrillators of theirs). Between Meredith's impending Alzheimer's test results and a dramatic twist involving the source of a deadly skin infection (more on that later), this episode proved to be both intriguing and — dare I say — jaw-dropping. Welcome back, Grey's. We've missed you. Now onto the recap!
RELATED: 'Grey's Anatomy' Recap: Admit It, You're Sobbing.
When There's a Will, There's a Way: Remember how Meredith demanded Bailey run the genome mapping test on her to see if she'll eventually get Alzheimer's like her mother? Well, the results came in and it doesn't look good. Bailey informed Meredith that she tested positive for more than one of the genetic markers that detect the disease. But while Derek's convinced (perhaps naively) that there's no reason to panic, Meredith focused on getting her will updated now that they have Zola and "Fetus" (her words, not mine) to worry about.
And since Lexie can no longer be the kids' guardian (RIP Little Grey), Meredith attempted to recruit her number one "person," Cristina, for the job. However, we all know by now that motherhood isn't exactly high on Cristina's priority list, so instead of agreeing to a full-out guardianship, she promised to take them for three weeks every year and be the "coolest aunt ever." She also agreed to pull the plug on Meredith right away if she starts forgetting her car keys, etc. "You had me at lethal injection," Cristina assured Meredith. What are friends for, right?
Daddy Issues: Ethan's parents still remain in critical condition at the hospital after last week's gas tank explosion, leaving a fatherly void that Owen has been more than happy to fill. In fact, it's even causing problems between Owen and Cristina (totally called it!) since he's continually been on her case and second-guessing her treatments on the father. At first, his behavior makes absolutely no sense to Cristina, but once she sees Owen and Ethan together it all became clear. She may not have (or want) the Mommy gene, but her beau certainly has the Daddy gene. As for what this will mean for their relationship… that has yet to be seen.
RELATED: 'Grey's Anatomy': Sarah Drew on April's Future
The Truth Hurts: April and Shane had to face some bitter truths this episode. April — who has been feeling more and more guilty about lying to Matthew about her virginity (or lack thereof) — finally decided to come clean and tell him the truth about her promiscuous past. But that's not what ended up upsetting him. He was more hurt by the fact that she lied to him more so than anything else. Looks like their relationship may be dunzo, folks. Bad news: this could be the last time we see Matthew's handsome face for a while. Good news: this could result in a steamy Avery-April reunion.
Meanwhile, Shane has been desperately trying to remain on Derek's service even though he's been assigned elsewhere. But while McDreamy has enjoyed Shane's company, he confessed that Heather is much better suited for the Neuro field than he is, claiming that she "has an instinct for this that you don't have," and suggested that he go find something that he too can excel at. We've all experienced tough love before, but still. Ouch.
Survivor-Style Surgeries: My mom always tells me to always be thankful for what I have because there are others out there who have it a whole lot worse. She's right, of course, as mothers typically are (but don't tell her that I said that), and it's a message Grey's wanted to help send home this week. The hospital played host to two Syrian doctors who normally work in a war zone with very limited supplies. Our beloved doctors were recruited to come up with creative ways for their visitors to perform surgeries on their wounded with barely any medical equipment, while working in almost complete darkness with little or no access to anesthesia. But don't worry — April became besties with one of the Syrian docs and stole a bunch of supplies from the hospital for him to take back. Helpful? Yes. Generous? Absolutely! A good idea? Probably not. I have a feeling this thievery — however good-natured it might have been — is going to come back to bite her somewhere down the line.
RELATED: 'Grey's Anatomy' Scoop: April's Boyfriend Is Too Perfect
Ready, Aim, Fire: After two of Bailey's patients develop severe post-op infections, Leah becomes convinced that it's her fault since she assisted on those surgeries while secretly having the flu. (Oops!) To her credit, though, she came clean about the ordeal to Bailey, who (as you can probably guess) was absolutely furious. But before Leah could start cleaning out her locker, a third patient checked in with the same condition, whom Leah never had any contact with, ever. It turned out that she wasn't the common denominator after all — Bailey was. Last we saw, Chief Hunt was ordering Bailey to sit down. Uh oh…could this be the departure of Miranda Bailey?
So what did you think of this week's episode? Did you find Meredith's constant death talk a little off-putting? What do you think will happen to Bailey now that we know she's responsible for all three infections (which already resulted in a patient's death!)? How did this happen and will it lead to her being fired? Sound off on your dissections and opinions in the comments below!
Follow Kelly on Twitter @KellyBean0415
[Photo credit: Ron Tom/ABC]
---
From Our Partners

Hayden Panetierre Bikinis in Miami (Celebuzz)


Every Jurassic Park Dinosaur Ranked From Best to Worst (Vulture)