'Grey's Anatomy' Recap: A Surprising Character Saves the Seattle Grace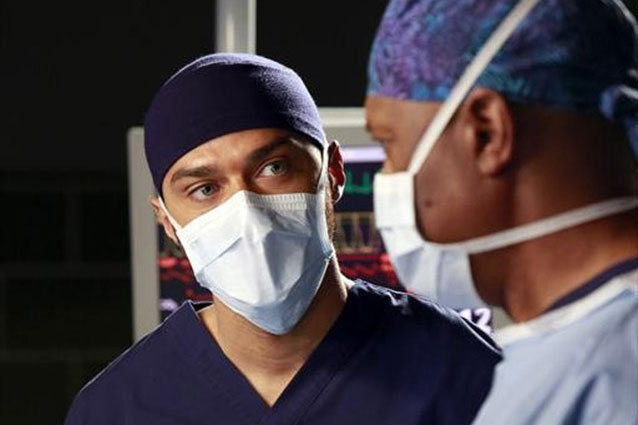 Last week's episode of Grey's Anatomy resulted in the shocking resignation of five of Seattle Grace's finest — Cristina, Meredith, Derek, Arizona, and Callie, to be exact — as part of their big plan to buy the hospital themselves and restore it to its former glory. (Piece of cake, right?) Well, "This Is Why We Fight" centered on the repercussions of that bold decision and showcased just what our dear doctors are up to now that they are unemployed millionaires (at least for the time being). Meanwhile, the rest of the staff (interns included) found themselves contemplating resignations of their own as they discovered just how dire the hospital's money situation really is. And then there's Avery, who received quite the shock of his own… Let's dig in, shall we!
Should I Stay or Should I Go: Word has spread fast about Seattle Grace's possible closing, which made the staff (or, rather, what's left of the staff) extremely nervous. Bailey even prepared to go on job interviews, but quickly reconsidered once Owen buttered her up and called her the "Heart of the Hospital." But she wasn't the only one who had been contemplating greener pastures. Avery's mother tried persuading him to relocate to Boston with the promise of getting pretty much the carte blanche treatment. Intern Stephanie's reaction was pretty much the same as mine: NOOO!!! Don't take those beautiful eyes away! (Okay, so maybe only one of us screamed that out loud.) But the point is that she didn't want him to go anywhere, and if he did, she was more than willing to follow. (Stage two clinger alert!)
RELATED: 'Grey's Anatomy' Recap: The Doctors Quit!
Jo was also having a hard time coping with the idea of leaving since it would mean seeing much less of Alex , who's become not only her good friend, but an excellent role model for her as well. (That's right, Alex is now role model material. Who knew?!) After watching him perform an amazing surgery in which he removed a tumor (named Phil) from a young boy, she broke down crying and confessed, "I don't want to never see you again," which is just a confusing way of saying that she'd really miss him. Somehow a kiss still doesn't happen. I'm upset.
Slicing and Dicing: Alana told Owen that she managed to convince Pegasus to follow through on buying the hospital by 8 a.m. the next day. However, she failed to mention that they're now only interested in buying it for scrap and basically liquidating what remains of Seattle Grace. (B***h move, lady!) Luckily, Intern Heather accidentally overheard Alana discussing the plan to a board member and proceeded to tell everyone about it. Furious at being lied to yet again by another woman he trusted, Owen walked out of surgery to confront Alana. (Side note: I hope real doctors don't make a habit of walking out of surgeries because that is not cool… or safe, for that matter)
Buy or Bye: Finally we got to the unemployed millionaires (Cristina, Meredith, Derek, Arizona, and Callie), who I'm having a hard time feeling sorry for. Don't get me wrong — finding yourself jobless is THE WORST. But when you just nicely inherited a whopping $15 million each from a settlement deal, it's hard to wrestle up much sympathy. If only we could all face such hardships, aimirite? But I digress…
The five docs were busy looking for potential investors to help cover the remaining costs needed to buy Seattle Grace. It wasn't too much — just an extra $175 million. One buyer — a gazillionaire — was extremely interested, but quickly backtracked after discovering they wanted to run the hospital themselves. And since none of them have much administrative experience, I can kinda see his point. But you know who does have quite a bit of experience — ex-Chief of Surgery, Richard Webber!
RELATED: 'Grey's Anatomy' Recap: An Offer the Hospital Can't Refuse
So while Meredith went to recruit Richard, Cristina paid Owen a much-needed visit to explain their plan. He immediately got on board with the idea and even got the board of directors to postpone the sale to Pegasus for one more day, claiming that there was another interested buyer. But alas, it was all for naught. Even after meeting Richard, the potential investor just wasn't "feeling it" and decided to opt out of the deal, leaving them all back to square one.
Mama Knows Best: But there was still one card yet to be played and I'm surprised no one thought of it right away. After being rejected by the gazillionaire, Richard filled Avery's mother, Catherine, in on their failed attempt to save Seattle Grace. As soon as she asked, "How much money did you need?" you knew what the solution would be. And sure enough, the next morning Catherine called everyone into an emergency meeting and announced that the Harper Avery Foundation would be happy to invest in Seattle Grace. Their one condition was that they get to choose one seat on the board…. which she declared would be filled by none other than her son, Jackson Avery. "Give your mama a kiss, Jackson. She just bought you a hospital." Oh dear…
So what did you think of this week's episode? Did you predict Catherine would save the day? Were you surprised about Avery's promotion? Do you think he deserves to be in charge? Will this become an issue for his fellow docs? Sound off on your dissections and opinions in the comments below!
Follow Kelly on Twitter @KellyBean0415
[Photo credit: Ron Tom/ABC]
---
From Our Partners:


25 Forgotten Celebrity Crushes of the '90s (Vh1)


30 Stars Who Have Gone Topless (Celebuzz)