'Grey's Anatomy' Recap: Is This the Biggest Change in the Show's History?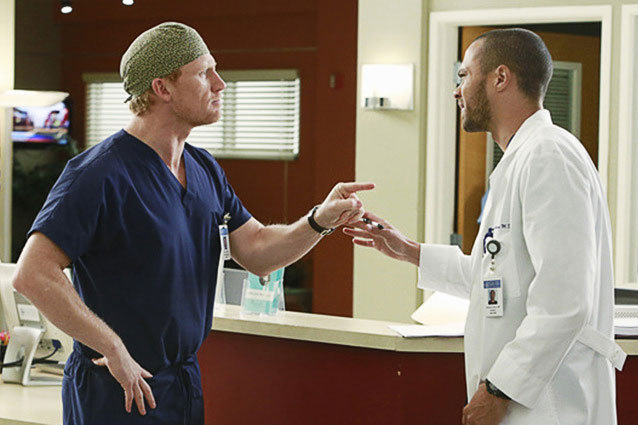 Before we delve into any sort of recap, let's just take a moment to freak out over mourn the death of Seattle Grace Hospital. Fear not Grey's Anatomy fans, for the hospital itself is still in tact. The name, however, is now officially dunzo. And I'm not talking about tacking on a few extra words to the original name; I'm referring to a completely new identity. Say goodbye to Seattle Grace Mercy West, and hello to Grey Sloan Memorial.
Don't get me wrong; naming the hospital after our dearly departed doctors is a very sweet gesture. But, to me, that's like changing the opening theme song of a show mid-way through a series (which Grey's is also guilty of doing, by the way). It's almost like changing the name of the show itself. And after nearly nine seasons, I am way too set in my ways for something like this. But that's just one fan's opinion — now on to the recap!
RELATED: 'Grey's Anatomy' Recap: Seattle Grace's Surprising Savoir
Hunt-ed: Tensions were running pretty high this week now that Avery is "the boss." In fact, you could cut all the pent-up tension with a knife and — for once on this show — I'm not referring to the sexual kind. The new Board of Directors (aka: Meredith, Derek, Callie, Arizona, and Cristina) aren't thrilled with the fact that not only can Avery now overrule them in any and all hospital-related decisions, but he also wields the power to veto their ideas as well. (Let's hope mommy dearest gave that beautiful boy a "With great power comes great responsibility" talk at some point.)
Things didn't improve much once Avery informed them of the Harper Avery Foundation's plans to merely consider reopening the ER at some point in the future, while also suggesting they give Dr. Owen Hunt his official walking papers. Naturally, Cristina wasted no time in warning Owen about said plan, which led to a heated argument between Owen and Derek, and concluded with Owen's resignation. (Is it just me or is all this quitting starting to become a major theme on this show?) But don't worry; our beloved Derek-Owen bromance is far from over. Derek later confronted Owen about their quarrel and confessed that he doesn't blame him for the plane crash. He's just mad at everyone at the moment, and especially at Mark for leaving him. (Something I think all of us can understand. RIP McSteamy.)
99 Problems and a Transplant is All of Them: Now that Owen is out of the picture, the hospital's organization has fallen by the wayside on a day when transplants abound. Alex decided to act much more like his old jerk self of seasons past by basically barking orders at Jo and Meredith all day while they tracked down a kidney for his young patient on dialysis. Meredith soon realized this behavior was because he felt left behind after the takeover and was simply lashing out, but warned him nonetheless to cut the attitude before nobody wants to work with him anymore. Here, here! (Though a small part of me kind of misses Bad Boy Alex.)
RELATED: 'Grey's Anatomy' Recap: The Doctor's Quit!
Meanwhile, Cristina was tasked with trying to convince a 62-year-old man to accept a "hand-me-down" heart from his 70-year-old arch nemesis, who was also scheduled to receive a new heart. (Kind of like a medical version of hot potato).
Welcome to my Funeral: April also faced some tough obstacles of her own when her ALS patient (who also happened to be an old friend/former colleague) made the decision to be unhooked from his machines and left to die in order to donate his organs while they're still usable. Knowing his death was inevitable, he just wanted to save as many lives as he could in the process. In fact, he was so at peace with his decision that he threw a funeral party for himself in his hospital room. (I'm not sure whether to be impressed or depressed about this move.)
At first, April tried to change his mind, but eventually understood his reasoning and proceeded to tell him and his family all about the people his generous sacrifice would be helping. I'm not normally a huge fan of April's, but that was definitely classy.
What's In a Name: While Avery spent most of his first day as Mr. Big Wig running around, reading paperwork, or answering a million different questions, Richard was busy harassing Catherine for giving her son such a huge responsibility — one he wasn't sure Avery could handle. But the green-eyed hunk rose to the challenge and, after saving a potential crisis in the OR, went on to present the board with three new decisions made by him and him alone: 1. He was rehiring Owen as Chief of Surgery, 2. The ER would definitely be reopening. And 3. If all were in favor, he wanted to rename the hospital to honor what led to the takeover in the first place. And so Grey Sloan Memorial was born.
RELATED: 'Grey's Anatomy' Recap: An Offer The Hospital Can't Refuse
So what did you think of this week's episode? Did you think the hospital's new name change was sweet or unnecessary? Do you think Avery will make a good boss? Were you sad there weren't that many classic Cristina one-liners this week? Sound off on your dissections and opinions in the comments below!
Follow Kelly on Twitter @KellyBean0415
[Photo credit: ABC]
---
You Might Also Like:


15 Oscar-Winning Nude Scenes


Topanga's Revealing Lingerie Shoot: Hello '90s!