Sarah Chalke Relives Her 'Most Challenging' Heartache in Tonight's 'Grey's Anatomy'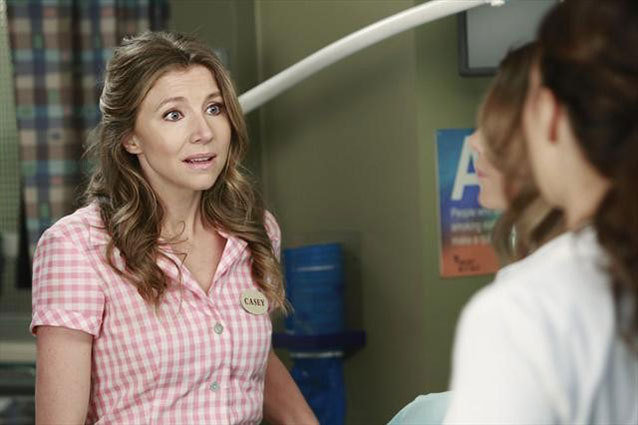 Small screen sweetheart Sarah Chalke is channeling her real-life struggles to bring awareness to an important disease in tonight's all-new episode of Grey's Anatomy.
"Our son had Kawasaki Disease two years ago and it was really honestly the most challenging thing I've even been through," Chalke tells Hollywood.com. Kawasaki Disease, or KD, is a serious — often misdaiagnosed — illness characterized by inflammation of blood vessels throughout the body that could lead to permanent heart damage in young children and infants.
Chalke challenged many doctors' opinions and diagnoses before finally finding out that her son Charlie had KD. Luckily, Chalke's son, Charlie, is now completely cured of the rare disease but the actress wanted to make sure that other parents would never have to go though the misdiagnosis battle that she had to experience.
RELATED: April Kepner's New Boyfriens is Practically Perfect
"It took a bit of time to decide how to raise awareness and how help other kids and parents not go through what we did." Chalke explains, "Someone had suggested doing an episode on a medical show and I thought that was a great idea — and I immediately thought of Grey's Anatomy."
In tonight's episode, entitled "Can't Fight This Feeling," Chalk plays a working single mother named Casey who keeps returning to the hospital and fighting for more answers about her son's unique symptoms.
Chalke stressed that her main concern was appropriately showing the physical elements that plague the body when a child has KD, "It's a really visual disease," she says. "You have high fever but then also everything turns red. Red eyes, red lips, red tongue, red throat, red hands and feet, and the last thing is the peeling of the skin on your fingers."
RELATED: Grey's Anatomy: Sarah Drew Talks Meredith's Baby: Boy or Girl?
The actress revealed that she was both nervous and anxious to face those symptoms again. "It was really scary to tackle it," she said. "I didn't know what it would be like to hold a baby who was potentially made up to look like Charlie did at that time."
In the end, Chalke expressed that she is extremely proud of the episode and encourages all parents to tune in tonight. She says, "The episode is called, "Can't Fight This Feeling," is it's really a message to parents. Whether it's KD or it's something else, don't be afraid to fight for your kid."
The actress urges. "Don't be afraid to get a second, fourth, fifth opinion and to advocate for your kid and to go back and to ask more questions. I think that's sometimes scary to do as a parent but it's really important."
Make sure to tune in to Grey's Anatomy tonight at9 PM on ABC. And for more information on Kawasaki Disease, please visit KDFoundation.org.
Follow Leanne on Twitter @LeanneAguilera
[Photo Credit: ABC]
---
You Might Also Like:


Topanga's Revealing Lingerie Shoot: Hello '90s!


13 Most WTF Fan Tributes