HA HA! 'The Simpsons' Mock Their Fox Colleague Karl Rove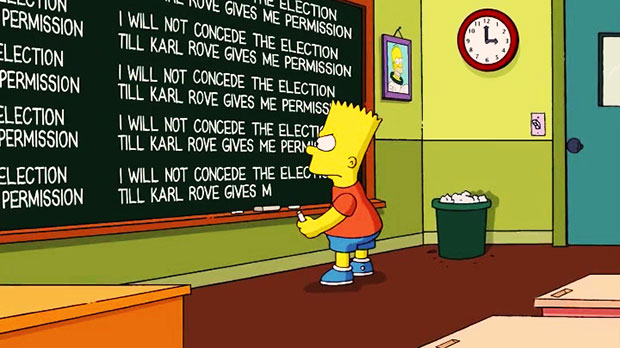 Making fun of Karl Rove's election night meltdown on Fox News? Simpsons did it! Well, to be fair, so did The Daily Show, The Colbert Report, Letterman, and just about every other comedy-based show on television right now. Of course, those shows, unlike The Simpsons, don't share the same parent company as Rove.
During the opening credits sequence of Sunday night's episode of
The Simpsons
, perpetually-in-trouble Bart Simpson scribbled yet another message on Mrs. Krabapple's chalkboard. Don't have a cow, man, Bart's timely political jab read: "I will not concede the election till Karl Rove gives me permission." Depending on what you believe,
The Simpsons
(who already had been having plenty of fun with
Republicans during the 2012 election
) and thus Bart, lives in red state
Kentucky
or blue state
Oregon
.  
The Simpsons executive producer Al Jean explained in a statement to Hollywood.com how the Rove opener came to be. "[My wife] Stephanie [Jean] and I were watching the telecast when Megyn Kelly visited the guys in the Fox election prediction office and thought it was hilarious (and, by the way, that she and they were right).  So I wrote up a chalkboard, Matt [Groening] reworded it (making it better) and we put it on the show.  I'd also like to add that Mr. Burns forecast the election pretty well in his ad for Romney, giving 290 electoral votes for Obama."
While Fox News didn't have a statement regarding the latest Rove riff, Michael Clemente, the Fox News executive vice president for news, has spoken openly about the infamous moment in which the former senior adviser and Deputy Chief of Staff to George W. Bush, and current pundit, challenged his network's call that President Barack Obama had taken the state of Ohio, thus winning his re-election. 
Clemente told the
New York Times
 , "For a half an hour, there was a missing piece that other networks were skating around — why there had been no talk of concession — and we wanted to explore why that was happening…I knew that a big chunk of our viewers were going to be disappointed in the outcome, but I work on the news side, and the most important thing was getting it right."
Our vote? Rove's voyage down the river of denial is an unending wealth of comedy gold. See for yourself: 
[Photo credit: THE SIMPSONS ™ and © 2012 TCFFC ALL RIGHTS RESERVED]
More: 

Selena Gomez Flies Out of Los Angeles Following Justin Bieber Split (PHOTOS)
(Celebuzz)